WhatsApp is rolling out the ability to save disappearing messages with the sender's permission
WhatsApp has announced via a
blog post
a new feature that allows users to save disappearing messages before they vanish. The feature will give users a chance to keep important messages that they may want to refer back to later.
Disappearing messages is a feature that WhatsApp introduced back in 2020, which allows users to set their messages to automatically delete after a specified amount of time, ranging from 24 hours to 7 days. While this feature was meant to help users keep their chats private and reduce clutter, it was difficult for users to hold onto messages that they wanted to keep.
With the new feature, called "Keep In Chat," users can now select messages in a chat and save them by tapping on the bookmark icon. Once a message has been saved, it will no longer disappear after seven days. Users can also un-save messages by tapping on the bookmark icon again.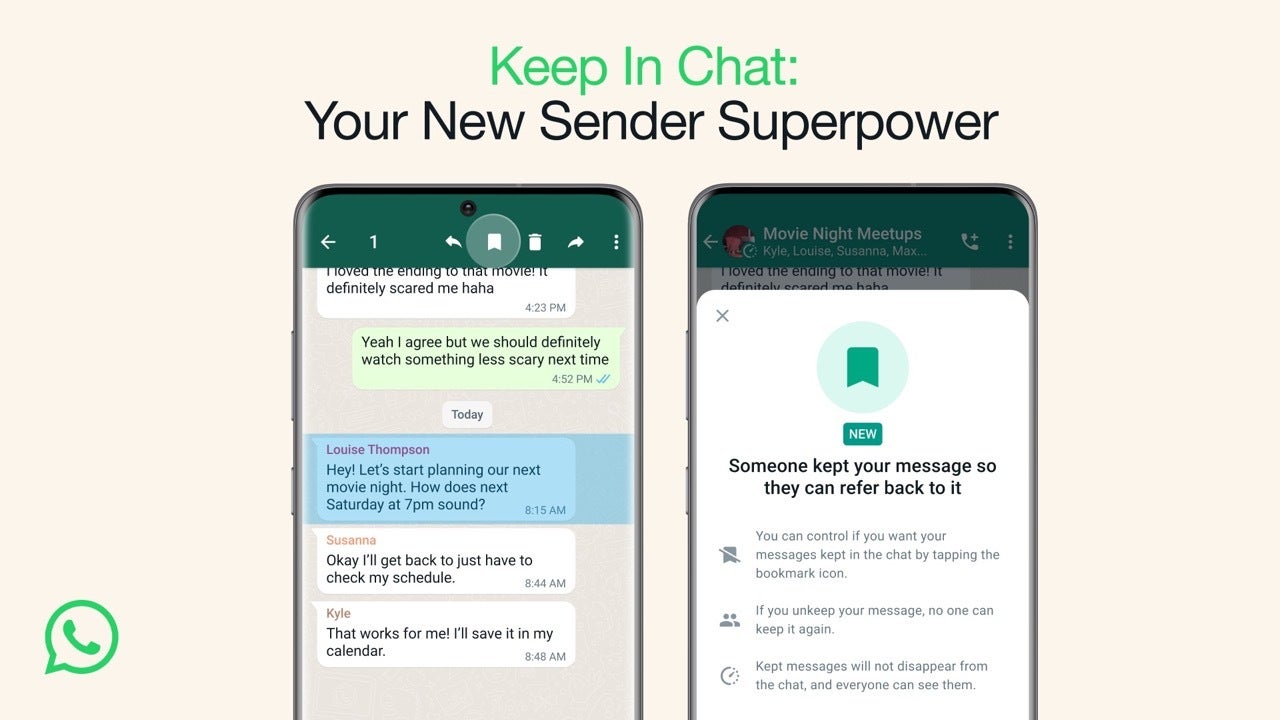 Sender notification and consent will be required before proceeding, and without their permission, the message will automatically delete itself after the allotted time has passed. Both the sender and the receiver will be able to see the bookmark icon next to any messages that can be stored in the WhatsApp conversation and the saved messages will be conveniently stored in a designated "Kept Messages" folder.In this approach, WhatsApp's implementation of its Keep In Chat function does not undermine the security and privacy afforded by disappearing messages and the decision to store a message ultimately rests with the sender. The new feature is currently rolling out to both individual and group chats. However, users can only save messages that have not already disappeared. Once a message has disappeared, it cannot be saved.
This update comes after WhatsApp's recent controversy over its privacy policy changes, which led many users to switch to other messaging apps such as Signal and Telegram. The addition of the save disappearing messages feature may help to win back some users who were concerned about the privacy and security of their conversations on the platform.