It will take 8 gallons of water for TSMC to produce a single chip at its Arizona fabs and a single fab will run through 8.9 million gallons a day (MGD) according to a report published by the
American Bar Association
(ABA). That alone makes up close to 3% of the water production in Phoenix where two fabs are being built. One facility, building chips using the 4nm process node, will start running next year. The second plant will start operations in 2026 and will churn out chips using the 3nm process node.
Per
FocusTaiwan
, there is some trepidation that the world's biggest foundry might have to deal with "water politics" in a state that is recovering from drought conditions. The report says that TSMC plans to build a water recycling facility and a comprehensive waste-water treatment system in Phoenix. This would help TSMC reduce the amount of water it will need to use for these fabs.
TSMC will need enough Ultrapure Water for its Phoenix-based fabs

TSMC revealed its plans following a report in Barron's that suggested the company might have to compete for water in the state from nearby Native American tribes and agricultural users. Besides TSMC, Intel also will be building advanced chips in Arizona and it will require plenty of water as well.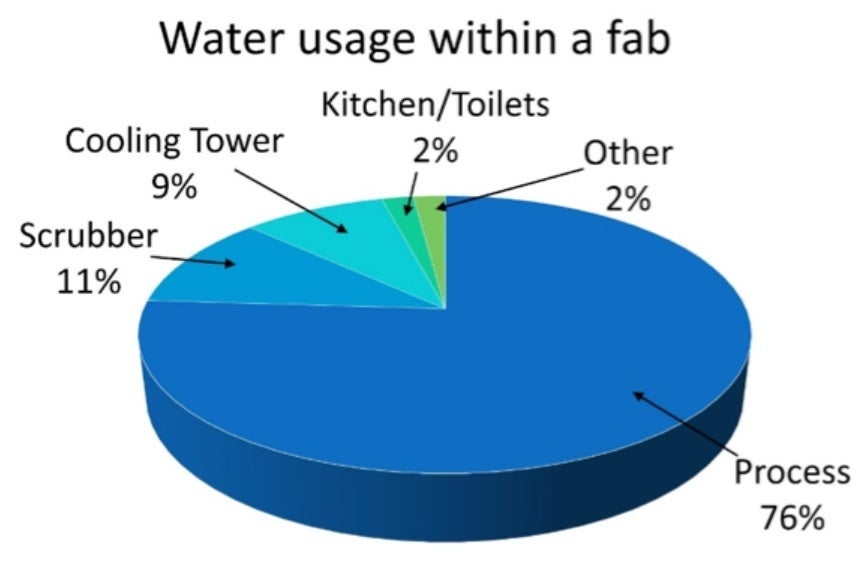 The breakdown of water usage inside a fab. Credit image Semiconductor-Digest
The kind of water used in the process of manufacturing chips is not your everyday water straight from the tap. Since water free of dirt, particles, and sediment is needed to rinse and clean the silicon wafers, only Ultrapure Water (UPW) can be used. UPW is thousands of times purer than regular drinking water. You need approximately 1,400-1,600 gallons of municipal water to make 1,000 gallons of UPW.
Officials in Phoenix say that if TSMC builds the six fabs in the city that current plans call for, the Taiwan-based company will need 40,000 acre-feet of water a year which is equivalent to the annual water use of 160,000 homes. TSMC says that the state of Arizona has designated Phoenix as having a 100-year supply of water. That's because the city can draw on water supplies from the Colorado River, the Verde River, the Salt River, and underground sources. As far as water leaving the plant is concerned, the wastewater is treated using technology that will go above the standards required by the state of Arizona.
TSMC has been in talks with Phoenix officials about access to water since day one

TSMC has said that as far as it knows, Phoenix authorities have been eager to invest in infrastructure that will help the city build a sustainable supply of water. Since the plans to build the first Arizona fab were first announced, the company says that it has been in touch with Phoenix officials to make sure that access to water won't be a problem. Still, the average rainfall in Phoenix is only 39 inches compared to 102 inches in Taiwan.
Besides the plants being built in Arizona, TSMC is building a fab in Kumamoto, Japan. Unlike the fabs being built in the states, these will make chips using older process nodes such as 12nm, 16nm, 22nm, and 28nm. The company opened an overseas office on April 1st charged with overseeing and supervising the plants being constructed in the U.S. and Japan.
Apple, which is TSMC's largest customer accounting for about 25% of the company's revenue, will be purchasing chips made by the foundry's U.S. fabs. Apple CEO Tim Cook announced this back in December. The executive said at the time, "And now, thanks to the hard work of so many people, these chips can be proudly stamped Made in America. This is an incredibly significant moment."
Back in 2021, with Taiwan in a drought and COVID still raging, lead times for chip deliveries were rising. Because of the drought, TSMC had to arrange for the shipment of Ultrapure Water from suppliers. At the time, Taiwan's Water Resources Agency said that the country needed to use more aggressive techniques to cut down on water usage. The drought was brought on by the low amount of rainfall in Taiwan that year.
It seems that TSMC feels comfortable right now with the access to water that its new fabs in Phoenix will have thanks to advanced planning with city officials.