It's no big secret that 2022 was a bad year for consumer spending across virtually all categories of the electronics industry, ranging from smartphones to tablets to smartwatches. Somehow, true wireless earbuds managed to defy that declining trend for a large part of last year, although the market absolutely cratered during Q4.
But compared to the final three months of 2021, when almost 104 million pairs of true wireless earbuds were sold around the world, that's an extremely poor result, representing a massive year-over-year decline of 23 percent.
(Almost) everyone had a bad Q4
For the entire year of 2022, the market managed to keep its contraction down to just 2 percent, although if the Q4 trend were to carry over into 2023, that drop could reach entirely new heights at the end of this year.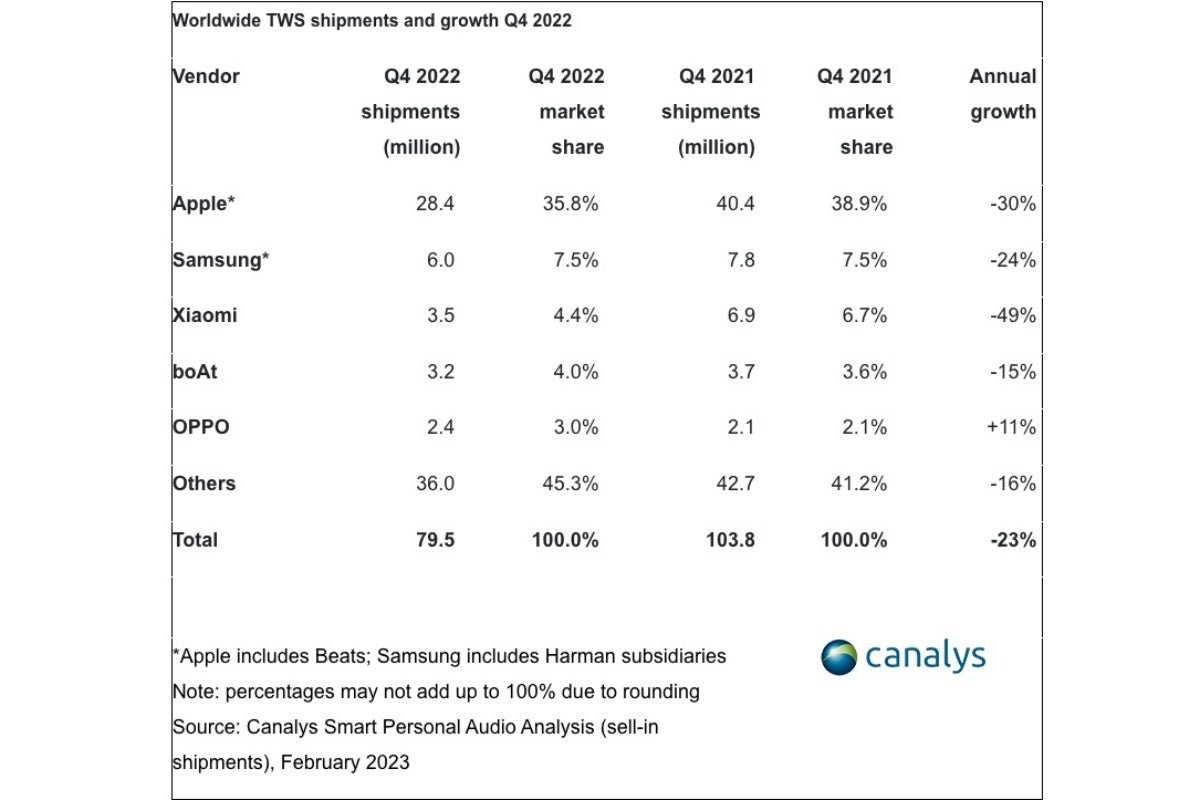 In case you're wondering exactly what went wrong for TWS products during the last 90 days of 2022, the answer is basically… everything. Apple, Samsung, Xiaomi, and boAt's sales figures all fell by a lot as "macroeconomic conditions" got more and more challenging, and the same goes for "other" vendors ranked below the top five.
Of said top five companies, Oppo (including OnePlus) was the only one that saw its Q4 numbers rise, although that 11 percent boost in global demand was ultimately not enough to put the brand(s) in the top five for the full year as well.
Apple (including Beats) unsurprisingly dominated the charts for both the final quarter and the year as a whole, easily fending off arch-rival Samsung (including JBL) once again. But Cupertino's own shipment scores were considerably lower this holiday season compared to the previous holiday season, and that was largely due to the "weaker market performance" of the third-gen AirPods.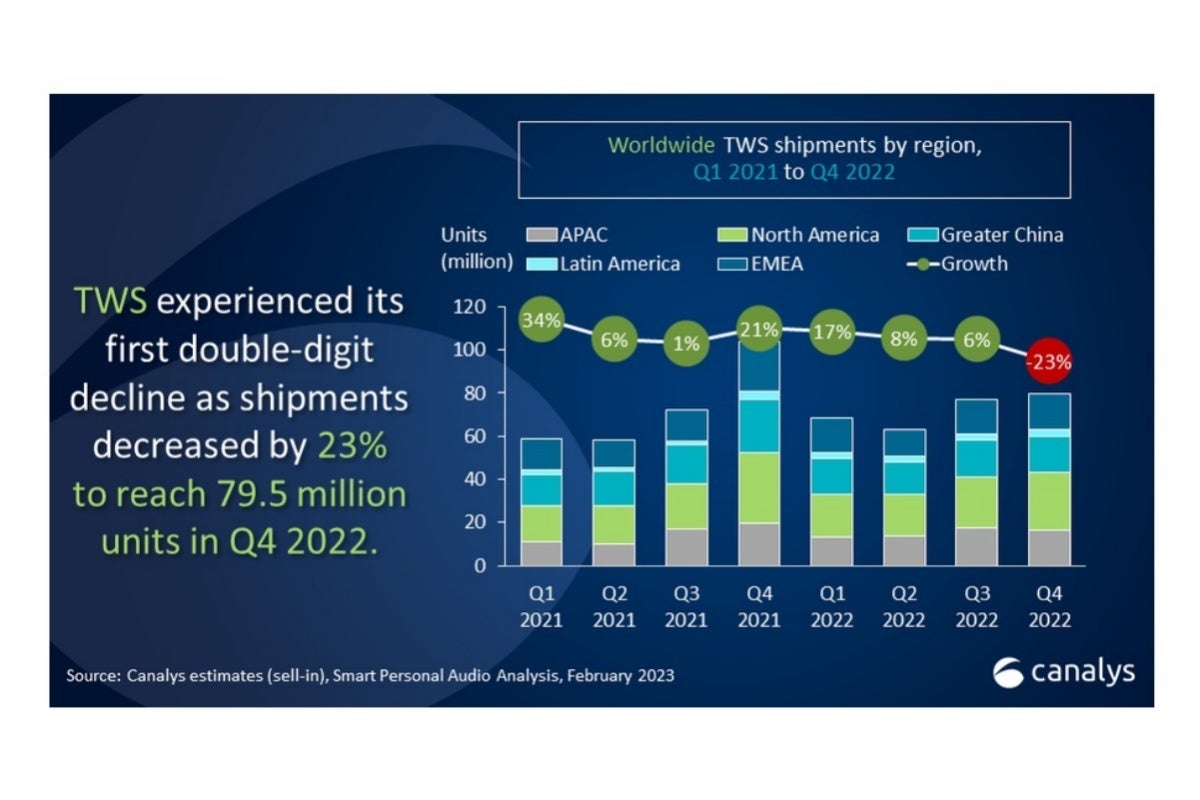 The non-Pro AirPods 3 got off to a flying start at the global box-office back in Q4 2021, mind you, failing however to retain their mass appeal once the AirPods Pro 2 entered the scene with state-of-the-art active noise cancellation and other super-premium features.
It probably didn't help that the non-noise-cancelling third-gen AirPods scored very few and very modest discounts throughout the holiday season, while the second-gen Pros dropped from a $250 list price to $200 surprisingly quickly after their commercial debut.
What's on the horizon? 
Ultimately, it's arguably not bad for Apple's bottom line that its more expensive earbuds are doing much better than a lower-cost model with a presumably slimmer profit margin. Of course, the tech giant would probably like to return to a world of expanding sales volumes as well, but for the time being, it will have to "settle" for holding a 35.8 percent slice of the Q4 pie and a 31.8 percent overall market share for the whole of last year.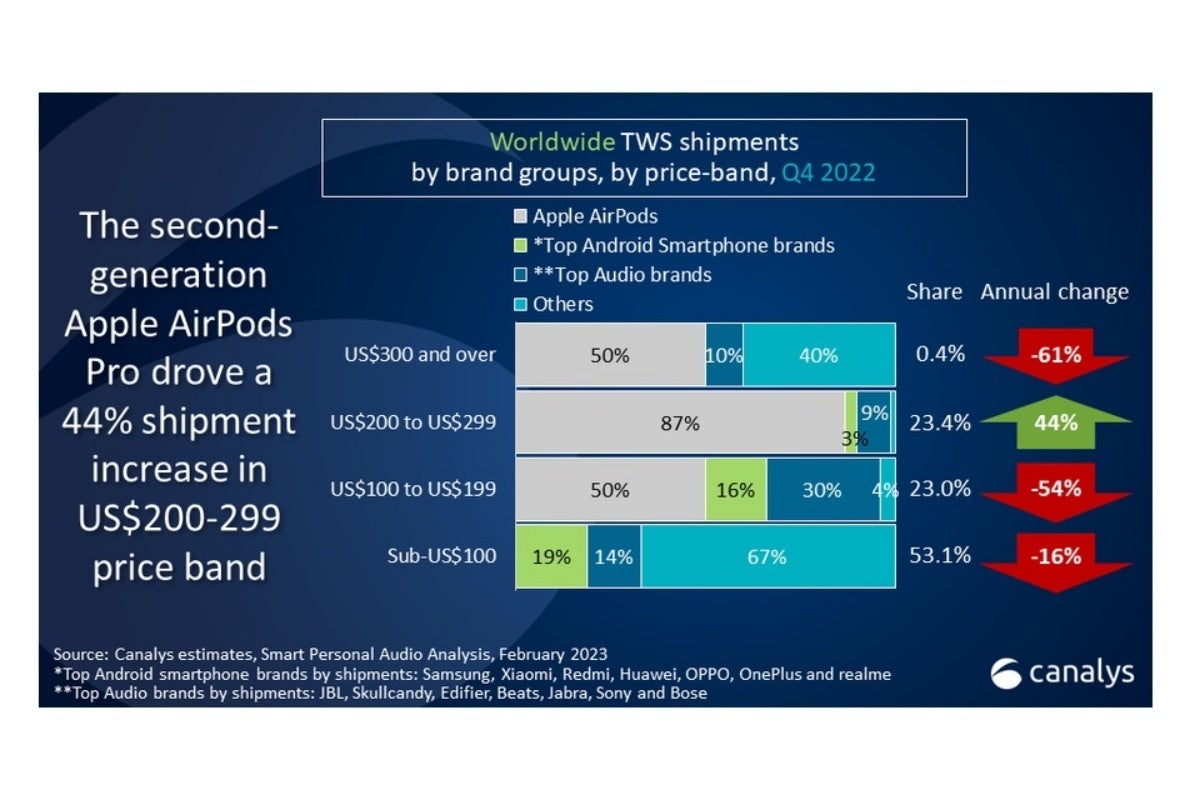 Perhaps more importantly, the success of the AirPods Pro 2 is credited with the massive growth of the $200 to $299 segment, which is now larger than the $100 to $199 category although still way smaller than the sub-$100 class of true wireless earbuds.
In second and third place, Samsung and Xiaomi respectively really don't have a lot of reasons to be happy with their Q4 and full-year results, but on the bright side of things, those big declines may bring about heftier and more frequent Galaxy Buds discounts.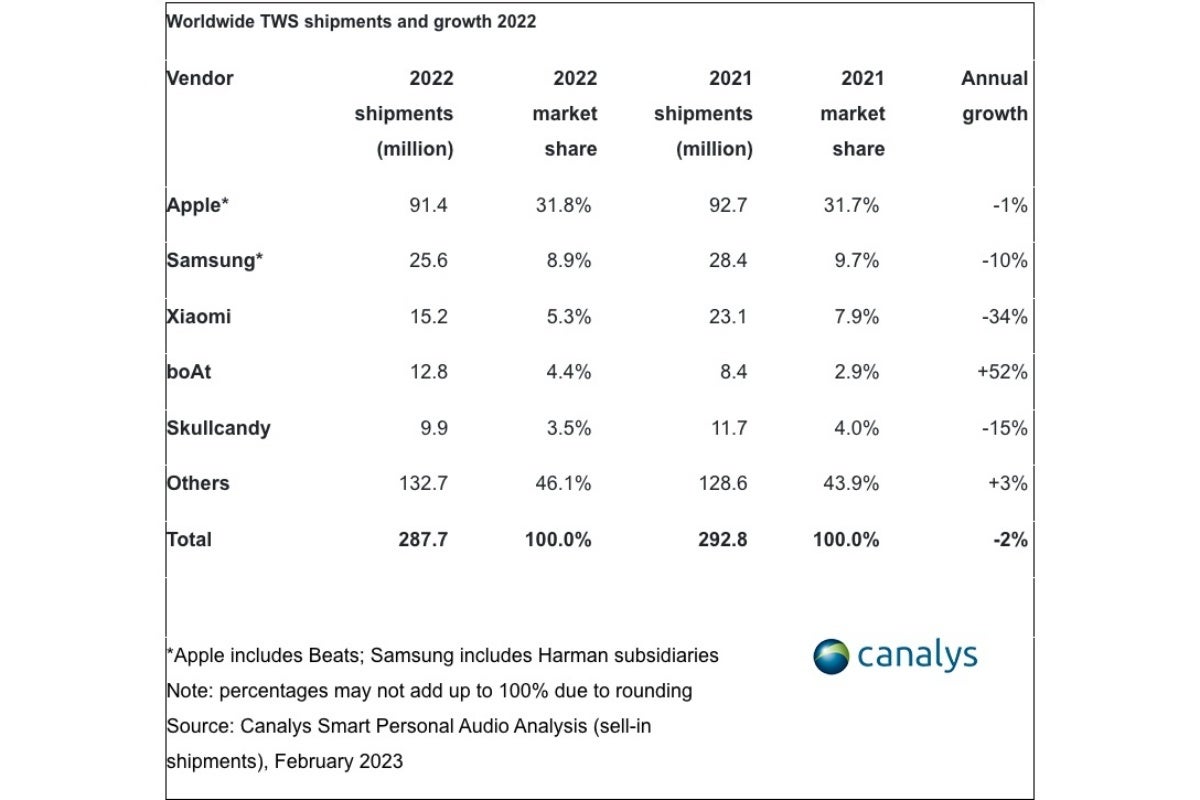 That's because all sectors of the global "smart personal audio" market are contracting, including good old fashioned wireless headphones that cover all your ear and "non-true" wireless earphones.