TF International's crystal ball-wielding analyst
Ming-Chi Kuo
disseminated multiple tweets today telling us to expect Apple to continue limiting the iPhone's periscope camera to its top-of-the-line iPhone in 2024. This year. Apple will debut its first periscope camera with the iPhone 15 Ultra/Pro Max.
In other words, the periscope camera will be a major differentiator between the iPhone 15 Pro and the iPhone 15 Ultra/Pro Max and will remain so for the iPhone 16 Pro and iPhone 16 Ultra/Pro Max. The idea is to make the more expensive model more desirable so that consumers who really want the feature will pay up for it.
A periscope camera uses prisms to bounce light from the lens through a folded-up lens to the image sensor. The camera needs to be folded so that it can fit inside the limited internal space available in a smartphone. Having a periscope lens allows a phone to snap photos using higher optical and digital zoom levels than otherwise possible. Kuo's tweet contradicts information recently published by The Elec which said that the periscope camera would be available in both the iPhone 16 Ultra/Pro Max and iPhone 16 Pro.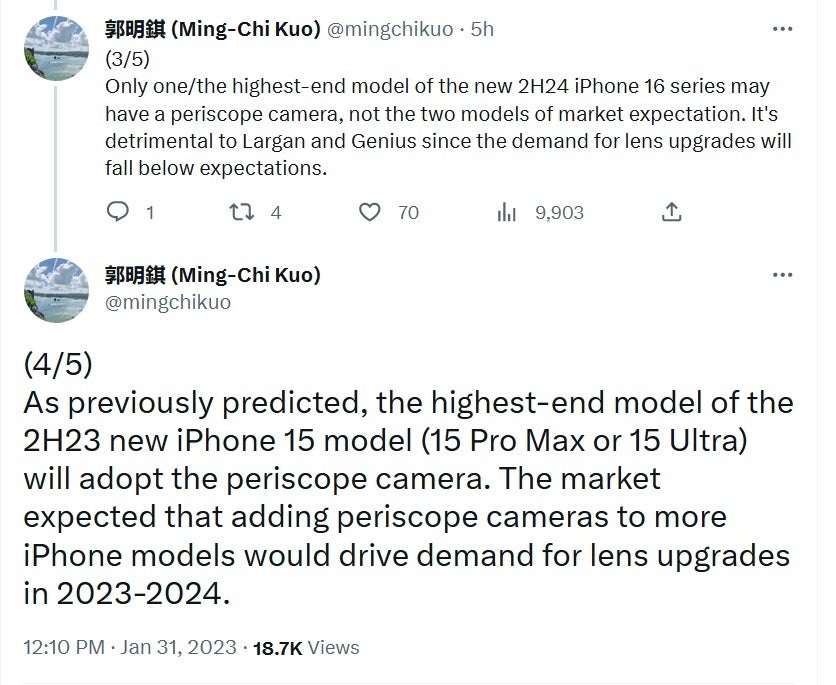 Ming-Chi Kuo says Apple will offer a periscope camera on the iPhone 15 Ultra and iPhone 16 Ultra models only
Apple is coming late to the periscope camera party as Samsung already uses the technology on its top-of-the-line Galaxy S Ultra models and you can find such a camera on the Pixel 6 Pro and Pixel 7 Pro. The OnePlus 10 Ultra was the brand's first phone to sport a periscope camera. The periscope camera was first introduced to the public by Oppo during the 2017 MWC exhibition. The result was the ability of the user to shoot 5x optical zoom. The first "mainstream" smartphone to use a periscope camera was 2019's Huawei P30 Pro.
Kuo's tweets say, "Only one/the highest-end model of the new 2H24 iPhone 16 series may have a periscope camera, not the two models of market expectation. It's detrimental to Largan and Genius since the demand for lens upgrades will fall below expectations…As previously predicted, the highest-end model of the 2H23 new iPhone 15 model (15 Pro Max or 15 Ultra) will adopt the periscope camera. The market expected that adding periscope cameras to more iPhone models would drive demand for lens upgrades in 2023-2024."
We are still more than seven months away from the expected unveiling of the 2023 iPhone 15 series which is expected to include the iPhone 15, possibly the iPhone 15 Plus, iPhone 15 Pro, and the iPhone 15 Ultra/Pro Max. As we get closer to September, more leaks and renders should surface.