The Samsung Galaxy A32 5G is one of the Best Budget Phones that you can get — there's no doubt about that. It has a headphone jack, expandable storage, excellent battery life and cameras that perform surprisingly well for its price range.
But you know, excellent is just a word — it's not the ultimate form of power. There is an infinity of possibilities out there, and in an attempt to measure it, Redditor Downtown_Cranberry44 went truly above and beyond. It's not about the 5,000mAh battery of the A32 5G being too small — it is about science. And sending a message. And inspiring Counter-Strike memes.
So what did this brave soul do? Well, they connected six Samsung 50E battery cells together and attached the resulting brick of a battery to their A32 5G. As per their own account, the monstrous battery took 7 hours to charge and it is expected to last more than a week.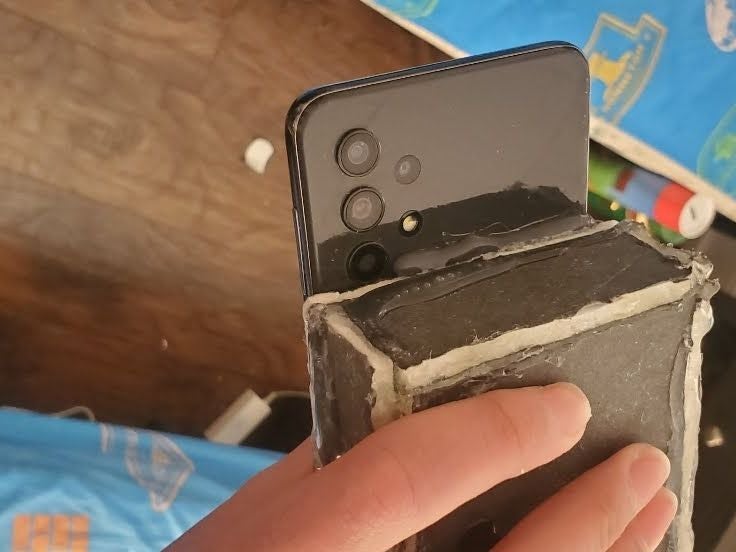 This is what success looks like.
So, before we move on, let's ensure that we're on the same page:
Regardless of how deliciously memeful this redditor's work may seem, it actually takes hard work, patience and determination to do something like this. If you are — for whatever reason — considering doing something similar, please know that this is a dangerous task that should be carried out only by professionals.
Are we good? Good.
Now then. Look at that brick!! While this is an incredible feat all on its own, it has all but ridden the Galaxy A32 of its portability. This is, without a doubt, not pocketable by any stretch of the word, but hey — if you take it with you, you won't need a charging brick.
The redditor hasn't come forward with the specific inspiration for this massive undertaking, so it is a complete mystery as to if a goal was ever part of the plan (if there was a plan). The first reason that comes to mind would be to utilize the Galaxy phone as a pseudo-PC through Samsung Dex, but that is out of the question due to the A32 not having that enabled.
For the time being, the redditor is testing the actual durability of their battery behemoth, so you are relatively early to the party. As such, if you are interested in seeing where this experiment goes, make sure to follow the thread over on the Android subreddit.
Regardless of the outcome — we salute you, Downtown_Cranberry44!