Tecno seems to be on a roll! Yesterday we shared a story about Tecno's impressive Chameleon technology that allows smartphones to change their back panel color. And even if the Phantom V Fold isn't equipped with color-bending micro-prisms, it is still worth bringing up, after its reveal at MWC (Mobile World Congress).When talking about foldable smartphones, it is impossible to ignore Samsung's work, especially in this case. The Phantom V Fold is most similar to the successful Galaxy Z Fold 4, which managed to help out foldables in general through increased adoption rates.
That, however, still doesn't change the elephant in the room. Said elephant has a hefty price tag too. And that statement goes for pretty much all foldables on the market. While Oppo sat down to share why prices aren't going to drop anytime soon, the Tecno Phantom V Fold is factual and priced at $1,099. For context, the Galaxy Fold 4 — one of the best foldable phones around — costs $1,799.
What are the specs of the Tecno Phantom V Fold?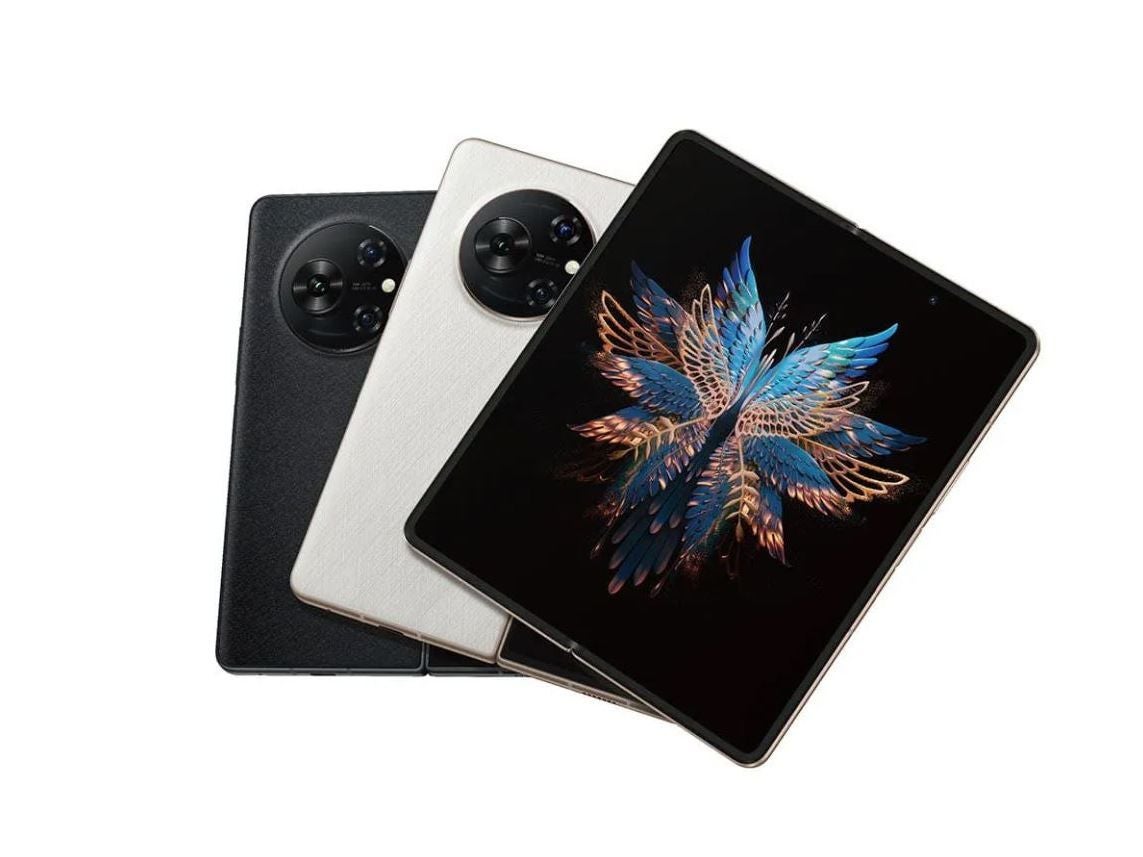 The Phantom V Fold is shown in Black and White colors with either Black or Gold-tinted accents.
But that lower price tag must've resulted in some compromises, right? Well, one that you might immediately spot is the inclusion of the MediaTek Dimensity 9000+, instead of a Snapdragon. While this will result in a performance decrease, the truth is that the Dimensity chip is gaining on the Snapdragon in a respectable manner when the two are put side by side. Oh, and by the by, this is the same chip on the Oppo Find N2 Flip, which impressed us with its fluidity.
What is more interesting though — and completely contrary to Oppo's midrange foldable expectations — the Phantom V Fold has a 120Hz, 7.85" display with a resolution of 2296×2000 on the inside. That's bigger than the one found on the Galaxy Fold 4 in resolution and physical size. The outer display is 120Hz, 6.42" at 2550×1080. On paper, this sounds grand!
Tecno also follows Oppo through its crease design, capable of enduring 200,000 folds. On the other hand, Oppo was correct in at least one aspect, as the materials used in the Phantom V Fold are of lesser quality, for the back panel is made of recycled plastic.
Here's a quick rundown of the rest of the Phantom V Fold specs:
5,00mAh battery with 45W fast charging
Triple camera setup consisting of:
○  50MP main camera
○ 50MP 2x telephoto sensor
○ 13MP ultra-wide snapper
32MP front-facing selfie cam
All that sounds great, but availability is the eternal battle in this case. Tecno has confirmed that the phone will be making a debut in India, Asia, Africa, and Latin America, but a wider release in the west was not mentioned. But hey, this is still a first: a midrange foldable! And by the looks of things, it does not sound half bad.