There are plenty of reasons we can think of why the Galaxy Z Flip 4 is (by far) the world's top-selling foldable device, but that tiny 1.9-inch Super AMOLED display found on the outside of a bendy 6.7-inch screen with 120Hz refresh rate support… probably doesn't make the cut as one of the handset's 10 key strengths.
Compared to the competition, it's arguably one of the key weaknesses, as Motorola's third-gen reimagined Razr, for instance, rocks a significantly larger and more useful 2.7-inch cover display. Incredibly enough, there appears to be another Razr edition in the pipeline with an even bigger second screen, but hardcore Samsung fans may not have that much to worry about after all.
That's because the number one global smartphone manufacturer (and number one foldable vendor) is unsurprisingly preparing a huge upgrade of its own in that crucial department for the next-gen Galaxy Z Flip 5, expected for quite some time now and depicted today by one of the most reputable sources of Samsung-related information on the interwebs.
That's a lot of (external) screen real estate
Unfortunately, SamMobile is not exactly specialized in producing high-quality renders of unreleased and unannounced devices, so instead of that,
what we're looking at today
is a barebones Galaxy Z Flip 5 design mockup… that nonetheless does a decent enough job to get its point across.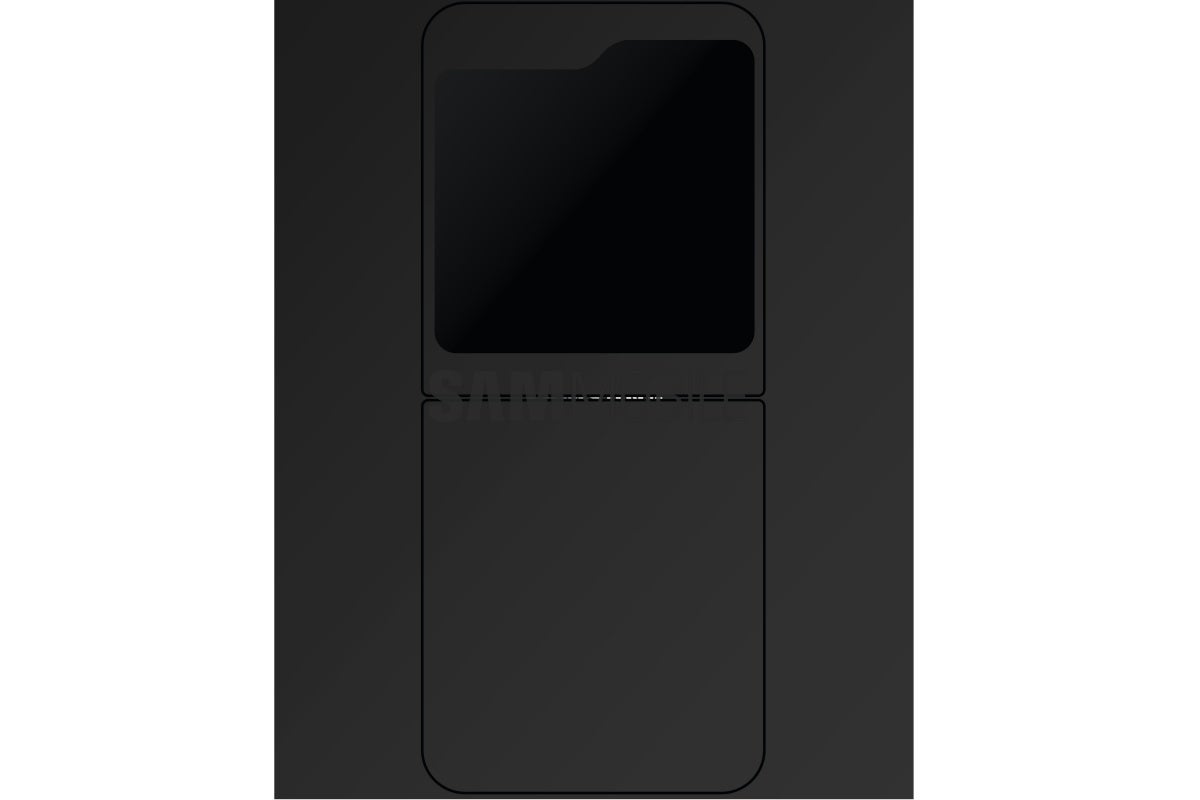 But now that SamMobile's presumably independent sources have apparently "confirmed" that the newer concept is "pretty spot on", we're officially ready to get excited. No, the Z Flip 5 external screen will reportedly not be split in two separate sections after all, instead getting a decidedly unconventional and undeniably groovy shape and sitting "somewhere between" 3 and 4 inches in size.
It's probably too early to zero in on a number, but prolific Twitter leaker
Ice Universe did mention 3.4 inches
not that long ago together with a 1:1 aspect ratio that may not prove 100 percent accurate.
What else do we know about the Galaxy Z Flip 5?
Like the Galaxy Z Fold 5, the Z Flip 5 is widely expected to adopt a "water droplet" hinge that should help make the foldable a bit thinner and a lot more elegant when closed, eliminating the still-noticeable gap between the two parts of the Z Flip 4's primary screen.
Said primary screen is also likely to feature smaller bezels, but that doesn't mean Samsung will neglect under-the-hood improvements to focus entirely on further refining an already beautiful design.
Even in the absence of other details, like battery capacity or camera capabilities, the Galaxy Z Flip 5 is without a doubt a mighty future contender for the title of best foldable phone in the world. Priced competitively, it will most definitely be the most popular such model the next holiday season.