Intro
What's new in the Galaxy S23 Ultra compared to the Galaxy S21 Ultra?
And should you upgrade to the newer S23 Ultra model or stick with the S21 Ultra for one more year?
These are the questions we will be answering in this Galaxy S23 Ultra vs S21 Ultra direct comparison, as we pit these two phones against each other across various categories. We have tested their displays, performance speed, battery life and cameras, and we've got some exciting details to share, so read on! 
Galaxy S23 Ultra vs Galaxy S21 Ultra in a nutshell:

Wider design with square corners vs narrower design with rounded corners
Brighter and more impressive display on S23 Ultra
S23 Ultra is significantly faster
But base S23 Ultra model comes with less RAM
S23 Ultra has double the storage in base model
Cameras have improved all around
S23 Ultra has longer battery life
Table of Contents:
Design and Display Quality
Small improvements add up on the S23 Ultra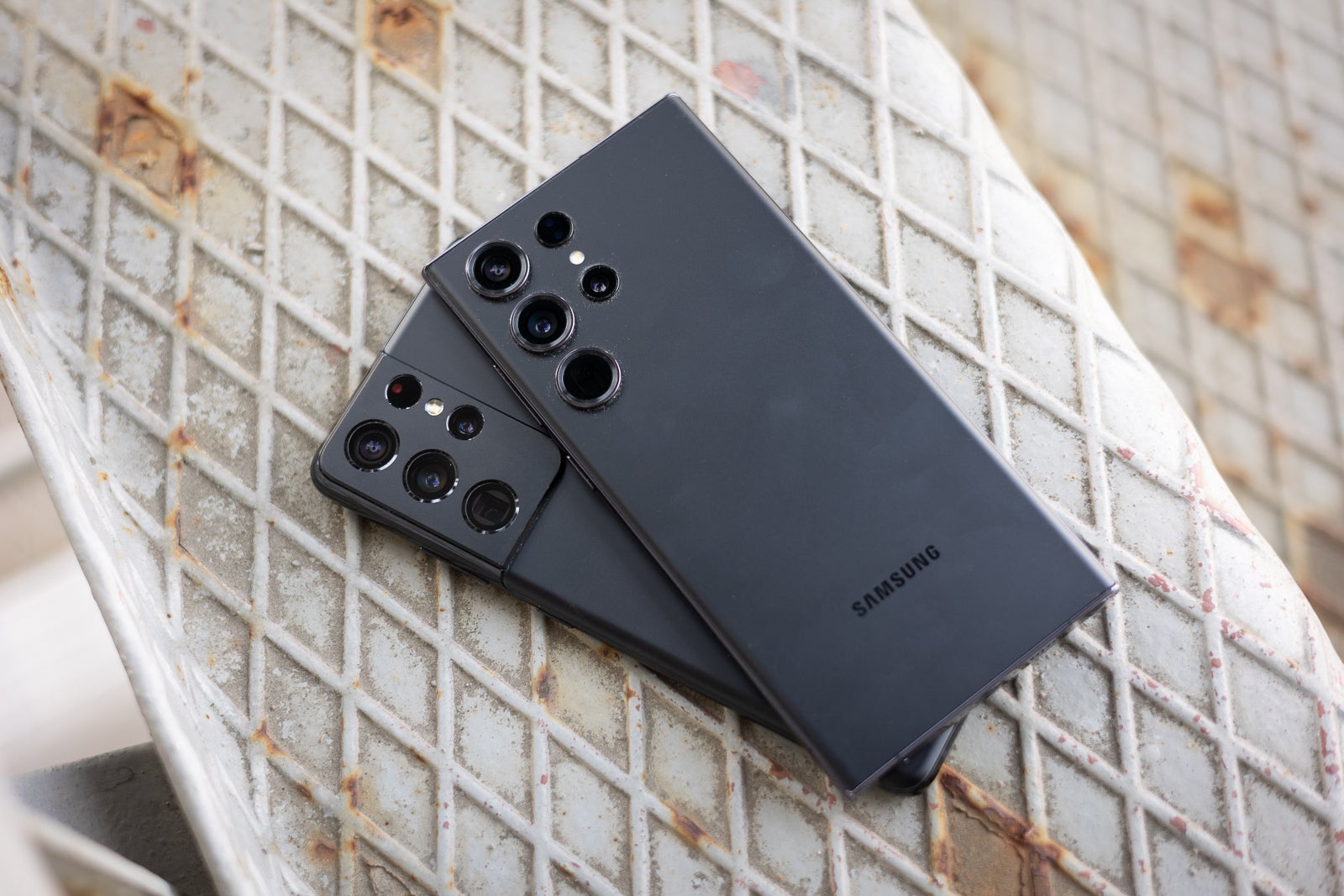 (Image Credit – PhoneArena) The S23 Ultra (on top) is wider, but both phones are quite heavy
In the hand, the S23 Ultra feels much larger than the S21 Ultra despite the fact that both have a 6.8-inch sized screen. The reason for that is clearly the wider aspect ratio on the newer phone, which it inherits from the Galaxy Note series, while the S21 Ultra feels narrower and easier to hold in one hand because of that.
Both are quite heavy at slightly more than 8 ounces, so carrying them in a pocket is definitely not very comfortable, but especially so for the S23 Ultra which has sharp corners, while the S21 Ultra has rounded corners for added comfort.
The construction is a glass and metal sandwich on both phones, they both use aluminum frames, with the only notable difference being that the new S23 Ultra goes with the latest Gorilla Glass Victus 2 glass which is more resistant to drops vs the older Victus first-gen on the S21 Ultra.
But let's not forget the biggest difference between these two: the S Pen! Yes, the S23 Ultra has got one inside it, and the S21 Ultra only supports an S Pen, but you need to have a special case to carry it around with you, which is just not as convenient. So for those who want the S Pen, the S23 Ultra is just more suitable.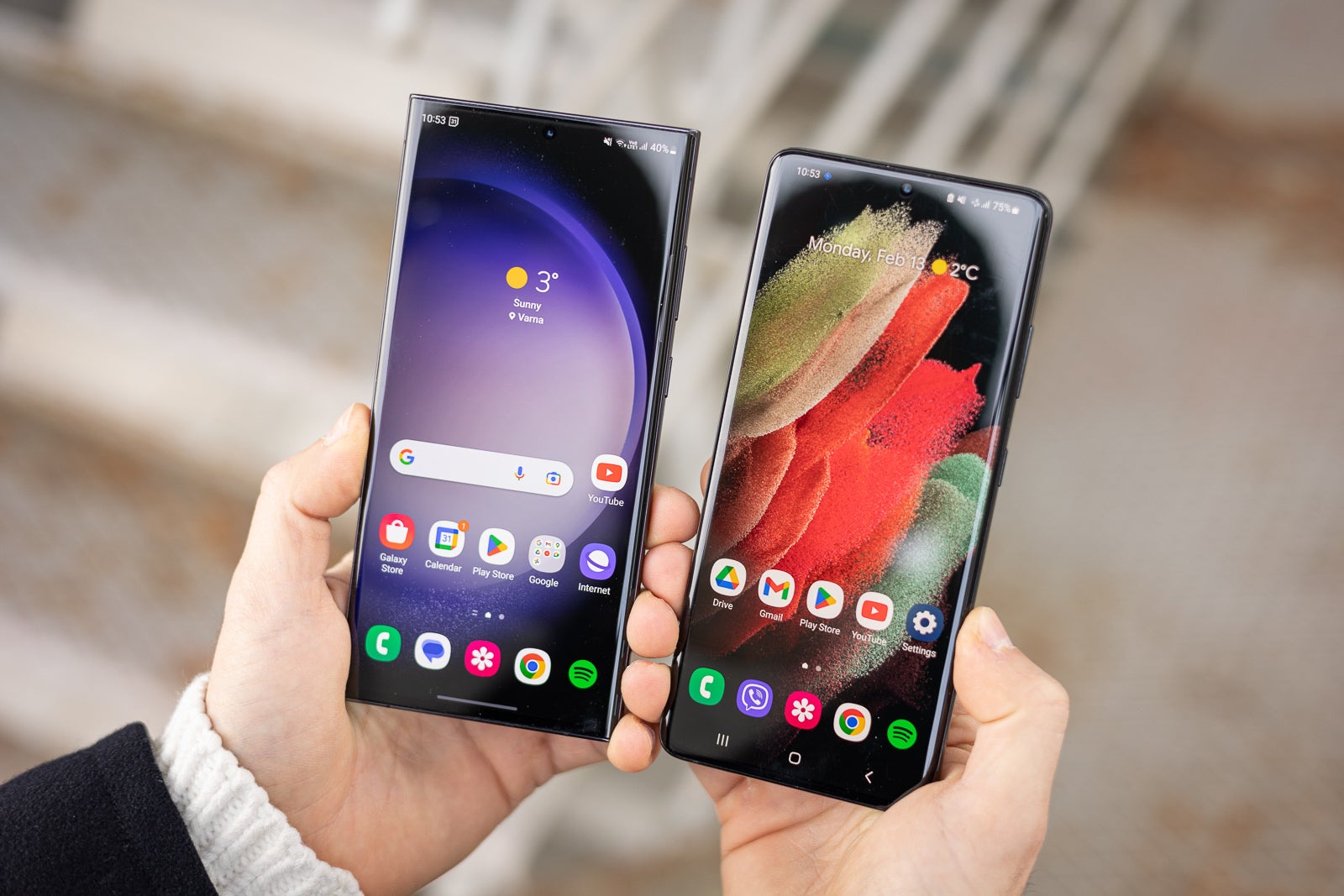 (Image Credit – PhoneArena) The S23 Ultra screen gets brighter outdoors and dimmer at night
Of course, being two generations apart, there is also a difference in the display quality.
Display Measurements:
The newer S23 Ultra gets brighter and is more comfortable for use outdoors, but it's not a huge difference as the S21 Ultra already could get plenty bright too. Color accuracy is improved, but the one thing we appreciate the most is that the S23 Ultra screen can get dimmer, so it's much easier on the eyes at night.
Both support dynamic refresh rate that can go up to 120Hz for buttery smooth scrolling, but the newer S23 Ultra can drop all the way down to 1Hz vs the 10Hz minimum on the S21 Ultra, so it can sip less power in these states.
We could not notice any meaningful difference in biometrics: both use an ultrasonic type fingerprint scanner built into the screen, and it's quite fast and accurate on both of them. You can also use the front camera for face recognition, just keep in mind that it's not all that secure using a 2D image that can be spoofed and it will force your screen to go extra bright when you use the face ID feature at night, which can be stressful.
Performance and Software
The biggest leap in speed in years!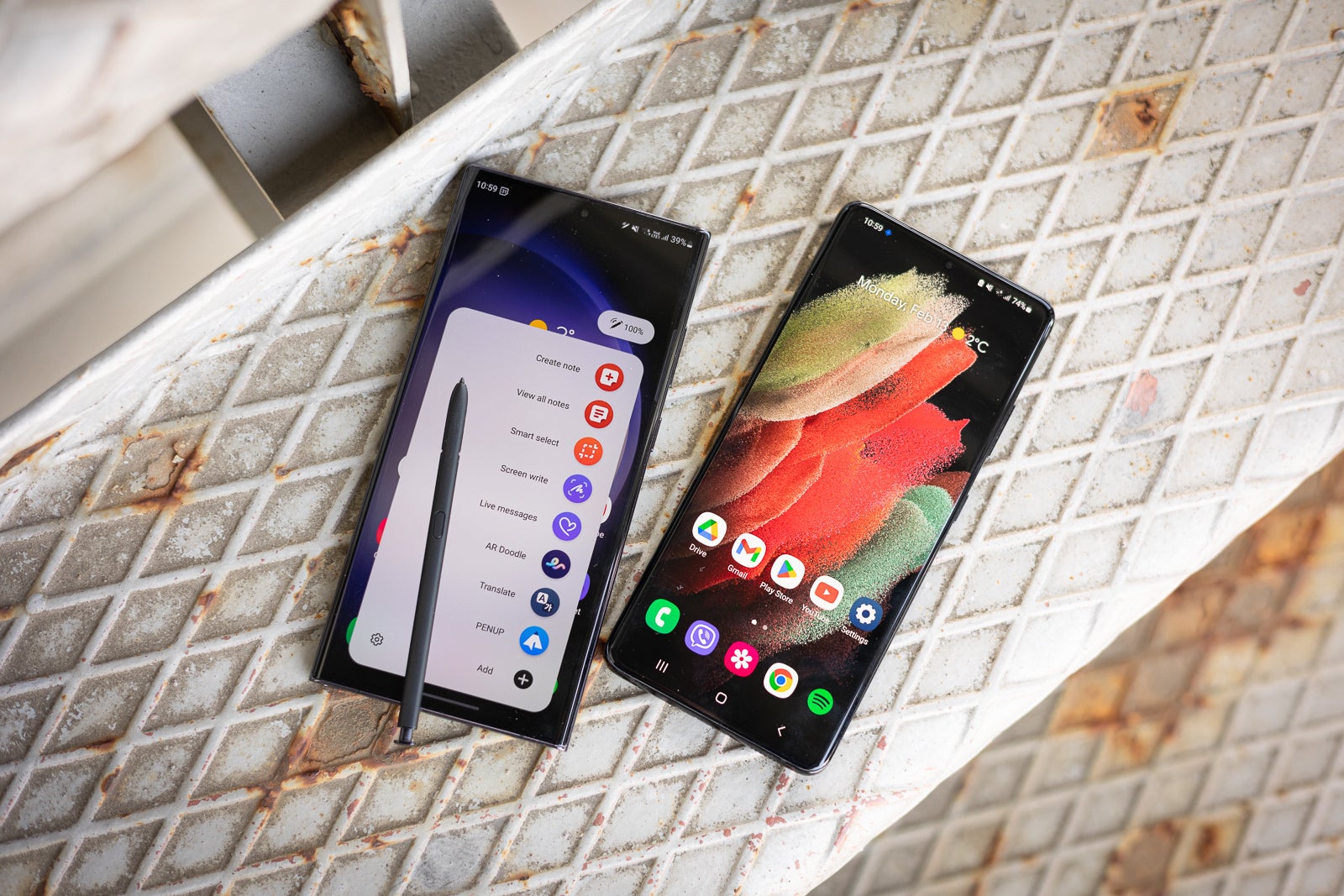 (Image Credit – PhoneArena) The Snapdragon 8 Gen 2 on the S23 Ultra is a massive improvement in performance speeds. Oh and you have the S Pen built inside!
With the Galaxy S23 Ultra, Samsung finally waves goodbye to its Exynos processors that it used in Galaxy models sold outside the United States, and this is good riddance.
But even if you compare the Galaxy S23 Ultra to the Snapdragon-powered version of the S21 Ultra (aka the U.S. model), you will notice some significant increases in processing speed. Put simply, this is the biggest generational leap in performance power in years!
Performance Benchmarks:
As you can see in the benchmark scores above, the new Galaxy scores nearly 50% more on CPU performance, and brings nearly double the gaming performance, which is really, really impressive.
Many people might argue that phones are already fast enough and you wouldn't notice those changes all that much, but we cannot agree completely with that argument. The S23 Ultra is so much faster it can be felt, and this speed will remain with you throughout the many years of using the phone.
For the first time, with One UI 5.1 and Android 13 on the Galaxy S23 Ultra, we finally also see the software catch up with the hardware. Previously jittery animations that were always a problem on Samsung phones now feel fluid and refined, much like on rival Pixels and iPhones. Samsung has finally nailed this after so many years!
Camera
200MP main camera brings big improvements to low-light shots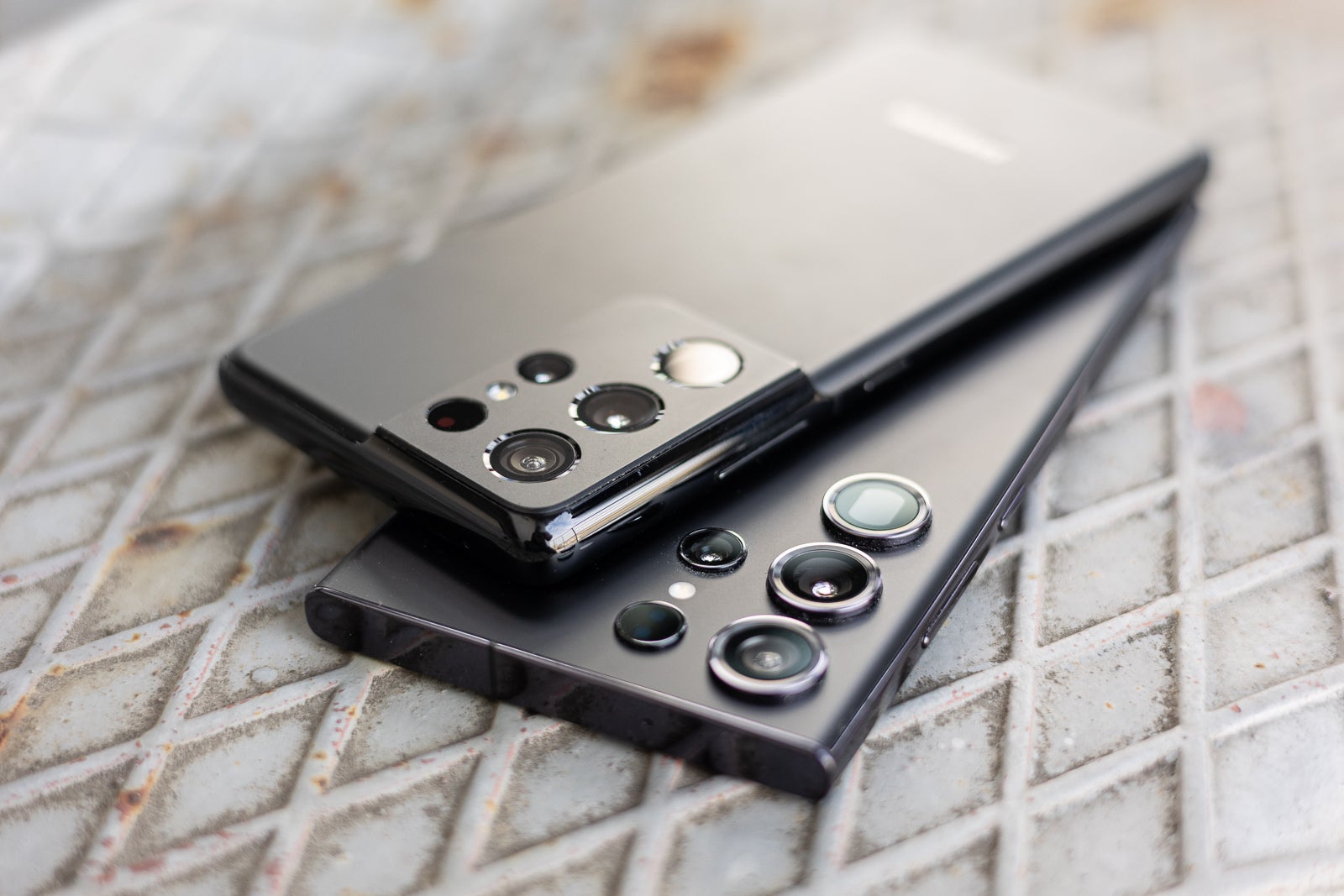 (Image Credit – PhoneArena) The new 200MP camera improves night photos a great deal
We like the new camera styling, each individual lens in its own enclosure, with a protective metal ring around it so that you don't scratch the lens itself. But you have to know that this look is also an absolute dust trap on the S23 Ultra.
Anyway, you are not here for this though. You probably care about the new 200MP main camera on the Galaxy S23 Ultra and how it compares to the images from the S21 Ultra, so let's take a look!
Main Camera – Day
During the day, the main change has got to be in the colors. The Galaxy S21 Ultra dialed down colors, then the S22 Ultra cranked them up to the extreme, and now the S23 Ultra is kind of the middle ground. Yes, it still captures more saturated colors than we have in reality, but compared to the bleaker colors out of the S21 Ultra, we do prefer this color rendition.
Detail, however, has gotten that typical smartphone look with a ton of oversharpening that you don't really have on the older S21 Ultra, so in that regard, it might actually be a step back.
Main Camera – Night
There is no arguing that the bigger differences in photos comes at night time. The improved processing from the S23 Ultra results in superior images with more color and pop.
Zoom
One of the big advantages of the Ultra series is zooming, and the S21 Ultra was the first to introduce a 10X zoom periscope camera for Samsung, and yet to this day detail out of it looks incredible.
However, you can't help but notice how the new S23 Ultra does a much better job with colors when zooming and preserves a lot of those natural tonalities.
And at 30X and 100X zoom again the biggest change has got to be just about the more accurate colors out of the S23 Ultra.
Ultra-wide
The ultra-wide camera on the S23 Ultra follows the same pattern of change as the main camera, that is to say that it captures more vibrant colors compared to the S21 Ultra, and the biggest change is noticeable when you shoot photos at night.
Selfies
Selfies out of the new S23 Ultra are sharper and lift up the shadows more for a less contrasty look. We'd say they are a step forward compared to the older model as well.
Video Quality
The S23 Ultra finally makes 8K video a practical solution as you no longer have a lot of crop to go with that footage like you used to have on the S21 Ultra, but still most of the time, we'd go with the more reasonable size of 4K footage.
Comparing the 4K30 video recordings above, you notice something interesting happens with the S23 Ultra: a ton of oversharpening! This is what we call the "smartphone look" and it's not a compliment.
At the same time, you can see how there is less noise in the video and there is a huge improvement in the video stabilization when you use the 10X zoom camera.
Finally, in low light, the S23 Ultra is a big step up with more pleasing colors and that larger sensor captures a ton more light too.
Audio Quality and Haptics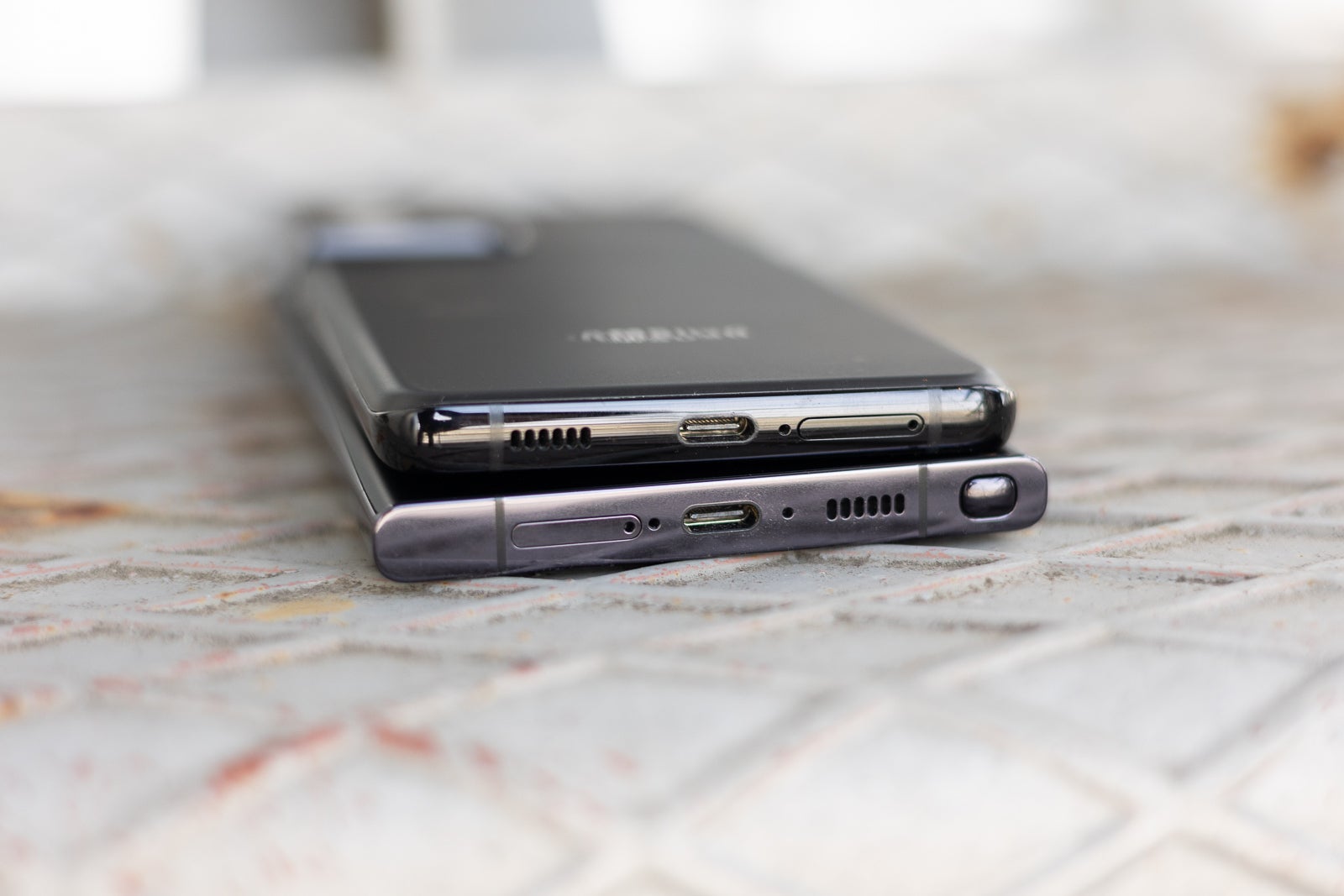 (Image Credit – PhoneArena) The S23 Ultra finally has much better speakers with boomier sound
The S23 Ultra finally brings a big overhaul to the speaker system with a boomier sound that is a big improvement from the very tinny sounding S21 Ultra which lacked sorely in the lower frequencies.
Music and games sound vastly better on the S23 Ultra, so if you can appreciate such a change, the S23 Ultra is well worth considering.
Unfortunately, haptic feedback on both these Samsung phones is just okay, it's nowhere nearly as good, tight and controlled as on the industry leading smartphones like the iPhone and OnePlus 11.
Battery Life and Charging
Big surprise: you can get a lot more out of the same battery!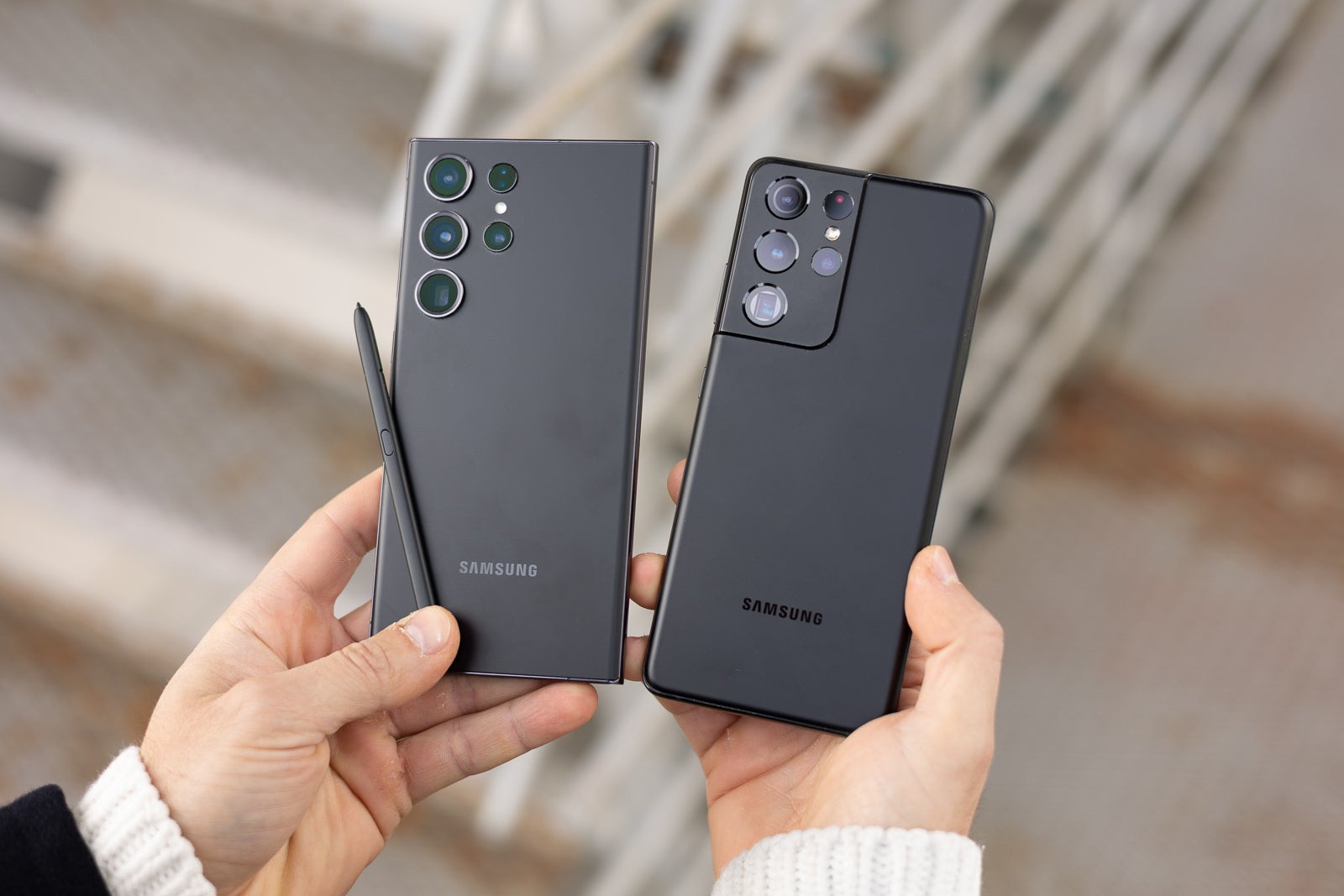 (Image Credit – PhoneArena) Samsung squeezes a lot more of the same battery size
Both the S23 Ultra and S21 Ultra have 5,000 mAh batteries inside, but the actual battery life has improved a great deal on the newer model thanks to the more efficient processor.
It's a change we, frankly, did not expect.
While the Galaxy S21 Ultra would easily last us through a full day of use, the S23 Ultra goes above and beyond and adds a half a day on top of that.
We have run our independent battery tests on these phones, and here are the results we got:
PhoneArena Battery Test Results:
While both phones score similarly in terms of web browsing, the new S23 Ultra lasts nearly 4 hours more on our YouTube video playback test, and nearly two hours longer for 3D gaming at the 120Hz refresh rate. Good stuff!
We had one more surprise on the battery front: the charging situation!
While both the S23 Ultra and S21 Ultra support 45W charging speeds with a cable (make sure you get the thicker, 5A cable and a compatible charger to get those speeds), the newer model wireless charging speeds are actually slower at 10W vs 15W on the older one.
We guess this is Samsung's way of preserving battery life long-term, and we have not received a response from Samsung about this situation, but it is a strange move.
We prefer using the wired charging method, and if you go for that, you should know that a 45W charge takes around 1 hour and 5 minutes on both phones, while if you use the cheaper 25W charger, you will have a full charge in about 1 hour and 20 minutes. Not a huge different, so you could save a few bucks and get the 25W charger.
Specs Comparison
Specs
Galaxy S23 Ultra
Galaxy S21 Ultra
Dimensions
163.3 x 78 x 8.9 mm
165.1 x 75.6 x 8.9 mm
Weight
234 g (8.25 oz)
229.0 g (8.04 oz)
Screen
6.8-inch OLED, 19.3:9 aspect ratio
1440 x 3088 pixels
1750 nit max brightness
1-120Hz refresh rate
6.8-inch OLED, 20:9 aspect ratio
1440 x 3220 pixels
1750 nit max brightness
10-120Hz refresh rate
Processor
Snapdragon 8 Gen 2 (all versions)
Snapdragon 888 (U.S. model)
Exynos 2100 (Int'l models)
RAM
8GB or 12GB LPDDR5
12GB LPDDR5
Cameras
200MP main cam, 23mm f/1.7
12MP ultra-wide, 13mm f/2.2
10MP 3X zoom, f/2.4
10MP 10X zoom, f/4.9

12MP front cam

108MP main cam, 24mm f/1.8
12MP ultra-wide, 13mm f/2.2
10MP 3X zoom, f/2.4
10MP 10X zoom, f/4.9

40MP front cam

Battery Size
5,000 mAh
5,000 mAh
Charging Speeds
45W wired
10W wireless
45W wired
15W wireless
Price
MSRP from $1,200
MSRP from $1,200 (but sold much cheaper now)
As you can see, the change in processors is really the big news, but also the new 200MP main camera sensor on the S23 Ultra.
Summary and Final Verdict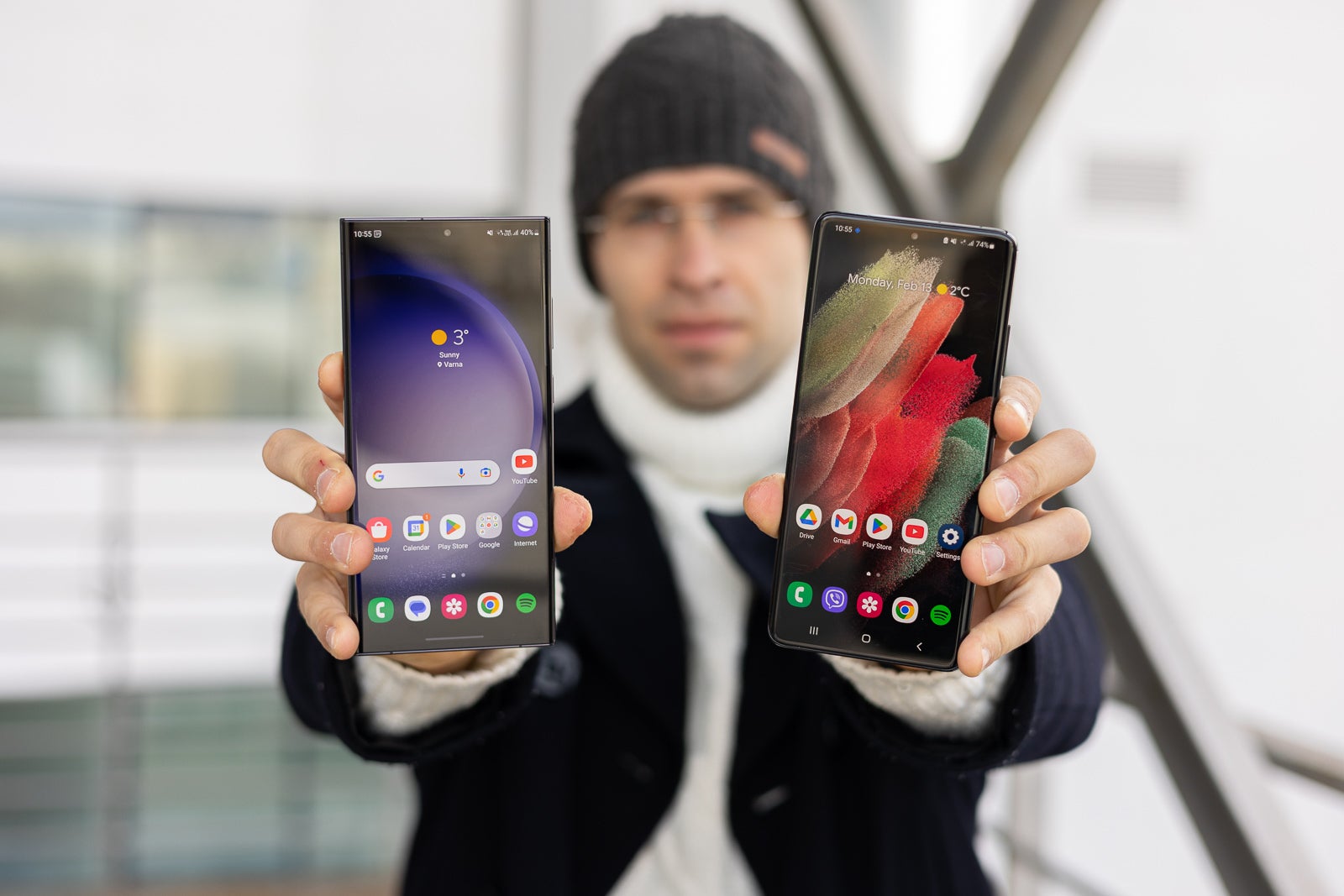 (Image Credit – PhoneArena) Would you upgrade?
So… is the Galaxy S23 Ultra so good to convince S21 Ultra buyers to upgrade?
First, you have to know where you stand on the S Pen. If it's a must-have feature, than the S23 Ultra is definitely worth it, simply because it has a dedicated slot for the S Pen and a more suitable aspect ratio for drawing with the pen.
The second group of people will be those looking for a massive change in performance, cameras and battery life on the S23 Ultra. That group can wait it out another year. The S23 Ultra is a big improvement in all those aspects, but the S21 Ultra was already good enough, so you probably don't need to switch right away.
Lastly, it's the phone enthusiasts and those who have an Exynos S21 Ultra. To those people I say go for the S23 Ultra. Unlike other people, you will notice the big improvements with the new processor, the longer battery life, the improved cameras. This is a worthy upgrade to them.
So which group do you belong to?