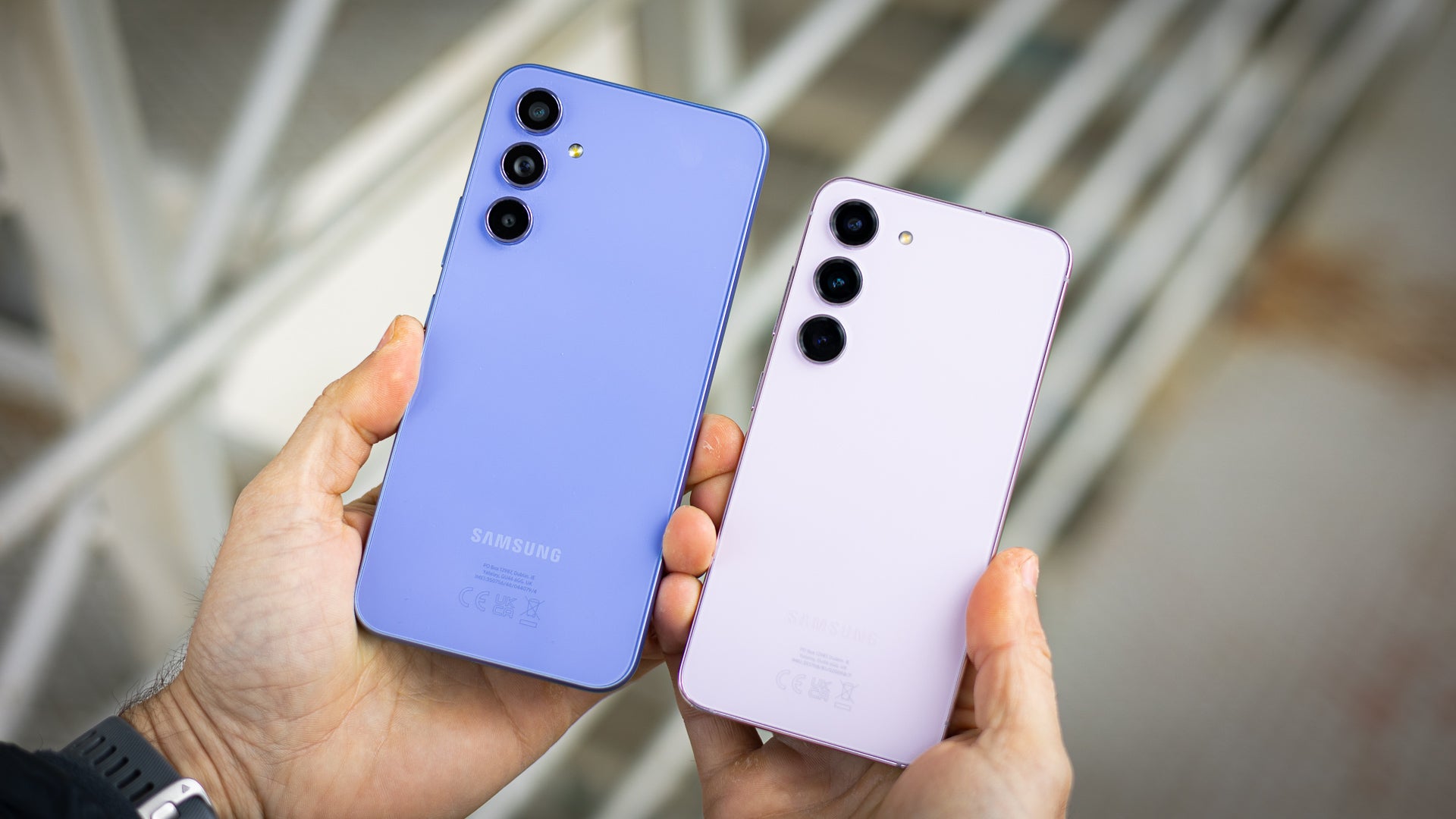 Intro
Should you buy the flagship Samsung Galaxy S23 and spend a lot of money on it, or should you save some money and get the now improved mid-range offering, the Galaxy A54 5G?
With a starting price of around $500, the Galaxy A54 5G is nearly 40% cheaper than the flagship, yet it has similar looks, a similarly brilliant AMOLED display, same charging speeds and it even takes microSD cards that the flagship Galaxy S23 does not and has longer battery life!
However, of course, it's more compromised. The screen does not get as bright, it lacks adaptive refresh rate, its cameras are not quite as good, there is no zoom camera at all, and the processor even if improved is a far cry from the amazing Snapdragon 8 Gen 2. 
Ah, tough choice! Let's see if we can help you find the better phone for you among these two!
*This article is based on preliminary, unofficial information about the Galaxy A54 5G. The phone is expected to debut on March 15th and we will then update the article with the official and final specs.
Galaxy A54 5G vs Galaxy S23 in a nutshell:

A54 5G is bigger at 6.4″ vs 6.1″ on S23
S23 has brighter screen, with smaller bezels
Snapdragon chip on S23 is much faster
Both have 128GB base storage, but A54 5G supports microSD
S23 has better cameras
A54 5G has bigger battery
Same wired charging speeds, but only S23 supports wireless charging
Table of Contents:
Design and Display Quality
The S23 is more compact and elegant
The Galaxy A54 5G has clearly drawn some inspiration from the flagship S23 with that camera styling where each lens protrudes on its own, and it's a clean look we like on both of them.
Samsung has stepped up the quality of the mid-ranger by adopting a glass back, a change from the plastics it used before, but the Galaxy S23 still uses a newer and more durable type of glass, the Gorilla Glass Victus 2.
The S23 is clearly the more compact phone, but the A54 5G is not extraordinarily giant either.
There is also a small difference in the water and dust protection rating: both phones have it, and both have a high level of protection, but the S23 goes a bit higher at IP68 compared to IP67 on the A54 5G. You probably don't need to worry about that, but if you care about the details it means that the S23 is certified to withstand immersion in deeper water.
Both also come with a flat screen, but the borders around the screen are just giant on the A54 5G, while the Galaxy S23 looks way more elegant with its thinner bezel size.
In terms of screens, the A54 5G is equipped with a 6.4″ OLED screen with a 1080p Full HD+ resolution, while the S23 comes with a smaller, 6.1″ Dynamic AMOLED 2X display with the same resolution.
Both are high quality screens, but if you care about the detail, the S23 display gets brighter outdoors, it has adaptive refresh rate (both have 120Hz but only the S23 can adapt it), and color calibration should be better on the flagship model.
We will be updating this section with out screen analysis in a couple of weeks time, so make sure to check back for those details.
In terms of biometrics, both phones rely mainly on a fingerprint scanner built inside the screen. The A54 5G goes for a cheaper optical fingerprint reader, while the S23 goes for an ultrasonic one which won't blind you at night, so that's a nice small advantage of the flagship, but both are expected to be similarly fast and reliable. And both phones also support image-based face recognition.
Performance and Software
A54 5G is a step up, but just not as fast as the S23
The A54 5G is equipped with Samsung's newer Exynos 1380 system chip, which brings a big improvement in multi-core CPU performance and graphics compared to the previous generation, but it's a far cry from the amazing Snapdragon 8 Gen 2 processor on the flagship Galaxy S23.
Let's put it this way: if you care about gaming or more intensive tasks, you will appreciate the speed advantage of the Galaxy S23.
However, we have to admit that the A54 5G is improved from previous A series phones which would occasionally stutter, so that's nice to see.
Again, stay tuned for in-depth testing of the Exynos 1380 chip and specific numbers of how it compares to the Snapdragon on the S23 in a couple of weeks time.
On the software side, we are happy that Samsung has democratized updates and provides the same 4 years of major OS update support on both the A series and the S series. The Galaxy A54 5G might get those updates a bit later than the S series counterpart, though.
Camera
The A series narrows the gap
The Galaxy A series has never had quite as good a camera as the Pixel A family, so we are happy to know that the A54 5G makes a bigger jump in camera quality than the usual for Samsung.
It loses the useless depth sensor from previous generation, so you end up with three cameras on the A54 5G, but the 5MP macro camera will be of limited use, so you will mainly rely on two cameras, a 50MP main shooter and an 8MP ultra-wide one. The Galaxy S23 also has a 50MP main camera, but with a more advanced sensor, and it has a higher resolution, 12MP ultra-wide shooter, plus an actually useful 12MP 3X zoom camera.
Clearly, the flagship phone will be far better while zooming, but to learn more about the differences in low light image quality with the main camera, video quality and more, check back here in a couple of weeks when we will have the detailed analysis in this section.
Audio Quality and Haptics
We still don't have information whether the A54 5G will deliver better sound quality or haptics, but both are areas that the previous generation of the A series was just not quite great at.
The Galaxy S23 in comparison is a big step up from previous Samsung flagships in audio quality, and it has more refined haptics as well, but again, for the real-world analysis check back in a couple of weeks as this is still a preview based on leaked information.
Battery Life and Charging
The one area where the A series beats the Galaxy S23
With its bigger size, the Galaxy A54 5G also packs a much larger battery! The 5,100mAh battery on the A54 5G beats the 3,900mah battery on the S23 fair and square in terms of pure size, but we are yet to test the actual battery life.
We have three independent tests, a web browsing test, a YouTube streaming test and a 3D gaming test to do just that and we will upload the results of all three tests here in a couple of weeks.
Both phones support the same 25W charging speeds, so the flagship does not really have any meaningful advantage here.
However, the S23 does support wireless charging, which the A54 5G does not.
Specs Comparison
Here is an overview of the main specs highlights of the A54 5G and the Galaxy S23:
Specs
Galaxy A54 5G
Galaxy S23
Dimensions and Weight
unknown
146.3 x 70.9 x 7.6mm, 168 g
Screen
6.4″ OLED
120Hz refresh rate
1080p resolution
6.1″ Dynamic AMOLED 2X
120Hz Adaptive refresh rate
1080p resolution
Processor
Exynos 1380
Snapdragon 8 Gen 2
RAM, Storage and Prices
6/128GB — $500
8/256GB — unknown
8/128GB — $800
8/256GB — $900
Cameras
50MP main cam (f/1.8)
8MP ultra-wide
5MP macro

32MP front

50MP main cam (f/1.8)
12MP ultra-wide
12MP 3X zoom

10MP front

Battery Size
5,100 mAh
3,900 mAh
Charging Speeds
25W wired
no wireless charging
25W wired
10W wireless charging
Summary and Final Verdict
The Galaxy A54 5G is a bigger jump than usual for the Samsung mid-range and we understand why you might be split between it and the more expensive Galaxy S23.
Still, our recommendation remains with the Galaxy S23, especially if you can catch it at a good price with a deal, as that Snapdragon 8 Gen 2 chip and camera quality is really outstanding and will serve you well for years to come.
However, if you just want a phone that works and works well, or if you value a longer battery life, the Galaxy A54 5G is very capable and will help you save a few bucks that we're sure you know how to spend well.
So… which one would you go for?