Social media site Reddit hasn't been working this afternoon. In fact, it is the first company listed on
Downdetector.com
as this article is being written. At 2:46 pm EDT, there were nine complaints lodged against Reddit on Downdetector and that figure soared to 66,717 at 3:16 pm EDT. There were still over 26,000 people complaining that Reddit was down as late as 5:46 pm EDT.
Reddit's status page
has three comments from the social media company starting with this one which was posted at 3:18 pm EDT: "Investigating – Reddit is currently offline. We're working to identify the issue." Another comment was left on the status page 38 minutes later. That comment said, "Identified – We've identified an internal systems issue and are working to determine a fix." The last comment on the Reddit status page was posted at 5:43 pm EDT and stated, "Update – We've identified a fix which may take some time to implement, in the meantime ready your bananas (or eat them!)."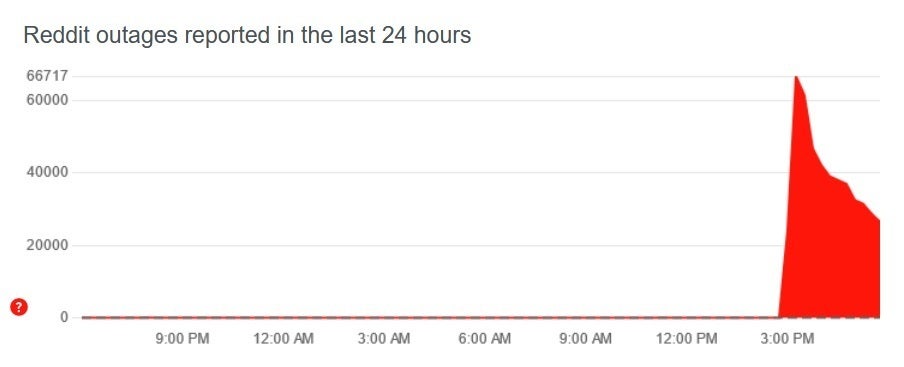 Out of nowhere, Reddit goes down
55% of the complaints against Reddit were related to the social media site's iOS or Android app. 33% reported that they could not get the Reddit website to work. Interestingly, Reddit offers users the opportunity to see how operational the service has been over the last 30 days and it shows that during that period, Reddit's desktop website has been working 99.49% of
the time. Over the same 30 days, Reddit's mobile apps have been up 99.57% of the time.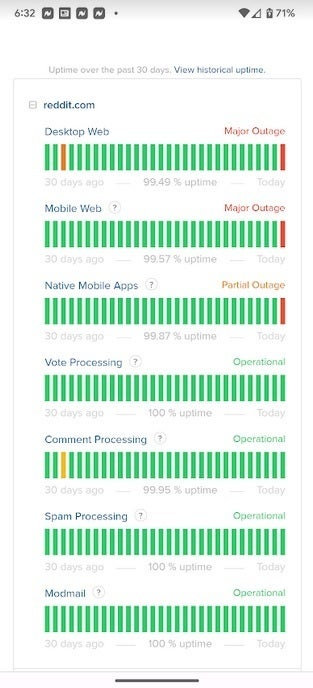 Over the last 30 days, Reddit has been up and running close to 100% of the time
This writer's Reddit app has been down for hours and the Downdetector map shows outages in most regions of the U.S. But we do have some late news and it is promising.
Reddit just disseminated a tweet
at 6:37 pm that says, "Enjoy the productivity. We'll be up and running again soon."
That Reddit needs to report its status to Reddit users on another social media platform doesn't escape one Twitter user by the name of "Just Liz" who wrote, "Seems weird that I would need to come to a competing platform to find out what's going on at your platform."