"The Android operating system on the Galaxy S23 Ultra takes up 60GB of storage space!" That is more than double the nearly 25GB that a full-blown Windows 11 takes up, and that's a more complex desktop operating system. What's going on here? Is that really true?
Well, it turns out that this is not really the case and the whole confusion stems from a misleading report in the Samsung system settings and the Android OS size is actually much smaller than reported there.
The realization came after users noticed that versions of the S23 Ultra with more storage report the system file size to be even larger. But this doesn't make sense: the system size should be roughly the same regardless of how much storage your phone has.
Before we explain the reason for all this confusion, you have to know one thing about storage in general first. A 256GB storage unit has 256,000,000,000 bytes, but when you count it in binary (1, 2, 4, 8, 16, 32, 64, 128, 256, 512, 1024, …) 1GB actually equals 1,073,741,824 bytes, meaning that it in reality it works out to about 238.4GB.
128GB storage actually has around 119GB of usable space
256GB storage has 238GB usable space
512GB storage has 494GB usable space
1TB storage has 930GB usable space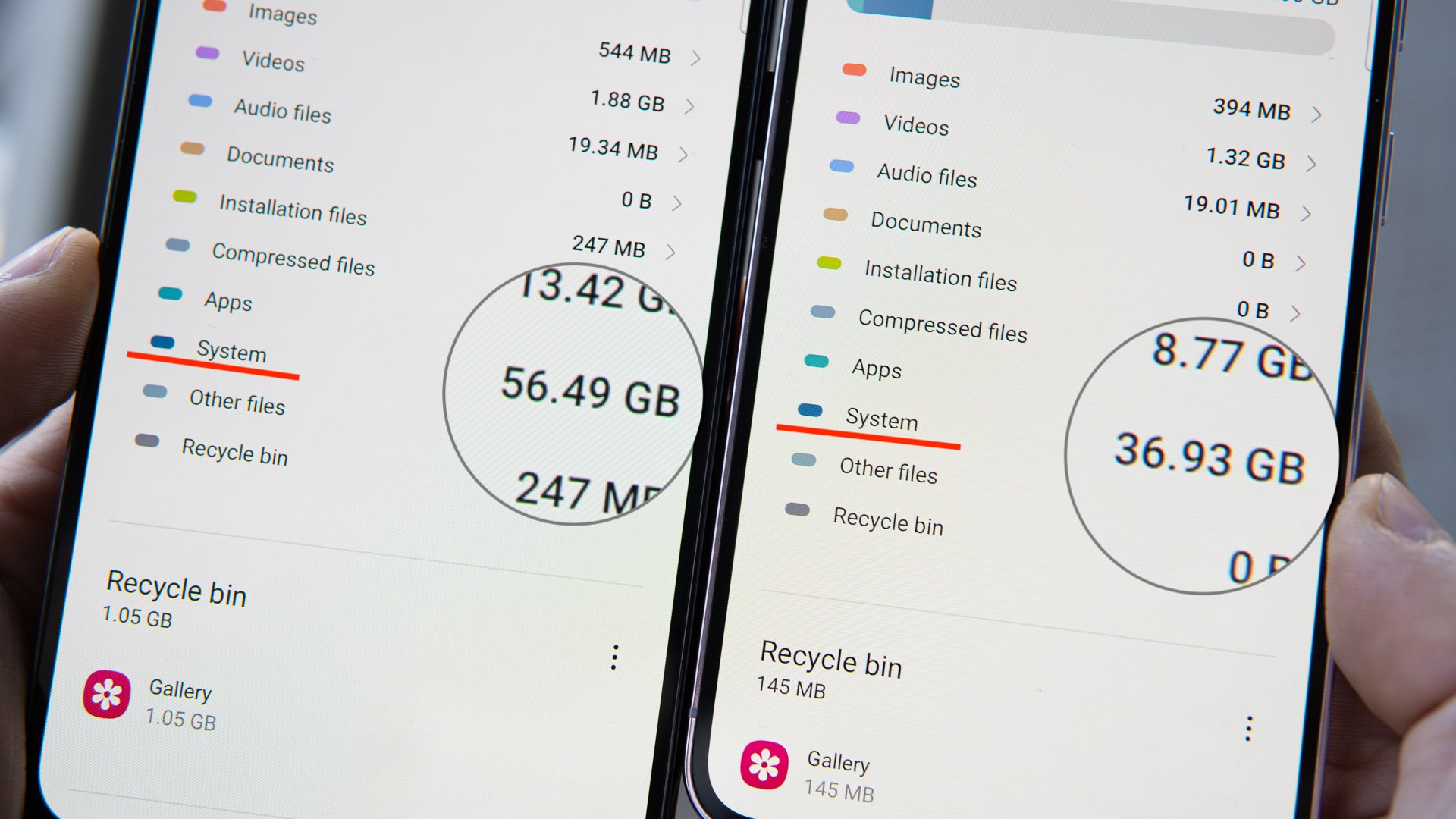 (Image Credit – PhoneArena) S23+ 512GB model on the left, reports that its system takes up 56.49GB, and S23 256GB model on the right, reports its system using 36.95GB of space, but those numbers are misleading
The tricky part is that this "loss" is wrongly counted towards your "system storage" in Samsung's storage report, while in reality it has nothing to do with the operating system size.
And that is why a 1TB Galaxy reports of having larger "system storage" than a 512GB Galaxy, which in turn reports as having yet larger "system storage" than a 256GB model of the same phone.
A correct version of the storage report should not count that "loss" in storage space towards the system file size. In fact, desktop operating systems actually display the correct amount of storage space, so if you have say, a 512GB model desktop or laptop computer, the Windows or Mac system will correctly display that you only have 494.38GB of those available for use.
Unfortunately, mobile operating systems would mistakenly report you as having the full 512GB, which is not the case.
So how much storage space does the Android system actually use on the Galaxy S23 series? The answer is about 20GB, which is still a lot but not nearly as much as the 60GB that the system settings report.