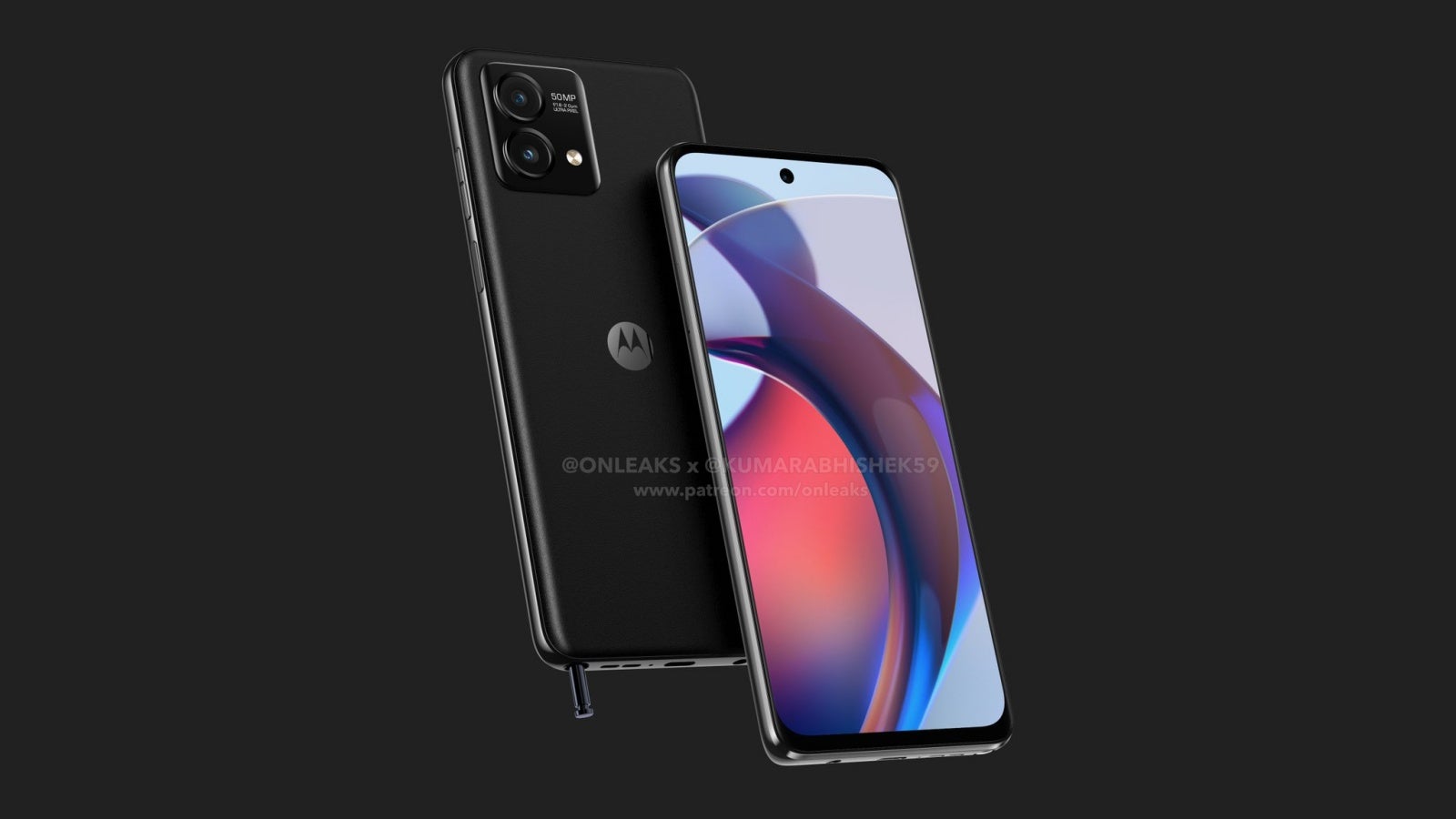 While Motorola hasn't been very quiet on the product launch front this year, already announcing a bunch of different low and mid-end Moto G-series handsets and a premium business-friendly ThinkPhone since the beginning of 2023, one of the company's most interesting early 2022-released devices is still waiting for its sequel.
Prior to today, there weren't even any Moto G Stylus (2023) rumors to speak of, but now we have a super-crisp render leaked by the almost always reliable Steve Hemmerstoffer (aka
@OnLeaks
) for the first time
on Patreon
.
This computer-generated image seems to show a very different product from both the 4G LTE-only Moto G Stylus (2022) from roughly a year ago and the slightly younger G Stylus 5G (2022) model. 
It's probably too soon to tell, but the overall design appears to be improved, with almost imperceptible side bezels, a reasonably thin "chin", an even smaller "forehead", as well as a cleaner and arguably sleeker rear cover that looks to be made from some sort of a leather-like material.
That's most likely plastic with an eye-catching pattern or finish, but it's definitely nice to see Motorola try something new after countless products sporting shiny back panels. The rear-facing camera system is also changed from both of last year's Moto G Stylus releases, this time around only including two sensors instead of three.
The primary shooter evidently comes with a 50 megapixel count and Ultra Pixel technology, while pretty much all of the other specs and features are still under wraps. 
We do know the Moto G Stylus (2023) is equipped with a side-mounted fingerprint scanner and good old fashioned 3.5mm headphone jack, and after a lengthy guessing game,
Steve H. also revealed
the handset measures precisely 9.29mm in thickness. That's roughly the same measurement as on the Moto G Stylus 5G (2022), making us hopeful that the 5,000mAh battery capacity will not be revised down.
Everything else needs to wait, possibly until later this month, when Motorola may or may not partake in the MWC 2023 festivities for the official announcement of the pen-wielding mid-range phone depicted above.