Two-factor authorization (2FA) is considered a more secure way to sign into an app or website. It requires that two layers of information be presented. Typically, after punching in a username and password the user receives a code on his phone via Text/SMS that he enters into the app or site to gain entry. Considering that most people carry their phones with them wherever they go, this is probably one of the easiest ways to implement 2FA although it might not be the most secure.
Twitter has released a blog post
about 2FA that says "While historically a popular form of 2FA, unfortunately we have seen phone-number based 2FA be used – and abused – by bad actors. So starting today, we will no longer allow accounts to enroll in the text message/SMS method of 2FA unless they are Twitter Blue subscribers. The availability of text message 2FA for Twitter Blue may vary by country and carrier."
What this means is that Twitter users who are not Twitter Blue subscribers have until March 20th to subscribe to Twitter Blue, or disable their Text/SMS 2FA. If you don't sign up to Twitter Blue before that date, your Text/SMS 2FA will be automatically disabled. Twitter warns that disabling 2FA will not disassociate your phone number from your Twitter account.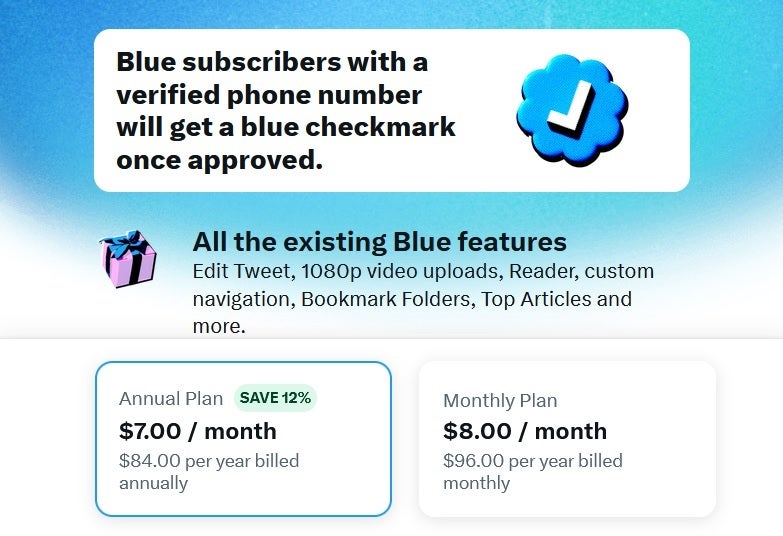 If you want to keep SMS 2FA on Twitter after March 20th, you'll need to subscribe to Twitter Blue
Twitter adds that "We encourage non-Twitter Blue subscribers to consider using an authentication app or security key method instead. These methods require you to have physical possession of the authentication method and are a great way to ensure your account is secure."
Subscribing to Twitter Blue will cost you $8 per month ($84 for a year) and besides getting to use Text/SMS 2FA, you can enjoy features like Edit Tweet. The latter gives you a 30-minute window to make limited changes to a tweet that you've posted. Another feature available to subscribers is an increase in the maximum number of characters allowed in a tweet from 280 to 4,000. Another feature will give prioritization to replies that you send to tweets that you've interacted with.
Other perks for Blue members include the Reader feature that makes long tweets look better, and one that allows members to upload longer video content of up to 60 minutes in length (no more than 2GB in size). And with Top Articles, you get to see the most shared articles from Twitter users you follow.
Twitter owner Elon Musk is looking to get more Twitter users to shell out the Twitter Blue subscription fees although charging for Text/SMS 2FA might not generate a rush of users looking to sign up for the premium service.