Still one of the richest men in the world, Twitter CEO Elon Musk is now claiming that his $44 billion purchase of Twitter was a timely one as it saved the social media company from bankruptcy. Replying to a tweet from
The Wall Street Journal
,
Musk wrote
, "Last 3 months were extremely tough, as had to save Twitter from bankruptcy while fulfilling essential Tesla & SpaceX duties. Wouldn't wish that pain on anyone. Twitter still has challenges but is now trending to breakeven if we keep at it. Public support is much appreciated!"
Whether this is just a self-serving missive designed to pump up his accomplishments at Twitter or a legitimate fact isn't clear. But the multi-billionaire might be feeling his oats after a jury in California found him "not liable" for losses that Tesla stockholders suffered after he disseminated a tweet saying that he was considering taking Tesla private at $420 a share and had "funding secured."
In reality, funding was not secured. The tweet was originally posted in 2018 and sent Tesla stock up 11% to $387.46 before crashing to $263.24 a month later when it became obvious that the funding was not secured.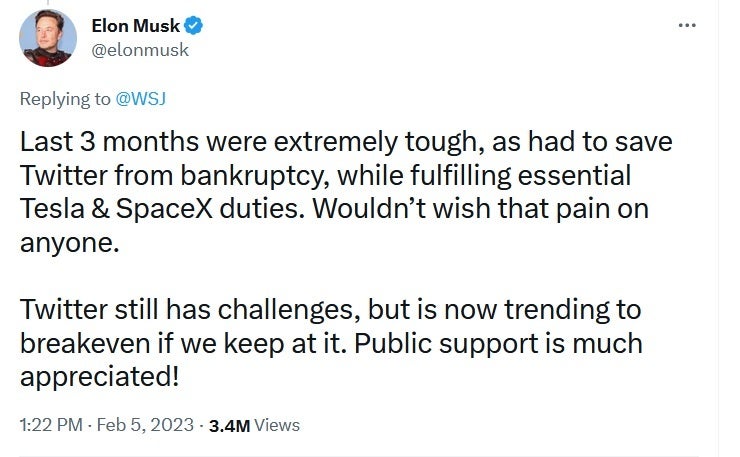 Musk claims to have saved Twitter from bankruptcy and has the social media site on a solid path
Since buying Twitter, things have gone anything but smoothly for Musk. He changed his mind several times about his plan to sell verification check marks on the platform and even mentioned that filing for bankruptcy was an option for Twitter that he was considering. However, Musk said in a subsequent tweet that Twitter's daily user count and user minutes are "still strong."
Despite the talk of bankruptcy, Twitter was able to make the first interest payment on the $12.5 billion of debt that Musk borrowed to complete the purchase of Twitter. Being able to make the payment on time probably gave Musk the confidence to tweet his claim. Personally, though, Musk has been going through some tough times. Last year, he became the first person to have the dubious honor of losing $200 billion in wealth during a single year. Over the past year, Tesla's shares have declined by 37% accounting for most of the evaporation of his wealth.