If you installed any of these apps from the Play Store, they contained malware and should be deleted
Malware has infected more than 60 legitimate apps in the Google Play Store that together have been installed over 100 million times. The malware that makes these apps so dangerous is a new brew known as 'Goldoson' and the developers behind these apps accidentally added the malware by using a third-party library that included components that already contained malware. These components are used by app developers to save the time it might take to develop certain parts of an app.
Infected apps were either cleaned up by the developer or booted out of the Google Play Store

Goldoson was discovered by researchers at security firm
McAfee
which noted on its blog that the Goldoson malware can collect a list of apps installed on a mobile device, the name of devices connected synced to a phone via Bluetooth and Wi-Fi, and nearby GPS locations. In addition, the malware can commit ad fraud by clicking on ads running in the background without the consent of the user.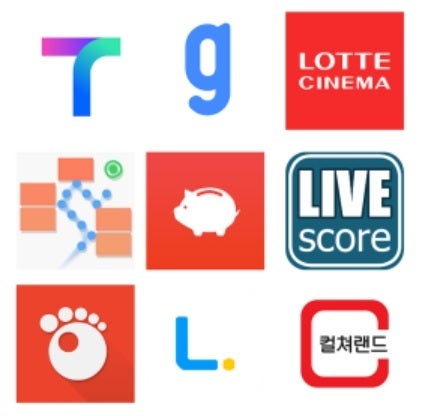 The icons belonging to nine Play Store apps that were previously infected with the Goldoson malware
Google was informed about the malware as were the developers. Many of the affected apps were cleaned up by the developers (remember, the developers were just as much a victim as those who installed the infected apps) and those who did not follow Google's directive had their apps vaporized from the Play Store.
To be safe, you should make sure that your phone does not have any of these apps installed

The list below names the apps that had been infected. Note that the list includes the number of installs and whether the malware was removed from the app (Updated) or whether the app was removed from the Play Store (Removed). 
L.POINT with L.PAY 10M+ Updated
Swipe Brick Breaker 10M+ Removed
Money Manager Expense & Budget 10M+ Updated
TMAP 10M+ Updated
Lotte Cinema 10M+ Updated*
Genie Music 10M+ Updated*
Cultureland version 2 5M+ Updated*
GOM Player 5M+ Updated*
Megabox 5M+ Removed**
LIVE Score Real-Time score 5M+ Updated*
Pikicast 5M+ Removed**
Compass 9: Smart Compass 1M+ Removed**
GOM Audio – Music, Sync lyrics 1M+ Updated*
TV – All About Video 1M+ Updated*
Guninday 1M+ Updated*
Item mania1M+ Removed**
LOTTE WORLD Magicpass 1M+ Updated*
Bounce Brick Breaker 1M+ Removed**
InfiniteSlice Infinite Slice 1M+ Removed**
Norae bang 1M+ Updated*
SomNote – Beautiful note app 1M+ Removed**
Korea Subway Info: Metroid 1M+ Updated*
GoodTVBible 1M+ Removed**
Happy Mobile Happy Screen1M+ Updated*
UBhind: Mobile Tracker Manager 1M+ Removed**
Mafu Driving Free 1M+ Removed**
Girl singer WorldCup 500K+ Updated*
FSP Mobile 500K+ Removed**
Audio Recorder 100K+ Removed**
Catmera 100K+ Removed**
Cultureland Plus 100K+ Updated*
Simple Air 100K+ Removed**
Lotteworld Seoul Sky 100K+ Updated*
Snake Ball Lover 100K+ Removed**
Play Geto 100K+ Removed**
Memory Memo 100K+ Removed**
PB Stream 100K+ Removed**
Money Manager (Remove Ads) 100K+ Updated*
Inssaticon – Cute Emoticons 100K+ Removed**
ECloud 100K+ Updated*
SCinema 50K+ Updated*
Ticket Office 50K+ Updated*
Lotteworld Aquarium 50K+ Updated*
Lotteworld Water Park 50K+ Updated*
T map for KT, LGU+ 50K+ Removed**
Random number 50K+ Updated*
AOG Loader 10K+ Removed**
GOM Audio Plus – Music, Sync l 10K+ Updated*
Swipe Brick Breaker 2 10K+ Removed**
Safe Home10K+ Removed**
Chuncheon 10K+ Removed**
Fantaholic  5K+ Removed**
Cinecube 5K+ Updated*
TNT 5K+ Removed**
Bestcare Health 1K+ Removed**
InfinitySolitaire 1K+ Removed**
New Safe 1K+ Removed**
Cashnote 1K+ Removed**
TDI News 1K+ Removed**
Eyesting 500+ Removed**
TingSearch 50+ Removed**
Krieshachu Fantastic 50+ Removed**
Yeonhagoogokka  10+ Removed**
Keep in mind that just because an app has been removed from the Play Store, it doesn't mean that it can't steal your personal data and click on ads if you still have the offending app installed on your phone or tablet. In other words, if you have any of these apps on any of your mobile devices, uninstall them now!
To save yourself some time in the future, before you install an app from an unknown developer, check the comments from those with real-life experience using the app. If you see a user writing about how the battery on his device started draining after installing the app, or that a user noticed too many ads on his phone, consider those to be red flag warnings. If an app doesn't pass the smell test, forget about it.