Right after it announced its newest Magic 5 Pro flagship at MWC'23 today, Honor also unveiled its latest foldable phone, the Honor Magic Vs, which looks like it could give the Samsung Galaxy Z Fold 4 (one of the best foldable phones right now) a serious run for its money. The newest device in the foldable niche is pretty similar to the Galaxy Z Fold 4 in terms of overall design and overall appearance, but seems to improve things in a few very important aspects, like design and battery life.
Kicking off things with the design, the Honor Magic Vs rolls out with a very sleek and slim design, hitting just 12.9mm thickness in its folded state and just 6.1mm when unfolded, noticeably slimmer than the Galaxy Z Fold 4. What's more important, however, is the new hinge that Honor has adopted: from a technical point of view, it's definitely an impressive gearless hinge, with no gears in the folding mechanism, which brings enhanced durability and is good for around 400,000 folds.
Another benefit of the redesigned hinge is its much more compact size, which has allowed for a gapless design that leaves almost no crevice to be seen from the side when the phone is folded, which isn't a strong suit of the Galaxy Z Fold 4.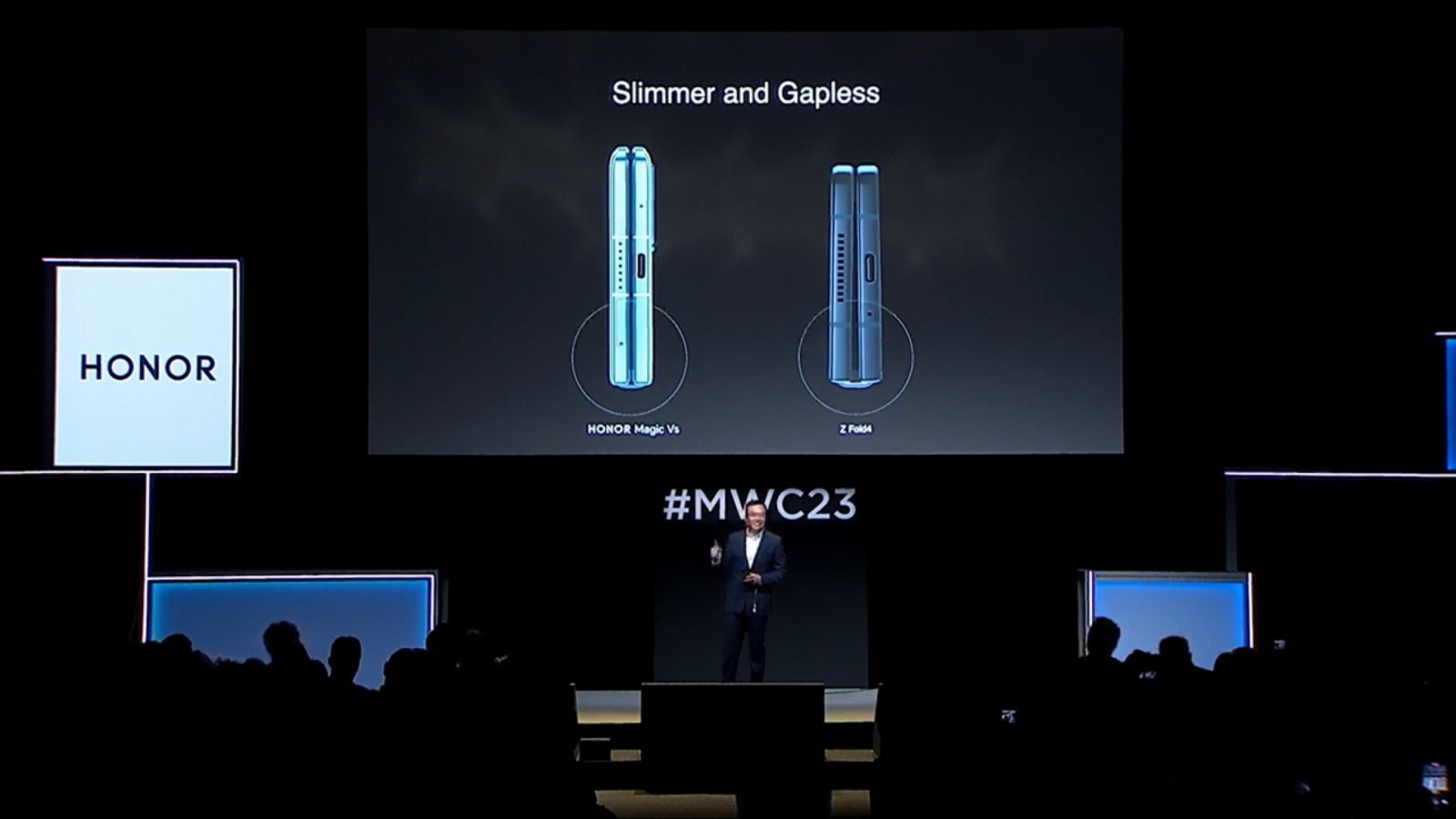 Honor Magic Vs vs Galaxy Z Fold 4 thickness comparison
The Honor Magic Vs also has a rather respectable 5,000mAh battery on deck, the current standard for traditional Android flagships. Such a large battery is, of course, great news for the battery life of the phone, and Honor says that its battery should last 2 hours and more in comparison with the Z Fold 4 in folded mode and an hour or so more in unfolded mode versus the Galaxy Z Fold 4's 4,400mAh juicer.
How has Honor fitted such a larger battery in a slimmer foldable phone? Easy, it's a slightly taller and wider device, allowing for more of the internal space to be used for energy storage. In fact, the external display of the Honor Magic Vs is a 6.45-inch OLED screen with a 21:9 aspect ratio and 120Hz refresh rate, as well as 1200 nits maximum brightness and 1920Hz PWM (pulse-width modulation) dimming, which should strain your eyes way less, especially in low-light situations. On top of that, the bezels at the front are reportedly much slimmer than what you'd normally get on the Galaxy Z Fold 4.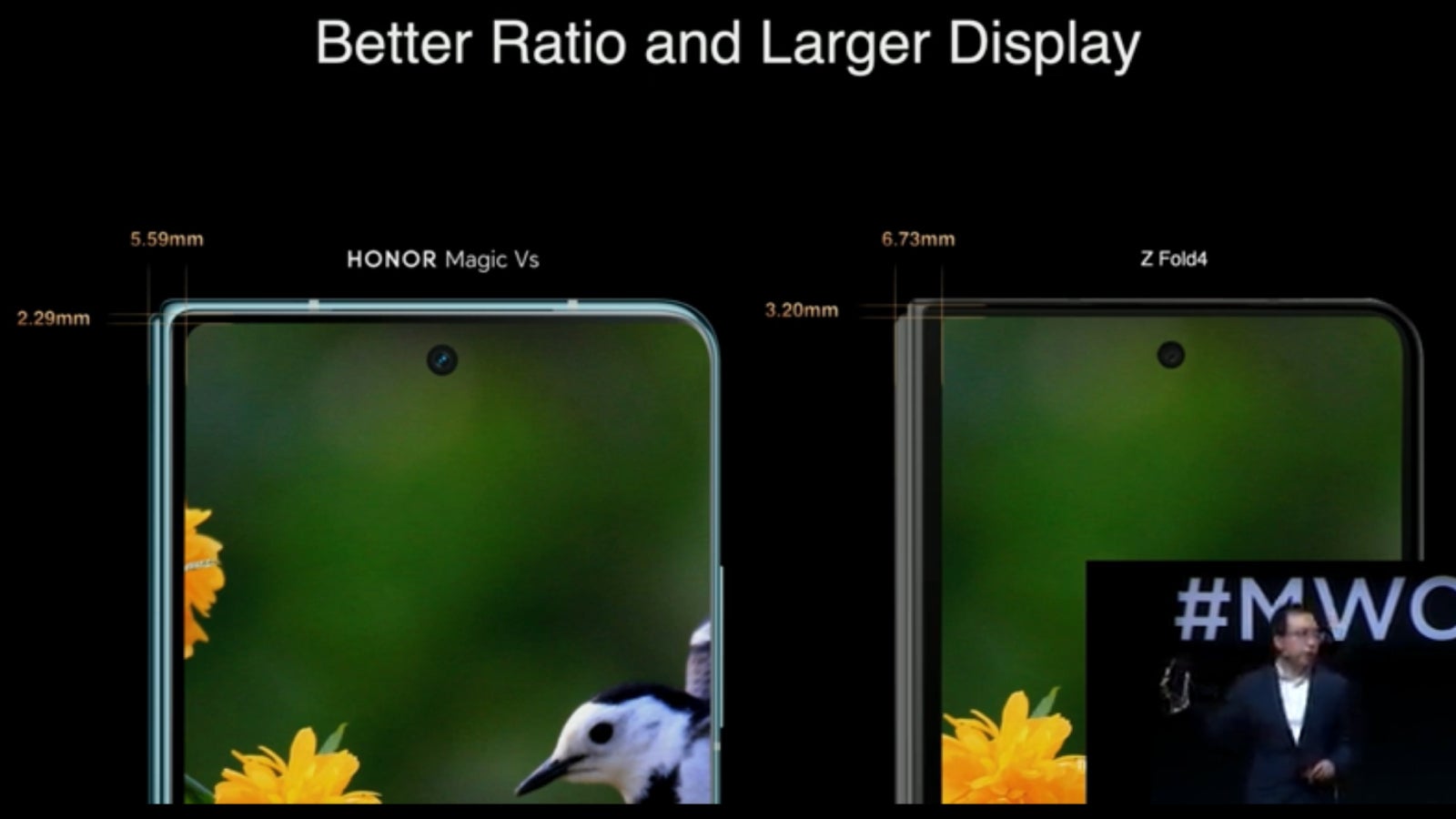 Honor Magic Vs vs Galaxy Z Fold 4
Inside the Honor Magic Vs, we find a 7.9-inch OLED display with 90Hz refresh rate, QHD+ resolution and 800 nits of maximum brightness, as well as the same 1920Hz PWM dimming technology that aims to go easy on your eyes.
On the hardware front, the Honor Magic Vs comes along with the Snapdragon 8+ Gen 1 chip. That's alright, though it would have been much better if the company had secured the newest, most powerful and efficient chip in Qualcomm's arsenal, the Snapdragon 8 Gen 2. The phone will be outfitted with 12GB of RAM and 512GB of internal storage.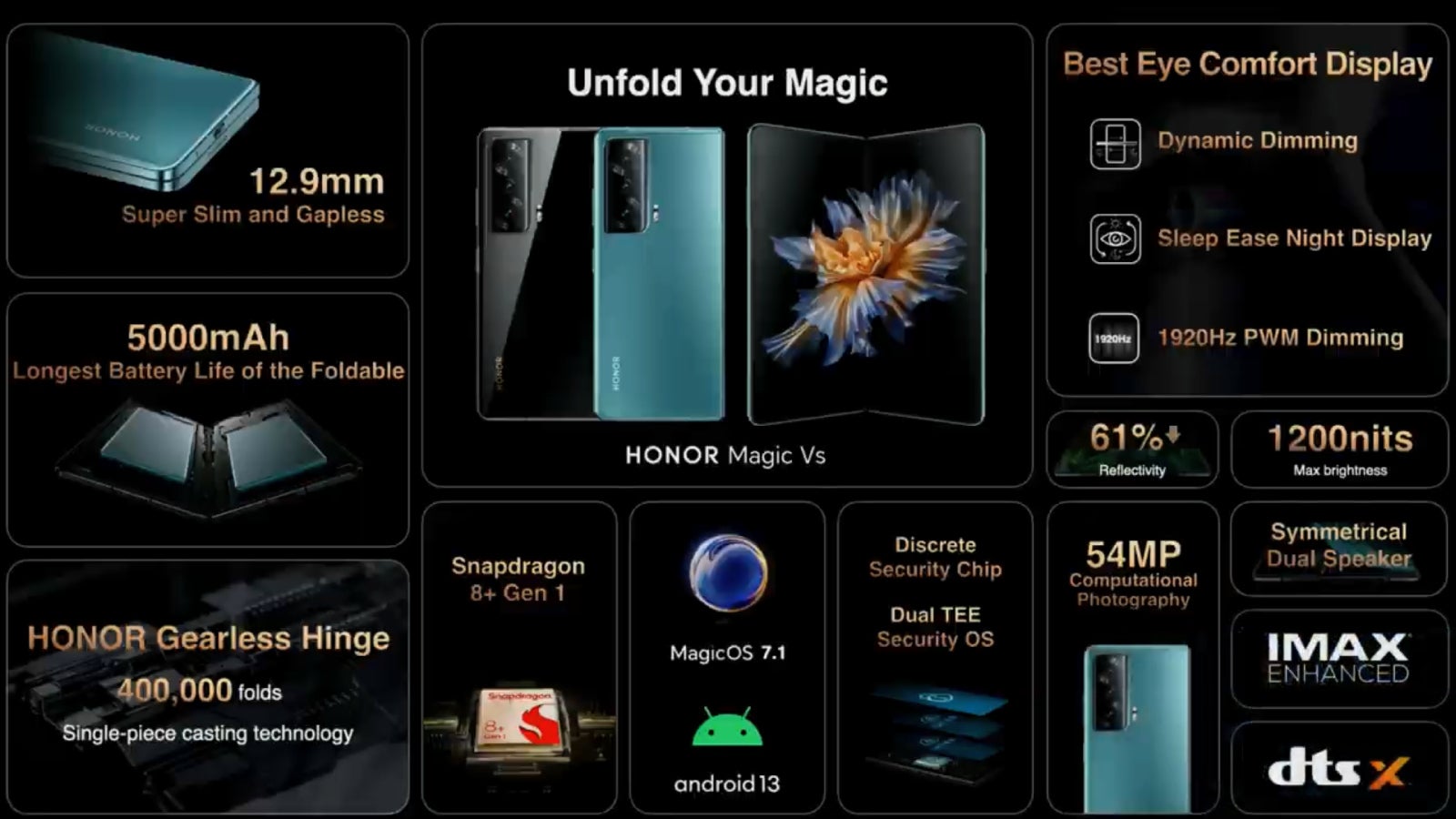 Honor Magic Vs specs at a glance
The phone also comes with a triple-camera setup, consisting of 54MP main camera, an 8MP telephoto lens, as well as a 50MP ultra-wide camera, as well as a flicker sensor at the back which automatically adjusts the shooting settings so that you get no flicker in your videos.
What about the price? Well, the Honor Magic Vs is priced at EUR1599 in Europe, and won't be available in the US. Overall, that's a pretty aggressive pricing that immediately puts the Honor Magic Vs versus its more popular competitor in the foldable space, the Galaxy Z Fold 4, which usually costs around EUR 1700 in Europe, though Samsung is happy to offer various promotions, trade-in bonuses, and rebates on the regular.
Honor's latest Magic Vs foldable phone should hit the shelves sometime in the coming months, with the exact dates depending on the specific market.