One of the most underappreciated features found on a smartphone is the share sheet. This is the page that allows you to pick the platform being used to share content. The ones used by both Google Chrome and Google Photos are often criticized. The current share sheet used by the aforementioned apps is limited at first glance and requires the user to press the "more" tab to see all of the options. Ironically, having a different share sheet than the one used system-wide violates Android Guidelines.
According to
Techdows
(via
AndroidPolice
) Google is working to move the Chrome browser app to the native Android system share sheet. Signs that such a move is in the works were spotted in the Chrome Canary app. This is an unstable version of Chrome that gets updated daily and
it is available from the Google Play Store
. In version 112 of Canary Chrome (made available with the stable Chrome browser app at a older version), you can toggle a setting that will force the app to use the Android system share sheet by defdault.
To force Chrome to use the Android system share sheet, follow these directions:
Launch Chrome
Go to chrome://flags
Search for share, find the flag "Share sheet refactor Android"
Chrome Share sheet refactor Android flag
Select Enabled
Restart the browser
After you restart the browser and request the share sheet from the triple-dot menu in the upper right corner, it will show you the native Android share sheet. Right now, this is only available on the Canary Chrome app and will be eventually be found on the stable Chrome app. Right now, my Pixel 6 Pro running Android 13 QPR2 Beta 3.1 has version 109 of stable Chrome installed. The version of Canary Chrome on my phone is 112 which does offer the migration to the Android system share sheet.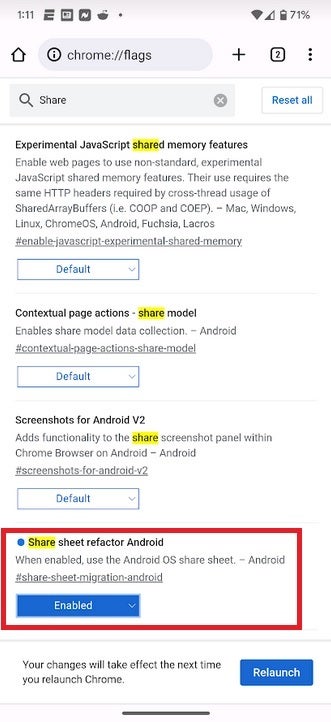 You can set Canary Chrome to run the native Android system share sheet by default
To see which version of Chrome is installed on your phone, open the app, tap the three-dot menu button found in the upper right of the display. Go to Settings > About Chrome, and the version number will appear. Once you see that you're running version 112 of stable Chrome, follow the six steps listed above. Again, these steps work right now on Canary Chrome but we will need to wait for it to appear for the stable version of Google's mobile web browser.