It has been a tough 24 hours for Google culminating today in a huge drop in the stock of parent company Alphabet. The stock declined by $8.04 or 7.44% to end the regular trading session at $100. The drop took $100 billion off of Google's market value after
a video posted on Twitter
showing off its newly announced experimental chatbot Bard gave the wrong answer to a question. Google removed the question and added a new one as you can see in the embedded tweet below.
Google's conversational AI chatbot Bard flubs an answer and $100 billion in value comes off the stock

In the video, Bard was asked the question, "What new discoveries from the James Webb Space Telescope can I tell my 9-year-old about?" Bard answered the first two questions correctly but swung and missed on the third one. That answer incorrectly gave the James Webb Space Telescope (JWST) credit for being the first to take photographs of a planet outside of our solar system. However,
NASA records
show that the first photos of these so-called "exoplanets" was snapped by the Very Large Telescope belonging to the European Southern Observatory.
Bard is an experimental conversational AI service, powered by LaMDA. Built using our large language models and drawing on information from the web, it's a launchpad for curiosity and can help simplify complex topics → https://t.co/fSp531xKy3pic.twitter.com/JecHXVmt8l

— Google (@Google) February 6, 2023
Another analyst weighed in by saying (in Wall Street speak of course) that the selloff in Alphabet was an overreaction. Dennis Dick, founder and market structure analyst at Triple D Trading told
Reuters
, "This is a hiccup here and they're severely punishing the stock for it, which is justified because obviously everybody is pretty excited to see what Google's going to counter with Microsoft coming out with a pretty decent product."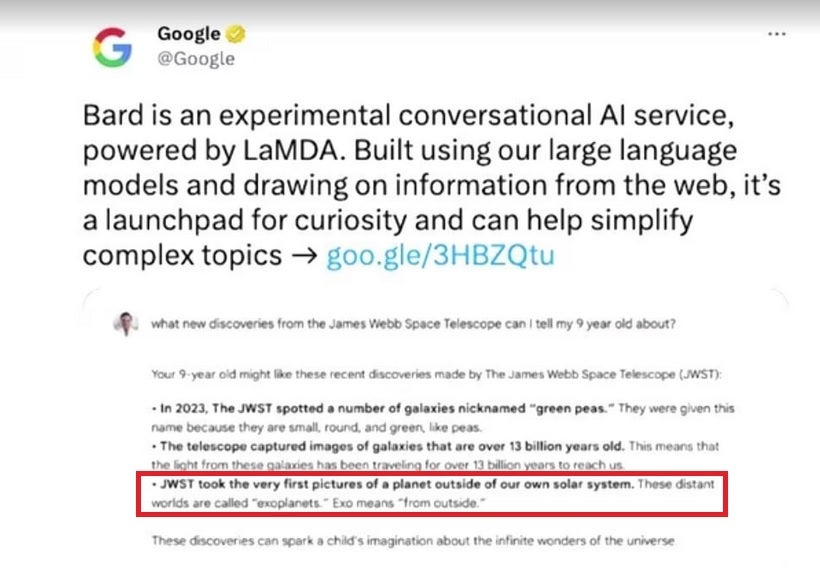 Highlighted area shows Bard's incorrect answer
Gil Luria, senior software analyst at D.A. Davidson, told clients, "While Google has been a leader in AI innovation over the last several years, they seemed to have fallen asleep on implementing this technology into their search product. Google has been scrambling over the last few weeks to catch up on Search and that caused the announcement yesterday (Tuesday) to be rushed and the embarrassing mess up of posting a wrong answer during their demo."
Microsoft is positioned to make a fortune with the AI-powered Bing

Microsoft is investing billions of dollars in ChatGPT parent OpenAI giving the company a chance to be extremely relevant in the online search space where it currently owns a market share of only 9%. Each percentage point rise in the company's market share will mean $2 billion of additional advertising revenue for Microsoft. By the way, Microsoft's shares could not hold on to early gains on Wednesday and closed down 83 cents (or .31%) to $266.73. Earlier in the day the stock hit a high of $276.76.
AI chatbots do have a habit of using incorrect data to form inaccurate answers which are known as hallucinations. No, this doesn't mean that ChatGPT or Bard have been using magic mushrooms or other illicit substances. It is just the nature of the beast although in this case, it doesn't seem that Bard had a hallucination. To fight back against these inaccurate responses, AI platforms need plenty of user feedback.