The
U.S. Sun
reports that Google is warning both iOS and Android users about estimated photo locations. This feature, which is used with photos stored in the Google Photos app, looks at the background of photographs and videos you've taken with your phone's camera and using landmarks visible in the image, tries to figure out where the picture or video was taken. While Google no longer uses your Location History to figure out where you snapped a photo or recorded a video, it works around this by using other methods.
Google's alert pops up in the Photos app and says, "Photos locations come from multiple sources, including locations estimated by Google Photos. We stopped using Location History to estimate photo locations, but we'll continue estimating using other sources when 'Estimate missing locations' is on." The alert also asks whether you want to keep any existing estimated locations or have them removed.
As Google notes, "Choosing 'Keep' means that you can use existing estimated locations to organize and find photos." If you choose to delete them, you will get a message that says, "Deleting estimated photo locations based on Location History may result in permanent loss of those estimated locations. Your photos will be kept."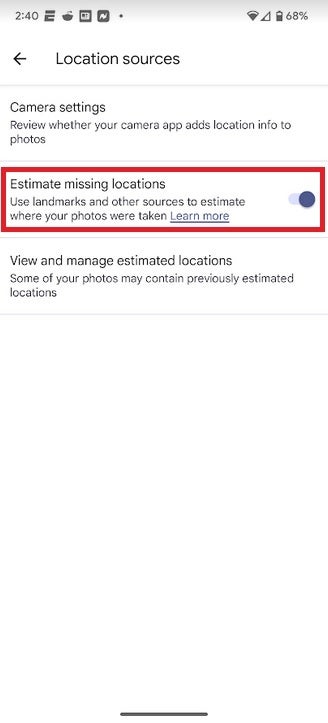 If you want to, disable Estimate missing locations on your iOS or Android phone
You might have estimated photo locations toggled on by default. To check, open the Google Photos app and tap on the profile picture in the upper right corner of the screen. Tap on Photos settings > Location > Location sources. There is a toggle for  "Estimate missing locations." If it bothers you that Google is using landmarks in your pictures to take an educated guess about where you were, make sure that this setting is toggled off.
You can also edit or remove an estimated location from a picture stored in the Google Photos app by opening the app, and tapping on the picture or video. Tap the three-dot overflow menu and "Edit" (with the pencil icon). Add or select a location from your recent locations or tap Remove location to have any location associated with a picture or video deleted. Pictures that have a location added by your phone's camera cannot be edited.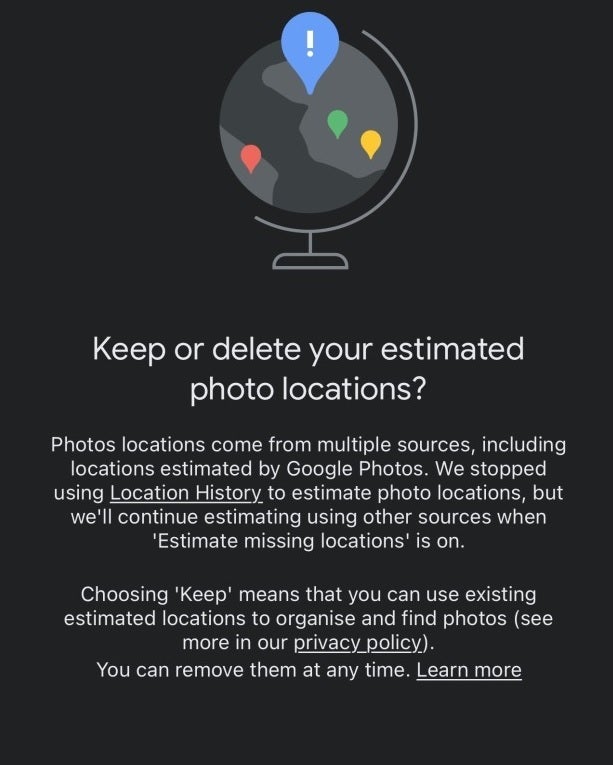 You should receive this alert in the Google Photos app on iOS and Android
Google Photos users on iOS or Android will have the option of keeping or removing estimated locations before May 1st. If you don't make a decision before then, Google will automatically remove the existing estimated locations from your Photos app on or after that date.