Galaxy S23 Ultra: Unlike Apple, Samsung couldn't make the best phone without help from friends
Samsung launches its "S" series of flagship phones around February every year, while Apple usually adheres to a September launch when it comes to the iPhone. This leaves a 5-month gap between the release of the two most popular flagships on the market, which always makes comparing the two a bit… tricky.For example, by the time the Galaxy S23 Ultra is one-month old and we're able to gather long-term impressions on how the phone performs, the iPhone 14 Pro Max would be half a year old, and vice versa. This massive gap between Samsung and Apple's flagship releases means both companies need to try and create a balanced enough product that's:
Good enough to take on the competition now
Good enough to take on the next flagship Galaxy/iPhone
Good enough but not too good in order to leave some new features for the company's next flagship phone
Would you believe it! Making phones isn't that simple… But hitting the right feature set balance is a whole science by itself, and while Apple is notorious for taking longer to implement hardware upgrades, Samsung is only just beginning to learn how to play the "slow innovation" game.Nevertheless, unlike Tim Cook & Co who live in their own software/hardware bubble, Samsung needs a few good friends to make sure the Galaxy S23 series of phones are as good as possible to face the current and future competition (Android or iPhone), and that's what we're going to talk about here. In fact, not only isn't Samsung's relationship with its powerful comrades, Qualcomm and Google, weakening, but it's getting stronger than ever!
We saw that during the launch of the S23 flagships when Qualcomm's president and CEO, Cristiano Amon and Hiroshi Lockheimer, Google SVP for Platforms & Ecosystems, took the stage to tell everyone how closely they've worked with Samsung to help make the S23, S23+ and S23 Ultra as good as possible.
So, let's take a quick look at the strong Samsung – Qualcomm – Google alliance, and see why this one's crucial for the making of the amazing Galaxy S23 series.
Turns out the Galaxy had to be "less Samsung" to reach the iPhone's level of power and efficiency – who would've though?
Qualcomm's exclusive chip "For Galaxy" S23 (finally) gives Samsung a fair chance at competing with the iPhone's video quality, efficiency, battery life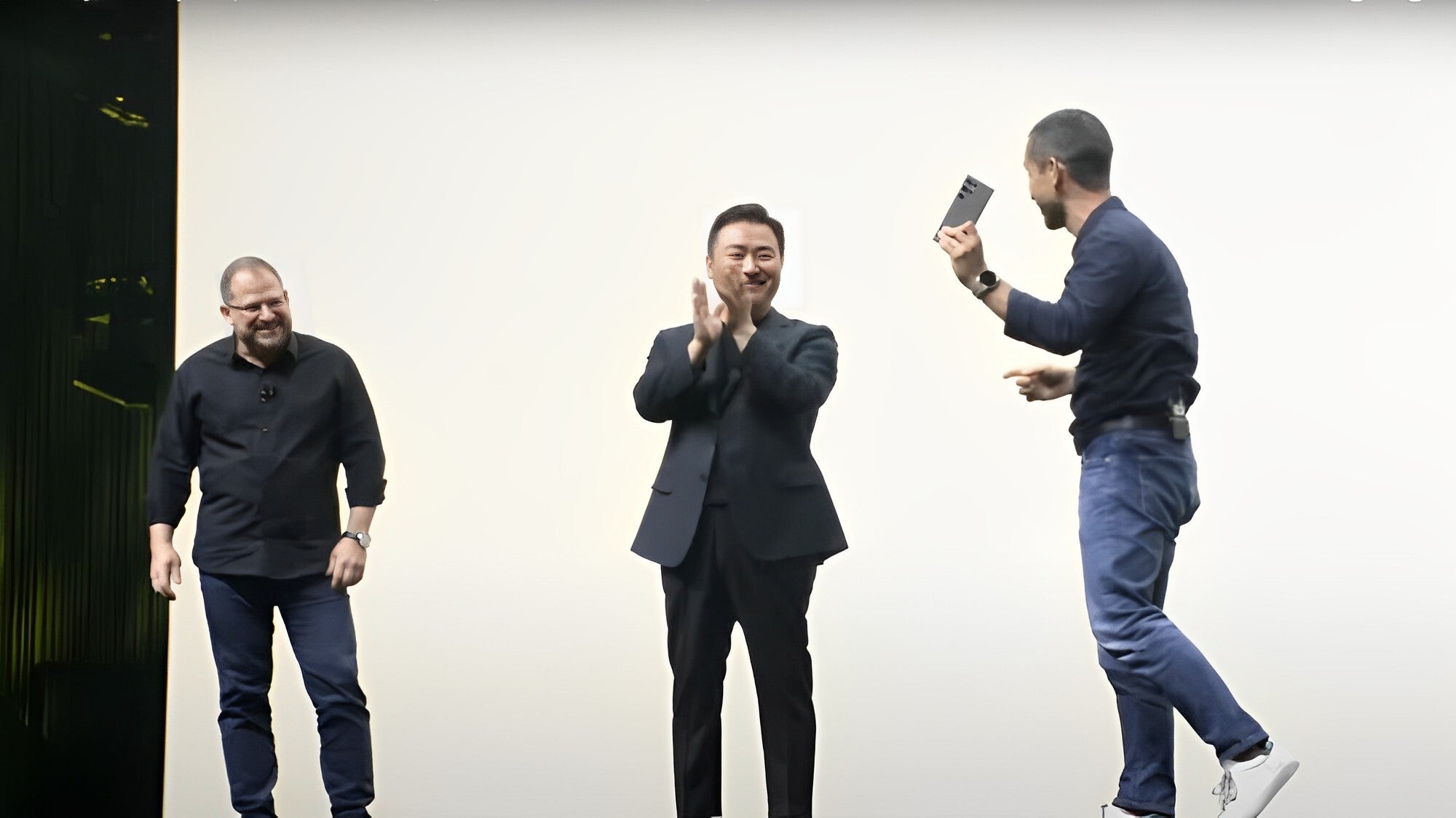 Google's Hiroshi Lockheimer proudly shows off his Galaxy S23 Ultra early-access unit at Galaxy Unpacked. Thanks to switching to using Qualcomm chips, Samsung finally gives Galaxy S23 a fair chance at challenging iPhone.
Qualcomm designs the brain of the Galaxy S23, the Snapdragon 8 Gen 2 chip, but what's important to note is that Qualcomm is now the exclusive chip supplier for Samsung's new flagships (Exynos is out of the picture for now). That being said, don't confuse Qualcomm with TSMC, which is the actual manufacturer of the 8 Gen 2.Anyway, the other thing that stands out here is that the Galaxy S23 phones run on a special, (re)branded version of Qualcomm's latest flagship SoC, called "Snapdragon 8 Gen 2 For Galaxy". What's surprising is that the "For Galaxy" version of the 8 Gen 2 doesn't only come with slightly overclocked CPU and GPU for faster performance, but also features a dedicated ISP (Image Signal Processor) that does the heavy lifting when it comes to photo and video processing, enabling Galaxy S23 Ultra to compete for the best phone camera on the market right now.
Other Android flagship phones with the vanilla version of the Snapdragon 8 Gen 2 (OnePlus 11, Xiaomi 13, Vivo X90 Pro+) also have dedicated ISPs to help with camera processing, but not the one from the Galaxy S23 phones.
Galaxy S23 Ultra almost as good as iPhone 14 Pro Max in battery life; killing Exynos was the best thing Samsung ever did
The cherry on top here is that the Snapdragon 8 Gen 2 powering the S23, S23+ and S23 Ultra isn't just super fast and camera-centric, but also way more efficient than any other flagship SoC we've ever seen feature in an Android phone.
After two years of losing to Apple in the area of efficiency and battery life, the "Snapdragon 8 Gen 2 For Galaxy" finally allows the Galaxy S23 series of phones to compete against the iPhone 13 and iPhone 14.
That's according to our initial benchmarks where the Galaxy S23 Ultra comes close to the iPhone 14 Pro Max in the area of endurance, but also according to some real-world battery drain tests that pretty much put the S23 Ultra on par with the iPhone 14 Pro Max (video above).
Google is the reason Samsung makes phones, and Samsung is the reason Google makes phones (like Pixel 7); meanwhile Google SVP uses Galaxy Unpacked stage to take another jab at Apple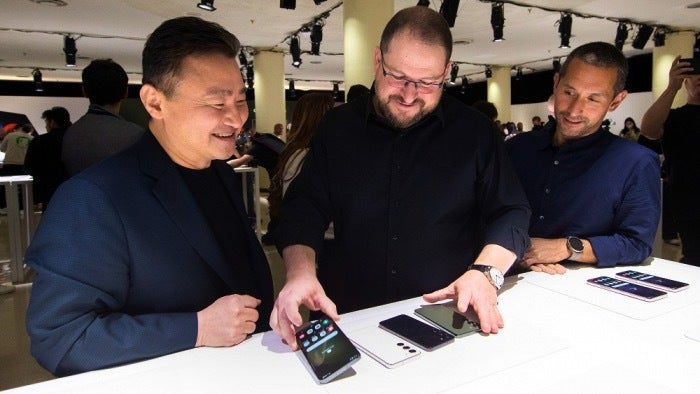 Google brought up the RCS vs iMessage debate at Samsung's Unpacked. Samsung, Google, Qualcomm executives hang out after the launch of the Galaxy S23.
Moving on to the Google bit of the holy trinity, although (unlike Qualcomm) Google doesn't make any of the hardware powering the Galaxy S23, this doesn't mean the two companies don't have a strong relationship. In fact, the two phone-makers do a ton of hardware business, with the only difference being that Samsung manufactures the Tensor processors and displays that go on Google's own phones (Pixel 6, Pixel 7 series), so it's a one-way street.Hardware aside, it's the software department where Samsung needs Google the most, and that's where Mr. Hiroshi Lockheimer & Co play their part to help Samsung deliver the best Android experience possible. And I don't just mean that Android is the reason Samsung's phones exist.
Nothing new here – Samsung can't make a phone without Google; Android is the software base for Samsung's One UI; has strong influence on the look and features on Galaxy phones
Google also facilitates long-term software support for Samsung phones (in fact, longer than its own Pixels)
Google optimizes apps to run better on some Galaxy phones running One UI (especially Galaxy Z Fold/Flip)
That being said, it does look like Hiroshi Lockheimer took the stage at Samsung's Unpacked event to push Google's anti-Apple/pro-Android agenda. Of course, that's the message for adopting RCS – Google's iMessage alternative for Android.
Google offers RCS chat worldwide via its Android Messages app to all users who install and use it as a default texting app. A partnership between Google and Samsung allows RCS features to work seamlessly between the Samsung Messages and Android Messages apps, the default SMS apps on their devices. DigitalTrends
Samsung had to make Galaxy S23 Ultra less "Samsung" to reach iPhone-level power and efficiency; 3nm A17 Bionic chip in iPhone 15 Pro could be on a whole different level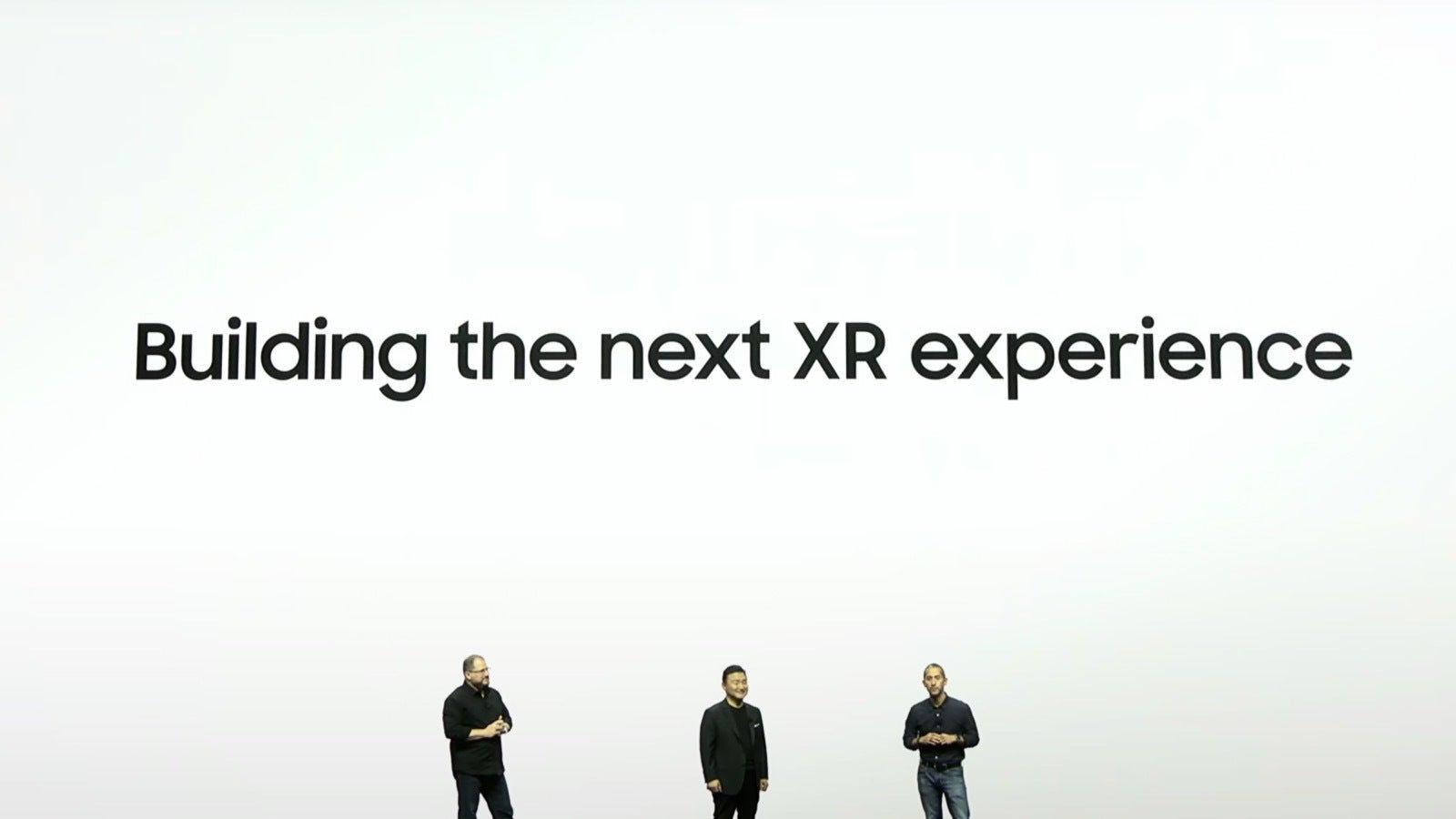 Meanwhile Apple and Samsung might soon be competing in a whole new category – AR/VR! Google and Qualcomm stay close by Samsung's side.
So, yes… Without a doubt, Samsung needs assistance to make a flagship phone that can compete with the iPhone, and that's OK! In the end, every Android phone-maker uses Google's software base just like all Android phones (but the Pixel) chips are designed by another company.The reason this topic is interesting is that Apple's streamlined and self-sufficient engineering model is exactly what allowed the iPhone to stand out in the two most important aspects of the phone – SoC and software optimization… for years.
Therefore, I have to commend Samsung on the effort and great end result here, as the South Korean company has now come the closest to making phones that are almost/as powerful and efficient as Apple's, without having the same level control over the hardware and software as Cupertino. That being said, as discussed, the Galaxy S23, S23+ and S23 Ultra aren't a one-man show, and that's the main takeaway here.
It's fair to give Google and Qualcomm credit for working closely with Samsung, and helping make not just the best Galaxy phones but possibly the best Android phones on the market right now! Google and Qualcomm reps weren't exactly subtle during Samsung's Unpacked event, vocally stating that this was their goal all along – to help Samsung make the best Android phones, which represents their hardware/software accordingly. Win-win-win?
Hey, don't be mad, Pixel users! It seems like Google is perfectly fine with assisting Samsung in the making of the best Android phone on the market. I mean… OK… I'd be mad at least a little bit.