Intro
The Samsung yearly smartphone refresh is officially upon us, with the Galaxy S23 series now unveiled for your eyes to feast on. The exciting next chapter in Samsung's phone story addresses multiple aspects of the Galaxy experience, bringing us a slightly different design (mostly for the better), the promise for a much, much better performance and battery life, and finally, an improved camera system that stretches the hardware.
Pre-order now at Samsung with a special discount from our link:
Traditionally, these two phones differ in terms of display and battery size, charging speeds, storage configurations, and pricing, so it's of utmost importance to carefully consider which one of these could be the right fit for you. 
Is there something else that makes the Galaxy S23 Plus and Galaxy S23 different, and ultimately, which one should you choose? In this piece, we try to establish an answer to that tricky question, which might not be as simple as it initially looks.
Galaxy S23 Plus vs Galaxy S23 in a nutshell:

6.6-inch FHD+ (Galaxy S23 Plus) vs 6.1-inch FHD+ (Galaxy S23) 

256GB, 512GB (Galaxy S23 Plus) vs 128GB, 256GB (Galaxy S23)

4,700mAh battery (Galaxy S23 Plus) vs 3,900mAh battery (Galaxy S23)

45W fast charging (Galaxy S23 Plus) vs 25W quick charging (Galaxy S23)

$1000 (Galaxy S23 Plus) vs $800 (Galaxy S23)
Table of Contents:
Design and Display Quality
A utilitarian design refresh
The Galaxy S23 and Galaxy S23 Plus both utilize the same general design language. Gone are the smooth transitional lines that blended the camera island with the frame of the phones, as Samsung has opted for a much simpler solution. A completely flat display and rear glass back are mixed and matched with an ever-so-slightly curved Armor Aluminum frame, which makes for a more unified, albeit way less catchy appearance. The design language brings some callbacks to the Galaxy S6 era of Samsung's flagships, which generally utilized a very similar exterior design setup.
Although both phones utilize the same looks, this is where most similarities end. The Galaxy S23 Plus is both larger and heavier than its more compact peer, as the former carries a relatively large 6.6-inch FHD+ display, while the compact new Galaxy flagship has a 6.1-inch FHD+ display up top.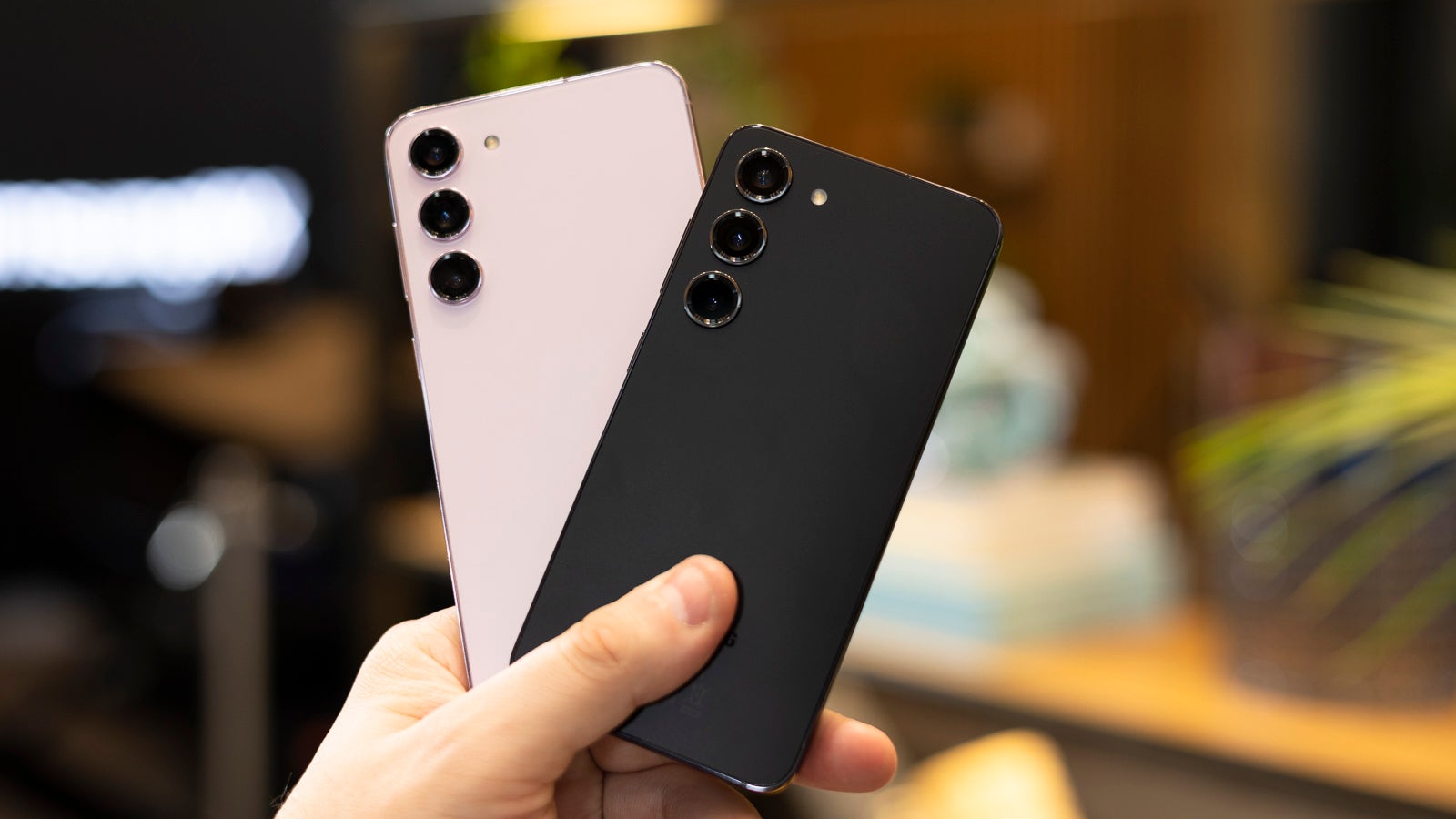 Galaxy S23 Plus vs Galaxy S23
When it comes to the Galaxy S23 colors, here's what Samsung is gracing us with this year: Phantom Black, Cream, Green, and Lavender. They are all a bit muted and classy in person, though some might find them a bit too boring. 
Available hardware features on the Galaxy S23 series aren't changed at all from the Galaxy S22 series. We still get exemplar water and dust resistance, stereo speakers, but no headphone jack or microSD card expansion slots, which is most certainly going to be the norm from now on.
Display-wise, we have the already-mentioned size difference that makes the Galaxy S23 Plus a better fit for those desiring a larger display. Aside from the size difference, however, there don't seem to be any more drastic differences. We're talking about Dynamic AMOLED displays, both reportedly with FHD+ resolution, which is okay for the size, but not super-detailed as the QHD+ screen found on the Galaxy S23 Ultra. 
What's more, both the Galaxy S23 and Galaxy S23 Plus support up to 120Hz refresh rate making for a pretty smooth scrolling experience, but the problem with both is that they only go down to 48Hz and not the much more efficient 10Hz. This means that we're lacking this important upgrade that would have made both phones so much better.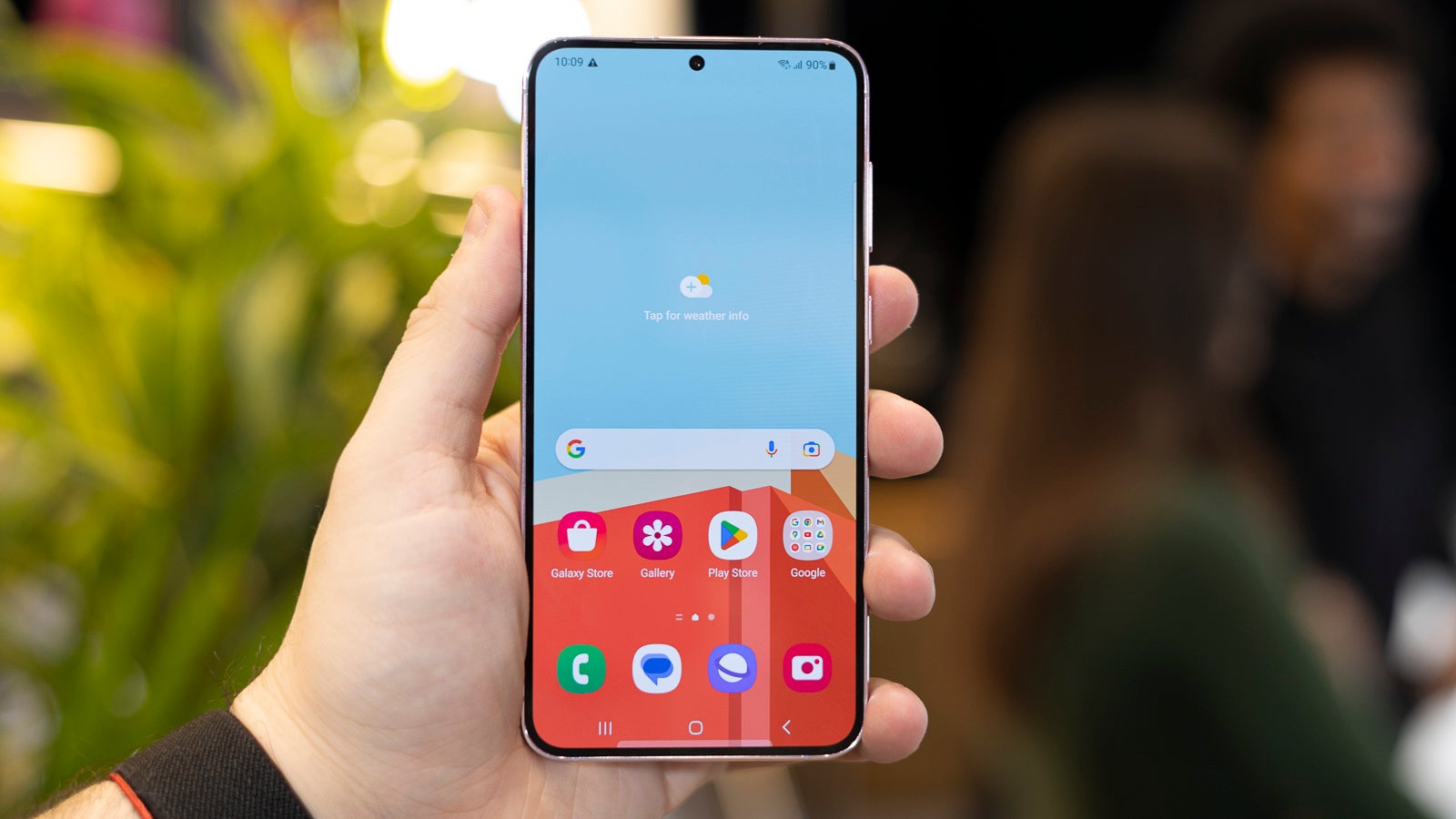 Galaxy S23 Plus
Performance and Software
Samsung is bringing the big guns
For the first time in recent history, Samsung is opting for just a single processor across the whole flagship range globally. Previously, Samsung used an Exynos chipset in most regions except for the US and a few other key ones, but the Galaxy S23 will use a customized version of the Qualcomm Snapdragon 8 Gen 2 globally. This will mark a profound change for the performance gains that will be witnessed in many regions, where customers simply couldn't access a Snapdragon-powered Galaxy flagship previously. 
The Qualcomm Snapdragon 8 Gen 2 inside the Galaxy S23 and Galaxy S23 Plus will most certainly sport a custom ARM Cortex X3 prime core running at 3.36GHz, whereas the general-issue Snapdragon 8 Gen 2 will utilize a 3.2GHz Cortex X3 core. This might not seem like a very big difference, but could very well be just the tipping point that puts the Galaxy S23 series at the forefront of the performance charts. Of course, until we conduct our own benchmarks, we can't say if that would be the case for sure, as other aspects of the hardware loadout, like thermal management, also have a very big impact on the overall performance standings.
In terms of RAM and storage, both the Galaxy S23 and the Galaxy S23 Plus will be outfitted with 8GB of RAM on board, which is a pretty standard figure across the industry, though phones with 12 or even 16GB of RAM are totally not something extraordinary. This amount of operational memory will be mostly fine for regular tasks and the such, but the Galaxy S23 Ultra with its 12GB of RAM will be a much better fit for power users that require more serious multi-tasking prowess. 
Another pretty important aspect of the phones, which also play a big part in the final pricing, are the storage variants. The Galaxy S23 is set to arrive in two different storage versions, with either 128 or 256GB on-board, with no options for further storage expansion. At the same time, the Galaxy S23 Plus is available with either 256 or 512GB of storage, a much better outlook for future-proofing the phone, given that this one doesn't have a microSD card slot either. 
In terms of software, both phones come along with Android 13 running One UI 5.1 on top, with all the essential Galaxy software features and functionalities on board. If you've come to love Samsung's latest user interface, then you will probably find little to complain about on its latest flagships, which exemplify the best of Galaxy's One UI skin. 
Camera
The regular improvements
The Galaxy S23 camera setup is shared between the Galaxy S23 and the Galaxy S23 Plus. 
Both phones have triple cameras at the back, helmed by a 50MP wide-angle camera, boasting a 1/1.56″ sensor with fast F1.8 aperture. The ultra wide-angle camera on deck is 12MP on both phones, with a 1/2.55″ sensor and F2.2 aperture; finally, we get the same 10MP telephoto camera with 3X optical zoom and up to 30X digital Space Zoom, with a 1/3.94″ IMX754 sensor and F2.4 aperture. Moreover, both phones also come with refreshed 12MP selfie cameras up top, housed in a punch-hole at the front. The latter will help the Galaxy S23 and Galaxy S23 Plus score improved night selfies and videos with the frontal snapper.
Samsung has also put a lot of thought in the overall camera experience, eliminating shutter lag, improving the focusing speed and overall stability, as well as delivering an excellent optical and electronic stabilization to all members of the Galaxy S23 family.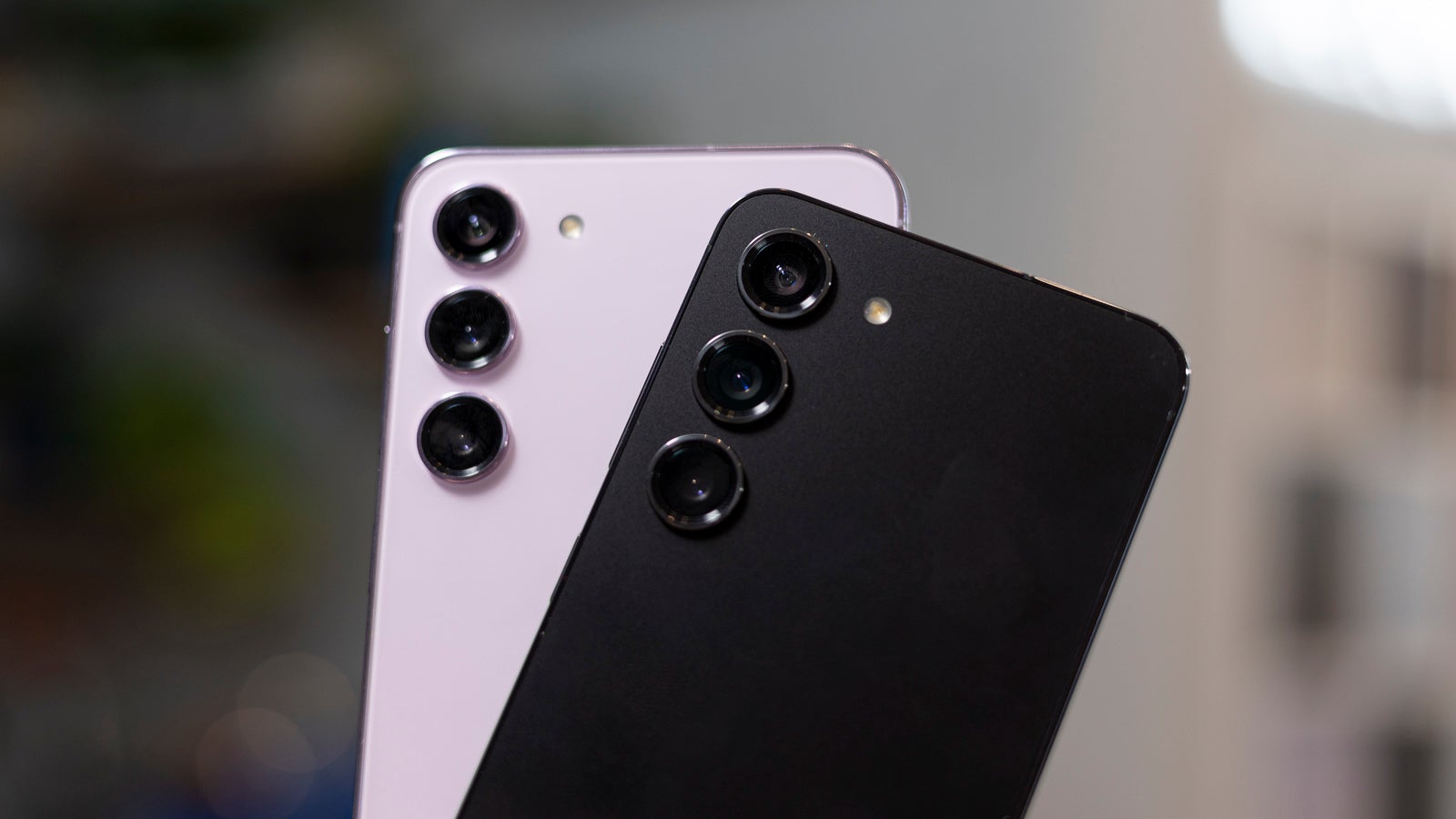 Galaxy S23 Plus vs Galaxy S23
Samsung teases much improved photography prowess of its new phones, especially in low-light conditions. The "nightography" of the Galaxy S23 line, including both photos and videos, is seemingly the highlight of Samsung's newest phones. 
Video is getting lots of love as well: we're getting 8K video capture at up to 30fps on the Galaxy S23 and Galaxy S23 Plus, an improvement over the [email protected] video capture supported on the Galaxy S22 series, which would definitely help the phones capture smoother 8K video, with enhanced HDR dynamics at that. Alas, we would have loved for Samsung to implement [email protected], which allows for a more cinematic-oriented artistic flexibility. 
Audio Quality and Haptics
Samsung has seemingly put quite a lot of thought and work into the audio experience of its Galaxy flagship lineup. We expect both the Galaxy S23 and Galaxy S23 Plus to come with richer and deeper bass rendition, an improved sound stage, as well as a better audio experience as a whole.  We'd imagine that the haptic feedback has also been improved in comparison with the Galaxy S22 series. 
Battery Life and Charging
Both the Galaxy S23 Plus and the Galaxy S23 have scored battery capacity improvements in comparison with their precursors. This definitely spells good news for the potential Galaxy S23 battery life. 
The Galaxy S23 Plus boasts a 4,700mAh battery, a 200mAh increase over the 4,500mAh battery of the Galaxy S22 Plus, and the Galaxy S23 comes with a 3,900mAh, another 200mAh improvement over last year's 3,700mAh battery unit inside the Galaxy S22. Those aren't small improvements, given the pretty restrictive space inside a modern smartphone, let alone a 2023 Samsung flagship. 
With these figures in mind, as well as the more efficient Snapdragon 8 Gen 2 ticking inside, we have high hopes for the battery life of the Galaxy S23 and the Galaxy S23 Plus. Of course, given the larger battery inside the Galaxy S23 Plus, this one will most certainly boast a better battery endurance than its more compact counterpart. Remains to be seen by how much exactly. 
When it comes to charging, we anticipate an important differentiation between the two phones. Samsung has outfitted the Galaxy S23 Plus with a speedy 45W fast charging, whereas the Galaxy S23 could only support up to 25W quick charging. However, the larger battery of the Galaxy S23 Plus could offset the faster charging, so ultimately the two phones could pass the finish line at nearly the same time. We can't wait to put them to the test! 
Have in mind that none of the newest Galaxy phones come with charging bricks inside the boxes, so you will have to supply your own or use an older charger. 
Specs Comparison
Here's a complete specs rundown of how the Galaxy S23 and the Galaxy S23 Plus would stack up against one another. For the full picture, make sure to visit our dedicated Galaxy S23 Plus vs Galaxy S23 specs page.
| Specs | Samsung Galaxy S23 Plus | Samsung Galaxy S23 |
| --- | --- | --- |
| Dimensions | 3 x 6.21 x 0.3 in (157.8×76.2×7.6mm) | 2.79 x 5.76 x 0.3 in (70.9 x 146.3 x 7.6mm) |
| Weight | 6.91 oz (196gr) | 5.93 oz (168gr) |
| Screen | 6.6″, 2340×1080, 393PPI | 6.1″, 2340×1080, 425PPI  |
| Processor | Qualcomm Snapdragon 8 Gen 2 (4 nm) | Qualcomm Snapdragon 8 Gen 2 (4 nm) |
| RAM | 8GB | 8GB |
| Storage | 256GB, 512GB, no microSD | 128GB, 256GB, no microSD |
| Rear Cameras | 50MP F1.8 main, 10MP F2.4 telephoto, 12MP F2.2 ultra-wide   | 50MP F1.8 main, 10MP F2.4 telephoto, 12MP F2.2 ultra-wide |
| Front Camera | 12MP F2.2 | 12MP F2.2 |
| Battery Size | 4,700mAh | 3,900mAh |
| Charging Speeds | 45W wired, Fast wireless charging | 25W wired, Fast wireless charging |
| Price | $999* | $799* |
* – anticipated price
Summary and Final Verdict
Overall, while the Galaxy S23 Plus and Galaxy S23 could be viewed as the same phone in two different flavors, it turns out that this year, the Galaxy S23 Plus actually has a little more going for it than previous Galaxy S Plus releases. Aside from the larger battery and display, and potentially better thermal management due to the larger heatsinks that could be fitted inside, the Galaxy S23 Plus also has faster charging on board, as well as more storage out of the box, as well as two color options that you simply can't get on the smaller Galaxy S23. 
At the end of the day, if you wish to score a compact phone, you will have to go with the regular Galaxy S23, which albeit capable, is certainly the least impressive out of the three. If you can stomach all the shortcomings listed in the previous paragraph and the Galaxy S23 sounds like a dream phone, then go ahead, you will even save some of that hard-earned cash. 
For everyone else, especially people who cherish screen real estate, the Galaxy S23 Plus could be a slightly pricier and larger, but ultimately a bit more polished take on the Galaxy flagship. This year, it has a lot more going for it than before, so it could actually become the go-to recommendation for most buyers. 
Overall, we doubt that either will disappoint, especially if you're deeply rooted into the Samsung Galaxy ecosystem, as the Galaxy S23 series is easily one of the best things that have happened in the Samsung space for a while, not only delivering sensible upgrades in most areas, but also holding the promises for even more Galaxy awesomeness in the future.