This year, Samsung's Galaxy S23 Ultra will not be the only mainstream flagship "Ultra" phone we'll be getting. Indeed, according to reliable industry insiders such as Mark Gurman, Apple may not be naming its top-of-the-line flagship the "iPhone 15 Pro Max," but simply the "iPhone 15 Ultra" this time around.Likely coming in mid-September, the iPhone 15 Ultra is obviously going to be the one to pack all the flagship bells and whistles an iPhone user could wish for.
Similarly, Samsung unveiled its flagship 2023 Galaxy S23 Ultra phone just a couple of days ago, and it's not only a beast of a phone, but it doesn't even look like the cheaper two Galaxy S23 models; it's basically its own thing.
Now the question is – should most people really go for, or even want, those "Ultra"-branded Samsung and Apple flagships?
Well, after spending time with both models, I'm here to tell you that statistically, most likely, you'd be better off picking a certain other model. One that both the current Samsung Galaxy and iPhone series share.
One that, at least in the realm of its own brand, brings all of the major flagship phone features users want, including a very basic, obvious, yet extremely necessary modern feature that's right in the name – a large display.
Both Samsung and Apple say their "Plus" phones have longer battery life than the Ultra / Pro Max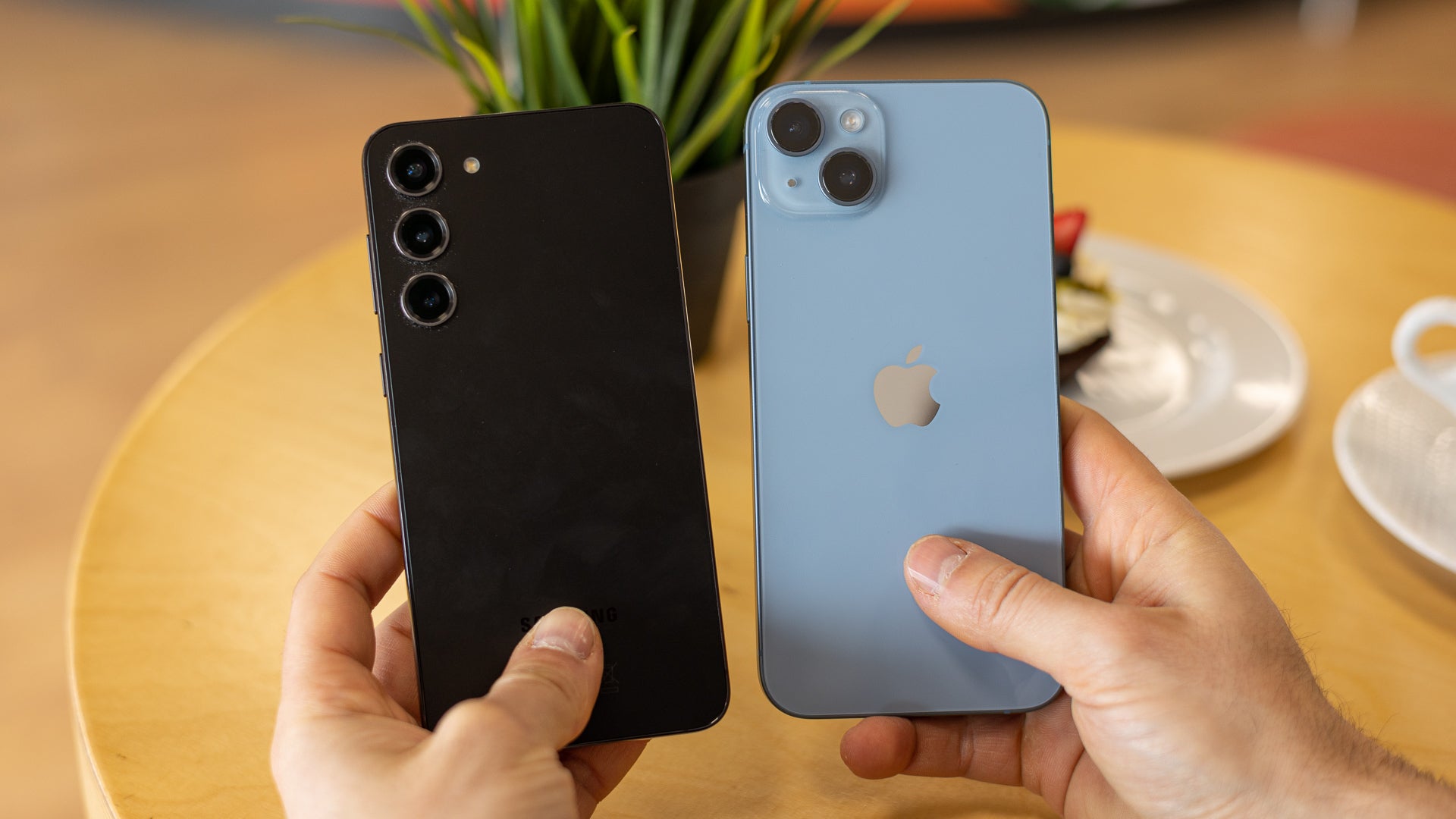 Galaxy S23 Plus (left) and iPhone 14 Plus (right)
Yes, we're talking about the Galaxy S23 Plus, and last year's iPhone 14 Plus. Both Samsung and Apple claim that their Plus phones offer the best battery life in their respective series.
In fact, the Cupertino company in particular went a step further to hype up its "Plus" phone's battery endurance by marketing it in big, bold letters as having the "longest battery life ever" on an iPhone. Our own battery test actually revealed a very slight advantage for the 14 Pro Max, actually, but on the whole, you're obviously getting industry-leading battery life in this more affordable package. And of course, we can expect a similar promise for this year's iPhone 15 Plus.
But enough about Apple; the recently-unveiled Galaxy S23 Plus – again – also offers the best battery endurance in its family, according to Samsung. The Korean giant claims "up to 27 hours of video playback" on a single charge for the S23 Plus, while the S23 and S23 Ultra get "up to 22" and "up to 26 respectively." That's right, better battery life than the beefy S23 Ultra! Once again we're doing our own tests to see if the manufacturer's claim rings true – results coming soon – but indeed, the S23 Plus' lower screen resolution may reasonably give it a nudge towards longer battery life, so what Samsung says should indeed be factual.
And in today's world, where battery life feels a bit sacrificed (at least to me), in the effort to make phones thinner, I'm one of the many, many people who appreciate better battery life more so than anything else. And if I can get it for cheaper – even better.
This is what initially made me fall in love with the iPhone 14 Plus when I was working on its review, and it's what already makes me really appreciate the Galaxy S23 Plus… But there's something else that makes the S23 Plus and iPhone 14 Plus the perfect buy for most people. Something that, once again, seemingly everyone needs in this day and age…
Big screens, big screens, big screens!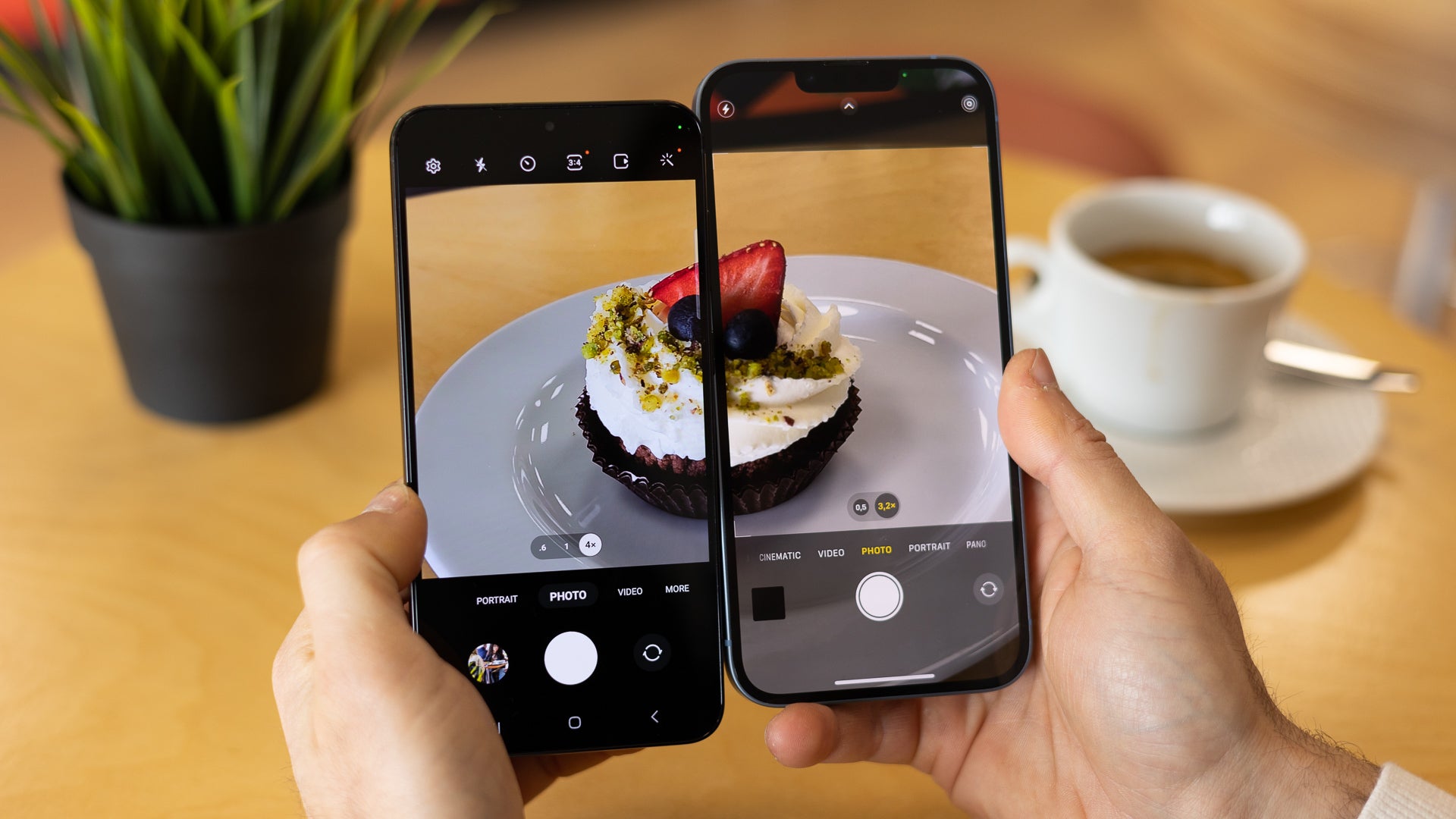 One's got a cutout, the other's got a notch
Let me paint you a picture that we'll pretend is hypothetical. You're single, and your ex DMs you on Instagram, wanting to do what's become your annual catching up sesh, to see who's doing how in life.
Fun game. And during that game, you're both, apparently, meant to act like perfect people, as if you don't know each other for real, which entails flawless, almost Shakespearean grammar.
She hits you with "So what have you been up to?", which you knew was coming a mile away, and you're ready to text your life story from the last 12 months.
But oh no, what you end up sending doesn't look as well as it sounded as you were writing it: "Wll I went to Amderdam and met with skme of my favorite DJs. You remembee that huy we used to watch on Youyube?"
Now, this totally made-up scenario would've gone down way better if you weren't texting on an iPhone 13 mini, with a touch keyboard so small that you always press two keys at the same time, because you physically can't not. Or maybe if you kept the spell check and auto-correction on.
In any case, that's about where you realize how important having a bigger phone display is. Because all of our communications nowadays… okay, "most" of our communications happen via texts; via smartphones.
And yes, as their names suggest, the Galaxy S23 Plus and iPhone 14 Plus are essentially just the base models, but with larger batteries and screens. And as someone who tried to use an iPhone 13 mini for two years (this is a total coincidence with our made-up story from earlier), trust me – a large display is a must nowadays.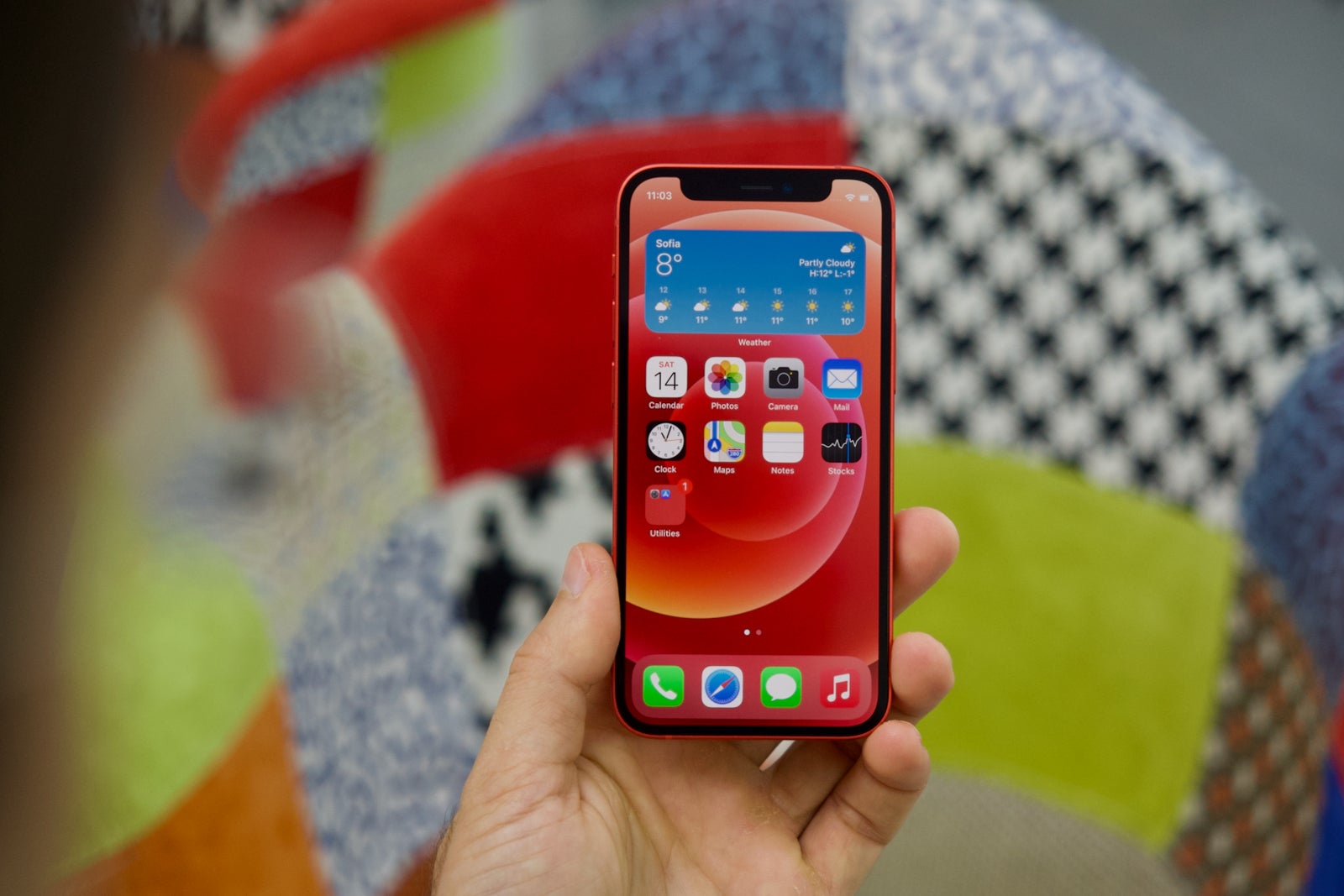 Typing or doing most things on this 'mini' iPhone (or on any small phone, for that matter) ain't a great experience
We text, we browse the web, we buy stuff, we even create stuff on our phones, and to me at least, the base Galaxy S23 and iPhone just don't cut it, as they're too small at 6.1 inches.
Now check out what a huge jump their "Plus" counterparts are – 6.6 and 6.7 inches! You no longer have to pay top-of-the-line flagship prices to get a large flagship phone, as was the case until recently, particularly in Apple's little world.
Samsung and Apple's "Ultra" phone screens are (nearly-)identically as big as the "Plus" models. So if it's a big screen you want – a big screen you shall get, on a flagship, and for under $1,000.
Even better, if you're team Android, you'll be happy to know that unlike Apple, Samsung doesn't really punish you for choosing the Galaxy S23 Plus over the Ultra by neutering a certain display spec. The Galaxy S23 Plus has a flagship AMOLED screen with smooth, 120Hz refresh rate. Sure, its resolution is only 1080p, just like the base S23, which can be a bit of a bummer, but then again, even the Ultra is just 1440p, so it's not like that'll change your world.
My point is – for most people, the Galaxy S23 Plus just makes more sense over the Ultra, as it's hardly a downgrade from it.
In the realm of the iPhone, we could argue. The 14 Plus has only a 60Hz refresh rate. However, Apple gives you a higher resolution at 2778-by-1284 pixels, and it's still a glorious OLED screen, not some LCD with backlight bleeding, bad colors and viewing angles. Nah, it's a flagship screen, baby, so why spend vastly more on an iPhone 14 Pro Max, or the upcoming iPhone 15 Ultra? The average user has no reason to, right?
Whether you're texting someone close to you now, or someone from times long past, or you're just chilling and watching a movie on your phone – the Plus is where it's at! The experience is great on either phone!
The Galaxy S23 Plus and iPhone 14 Plus are just more affordable, simple as that. And what do you really lose by spending less money? For most people – nothing.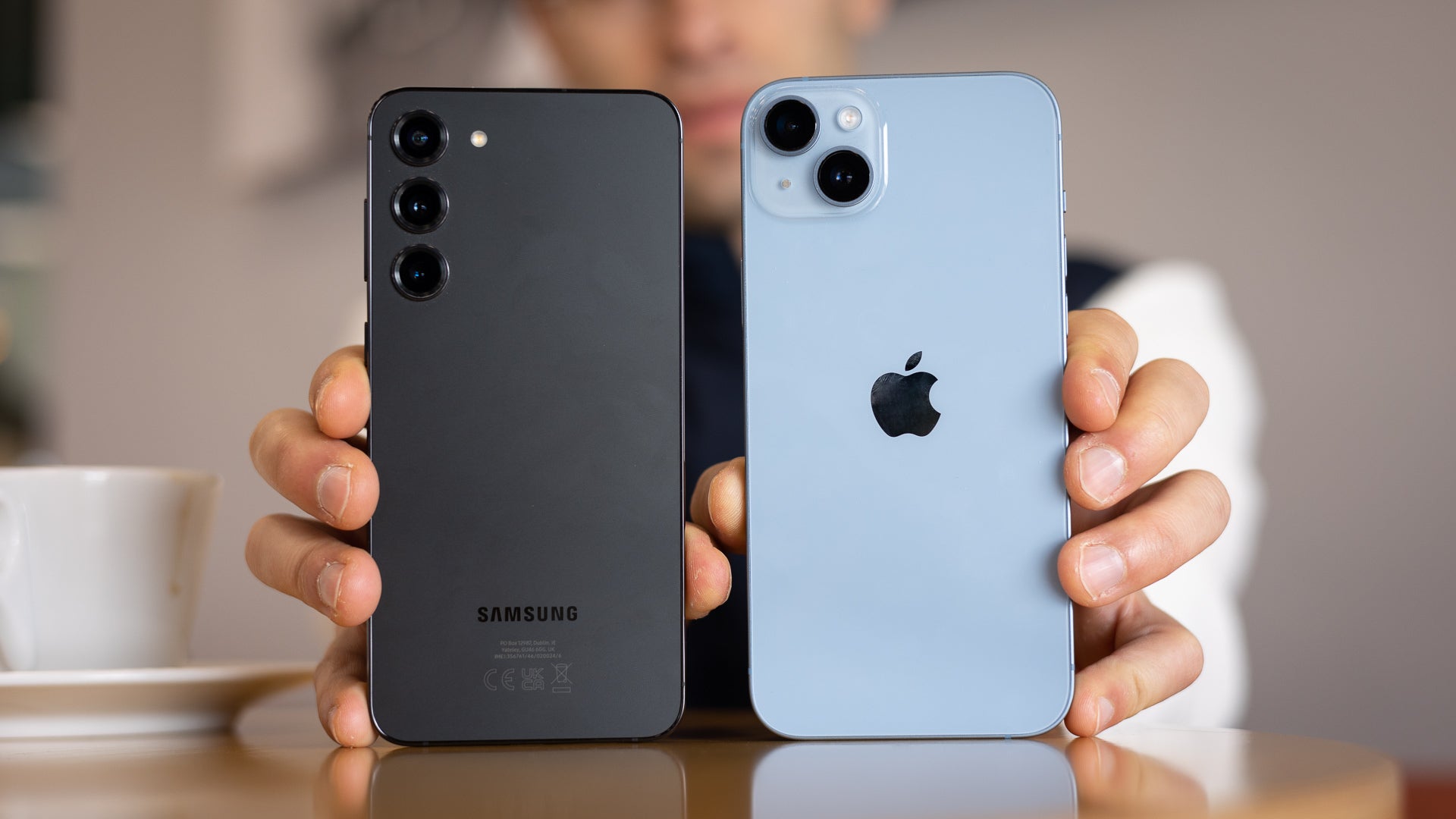 Which one would you pick up?
The Galaxy S23 Plus starts at $999 and with 256GB of storage. The iPhone 14 Plus is $100 cheaper at $899, but that's not a shocker considering it starts with only half the storage – 128GB.Either way, neither of those phones is exactly cheap. Both are premium, flagship smartphones from the two biggest phone brands in the world; bigger than the base models, and lacking some bells and whistles from top-of-the-line models.
Most notably, perhaps, is the fact that Samsung's Galaxy S23 Ultra features a built-in stylus, which is quite unique for a modern phone, period, not just a modern mainstream flagship. And while having that stylus is absolutely awesome for certain users, it's pretty niche and unnecessary for most.
Similarly, Apple's current iPhone 14 Pro Max boasts that new Dynamic Island selling point, plus a 120Hz display and ProRes camera recording capabilities. There's, of course, more that both flagships offer and can sell you on, but you get it – it's not exactly things the average phone buyer will use, or even care about.
Bottom line – this year, don't let the flagship "Ultra" models steal your attention from the Samsung Galaxy S23 Plus and Apple iPhone 14 Plus – those two phones definitely deserve your consideration.
They're flagships without the bells and whistles, and most importantly – big-screen battery champs which you can actually buy without having to sell a kidney.
Are you buying a "Plus" or are you buying an "Ultra" this year?
But hey, let us know what your mind is set on – are you buying a Galaxy S23 Ultra, or an iPhone 15 Ultra later this year?Or do you agree that the "Plus" models from both Samsung and Apple are the phones that deserve everyone's attention instead? Do you already own an iPhone 14 Plus, or, if you're team Android, have you preordered the Galaxy S23 Plus?
Learn more: