In the process of
introducing a new Pride Edition Apple Watch band
which will be released with a matching watch face and iOS wallpaper, Apple yesterday revealed that iOS 16.5 will be released next week. How do we know this? It could the Magic 8 Ball on my desk, reading tea leaves, or the fact that Apple says that iOS 16.5 is required to use the new Pride wallpaper, and the latter will be available next week. Using the same deductive reasoning, we know that watchOS 9.5 will also be released next week, and is necessary to use the new Pride watch face.
Besides the new Pride wallpaper, iOS 16.5 will add a Sports tab to the Apple News app so you can quickly read about the on-field, on-court, and on-ice exploits of your favorite teams. And with iOS 16.5 downloaded and installed, you'll be able to ask Siri to start recording your iPhone screen. This will be done by saying the magic words, "Hey Siri, start a screen recording." When you're finished, ask Siri to stop the screen recording.
You will still be able to start a screen recording by swiping your finger down the right side of your iPhone's screen to open the Control Center. First, though, you'll have to add screen recording to the Control Center by going to
Settings
>
Control Center
and tapping the green circle with the plus sign next to screen recording. This will be found under the heading marked "More Controls."
Following the above directions will add screen recording to the Control Center on your iPhone, and if you use it often you might want to move it toward the top of the shortcuts. Of course, asking Siri to start and stop the recordings might be easier.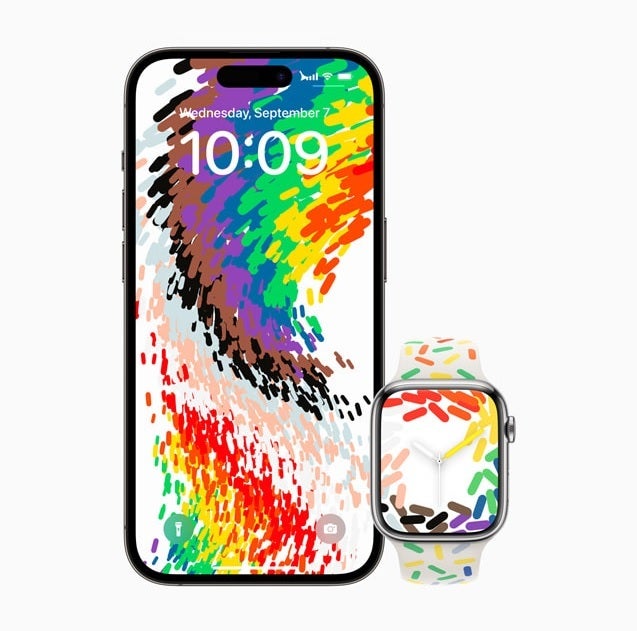 New Pride watch face, iOS wallpaper, and Apple Watch band
Since iOS 16.5 should be disseminated next week, you can check as often as you want for its arrival by going to Settings > General > Software Update to see whether iOS 16.5 is available for your device. It goes without saying (although we will anyway) that if your iPhone was eligible to receive iOS 16, you will receive iOS 16.5 very soon.
As for the Pride Edition Sport Band, it will be available starting May 23rd from Apple.com and the Apple Store app for $49. The band will be in Apple Stores starting on May 24th. The band will come in both 41mm and 45mm sizes and is compatible with the Apple Watch Series 3 and later.