Apple, Pepsi team up for a summer promotion that includes free Apple Music trials, Beats headphones
It's no longer the Pepsi Generation you hear the iconic soft drink company touting on its television and radio ads. And these days we hear more about iOS vs. Android than Coke vs. Pepsi. Now it seems that Pepsi wants to promote its beverages to those who listen to streaming content over Apple Music. As per
AdAge
(via
MacRumors
), Pepsi is teaming up with Apple to give away 400 million Apple Music QR codes that can be scanned and redeemed for various prizes.
The promotion begins next Monday, May 22nd, and the codes will be on 20-ounce bottles of Pepsi, Pepsi Zero Sugar, Pepsi Mango, Pepsi Wild Cherry, Mountain Dew, Mountain Dew Major Melon, Mountain Dew Spark, Mountain Dew Voltage, Starry, and Starry Zero Sugar. Prizes will include a three-month Apple Music free trial (new customers only), trips to Apple Music live events, and Beats headphones.
The face of the promo will be Bad Bunny, Apple Music's 2022 Artist of the Year. His "Un Verano Sin Ti" was the most listened to album on Apple's streaming music platform last year. Pepsi will run ads to promote the giveaway on television, social networks, and at locations where its soft drinks are usually purchased such as gas stations and convenience stores.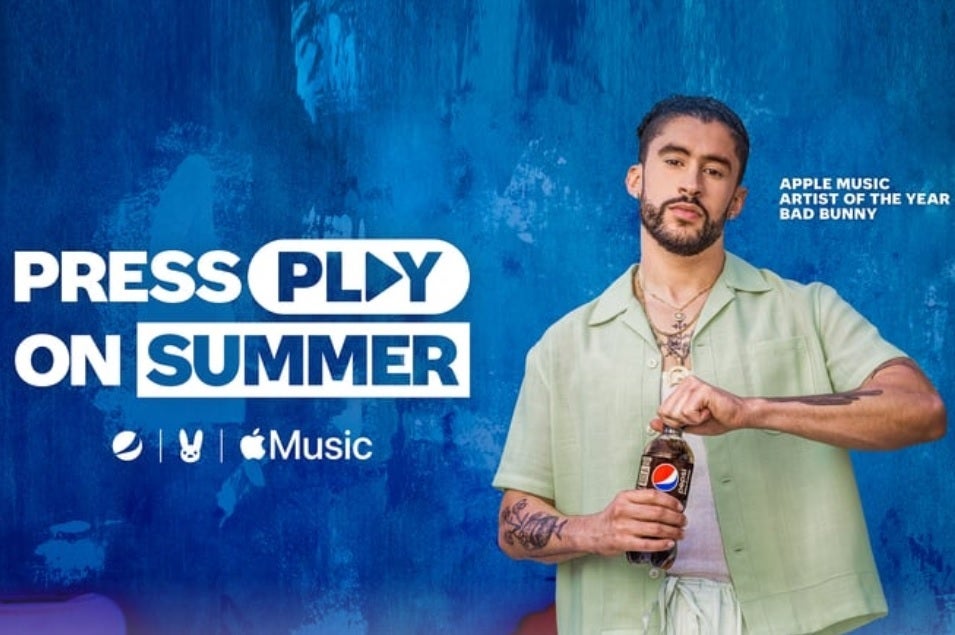 Apple and Pepsi are teaming up for a promotion linked to Apple Music and Beats
Pepsi's Chief Marketing Officer Todd Kaplan said, "We at Pepsi couldn't be more excited to kick off this historic partnership with Apple Music and Bad Bunny. Both Pepsi and Apple Music have such storied histories in the music space delivering first-of-its-kind experiences for our fans over the years, so it is only fitting that we join forces to create 'Press Play On Summer'. Bad Bunny is one of the biggest artists on the planet and we are thrilled to welcome him into the Pepsi family! We are excited to give fans unprecedented access to a host of music experiences and Bad Bunny's catalog all summer long."
This isn't the first time Apple and Pepsi teamed up, and we aren't including the hiring of former Pepsi executive John Scully to become CEO of Apple in 1983. This led to Steve Jobs being forced out at Apple but also paved the way for his return in 1997.
Actually, in 2003 Apple and Pepsi teamed up to place 100 million winning codes inside 20-ounce and 1-liter bottles of Pepsi, Diet Pepsi, and Sierra Mist. Each winning code could be redeemed for 1 free song download from iTunes.
The new promotion ends on September 17th.