Reverse wireless charging debuted with the Huawei Mate 20 Pro in 2018. Samsung included the feature, which it called Power Share, with the Galaxy S10 series in 2019. The feature turns the back of your phone into a wireless charging pad and you can charge the phones of friends and family members by placing your phone screen down on a table with the device being charged placed back to back with your phone. You can also use the feature to power up true wireless stereo earbuds as they rest in a charging case.
Samsung Germany released a survey in July 2019 with 6,500 participants. 35% of respondents said that they would rather have a full battery on their phone than receive money. While only 14% said that they would share their battery life with a stranger, 39% said that they would help a colleague from the office charge his/her phone. 62% said that they would use Samsung's Power Share to charge a friend or partner's phone and 72% would use it to power up a family member's device.
While reverse wireless charging is available on many Android phones (including the Pixel 6 and 7 lines), it still has not been offered on the iPhone. According to
9to5Mac
, Apple had hoped to include the feature with last year's iPhone 14 Pro line but could not meet the self-imposed deadline.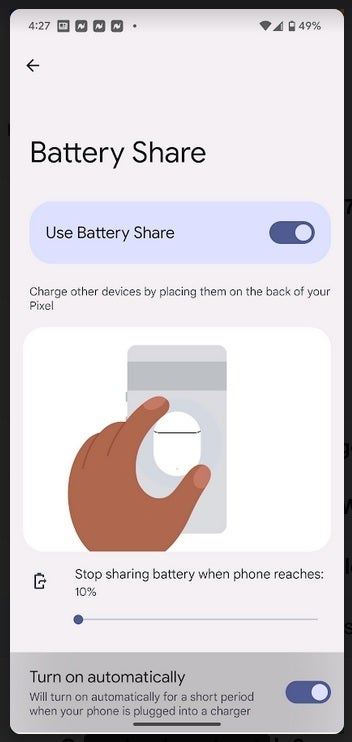 Enabling reverse wireless charging on the Pixel 6 Pro
Ever since the release of the iPhone 11 series in 2019, there has been speculation that Apple's handsets were released just one update away from activating the feature. But alas, such an update has never arrived. And Apple never included the feature with the iPhone 14 series. But that might change as sources tell 9to5Mac that Apple engineers are still working on the feature and are also working on the necessary software optimizations.
If Apple ever implements reverse wireless charging for the iPhone, it certainly would come in handy for those who own a pair of AirPods that they carry along with their iOS-powered phone. Apple reportedly is working on some of the difficult aspects of creating the feature such as coordinating the charging speeds between the iPhone and the device being charged, dealing with heat dissipation, and more.
The company is also said to be working on a user interface for reverse wireless charging that is similar to the UI used with Apple's magnrt-based MagSafe magnetic charging platform. It would include certain animations and sounds to indicate that the reverse wireless charging feature is being used.
We may finally see reverse wireless charging on the iPhone with this year's iPhone 15 Pro and iPhone 15 Ultra models. It would be another incentive for iPhone 15 buyers to purchase one of the more expensive iPhone 15 Pro series models.