While it will likely be years before we see an iPhone Fold, this does not mean that a foldable from Apple in the less distant future is entirely impossible. According to most sources, an iPad Fold could be launched well-before a foldable iPhone.
In the following paragraphs we have compiled everything there is to know about Apple's first foldable device. Naturally, given that this foldable iPad is likely still in its very early stages of development, all rumors and leaks should be taken with a grain of salt.
Additionally, we will be updating this page as soon as any major developments are brought to light. So, without further ado, let's get right to it.
Latest Foldable iPad leaks
Foldable iPad release date
Given that we are talking about a first-generation product, there is no past precedent on which we can base our prediction. Furthermore, at the moment, most industry insiders are also sharing contradictory bits of information.
The only major leak thus far that mentions a potential release timeframe is a
tweet
by Ming-Chi Kuo, a prominent Apple analyst with a rather reliable track record. According to him, a foldable iPad could launch as soon as 2024. Nevertheless,
Bloomberg's Mark Gurman
, one of the leading authorities on all things Apple-related, is more skeptical, and does not believe a foldable iPad is coming in 2024.
According to a
report
by Display Supply Chain Consultants, an organisation headed by prominent industry insider Ross Young, the launch of the foldable iPad could have been pushed back to 2025. Therefore, it seems a foldable iPad could launch in 2024 at the earliest, but that is by no means a given, with a launch in 2025 or beyond looking increasingly more likely.
Foldable iPad price
Pricing is always a point of contention with Apple products and this time will likely be no difference. Foldables in general tend to be very expensive, as are the high-end iPads. Therefore, we expect the foldable iPad to be a very premium device, with an ostentatious price tag.
At this point, no concrete number has been cited, but we expect Apple's foldable to cost well-above $3000, in light of how devices like the Lenovo ThinkPad X1 Fold are priced.
Foldable iPad camera
Historically, the camera has never been the iPad's strong suit. This is unlikely to change with the foldable iPad and that is why, in all probability, we will know nothing about the latter's camera until the very release. Should any information surface, we will be adding it accordingly.
Foldable iPad storage
It is common knowledge that Apple is notoriously stingy when it comes to storage. Currently, even the most premium iPads feature just 128GB of internal storage at base. While we have no information on the storage of the foldable iPad, Apple is a creature of habit, and we do not expect any major increases in that department.
Foldable iPad design
According to most
rumors
, the foldable iPad will feature a 20" foldable OLED panel and, based on what we know so far, it looks like the device will be somewhat of a hybrid between a massive iPad and a small-ish laptop.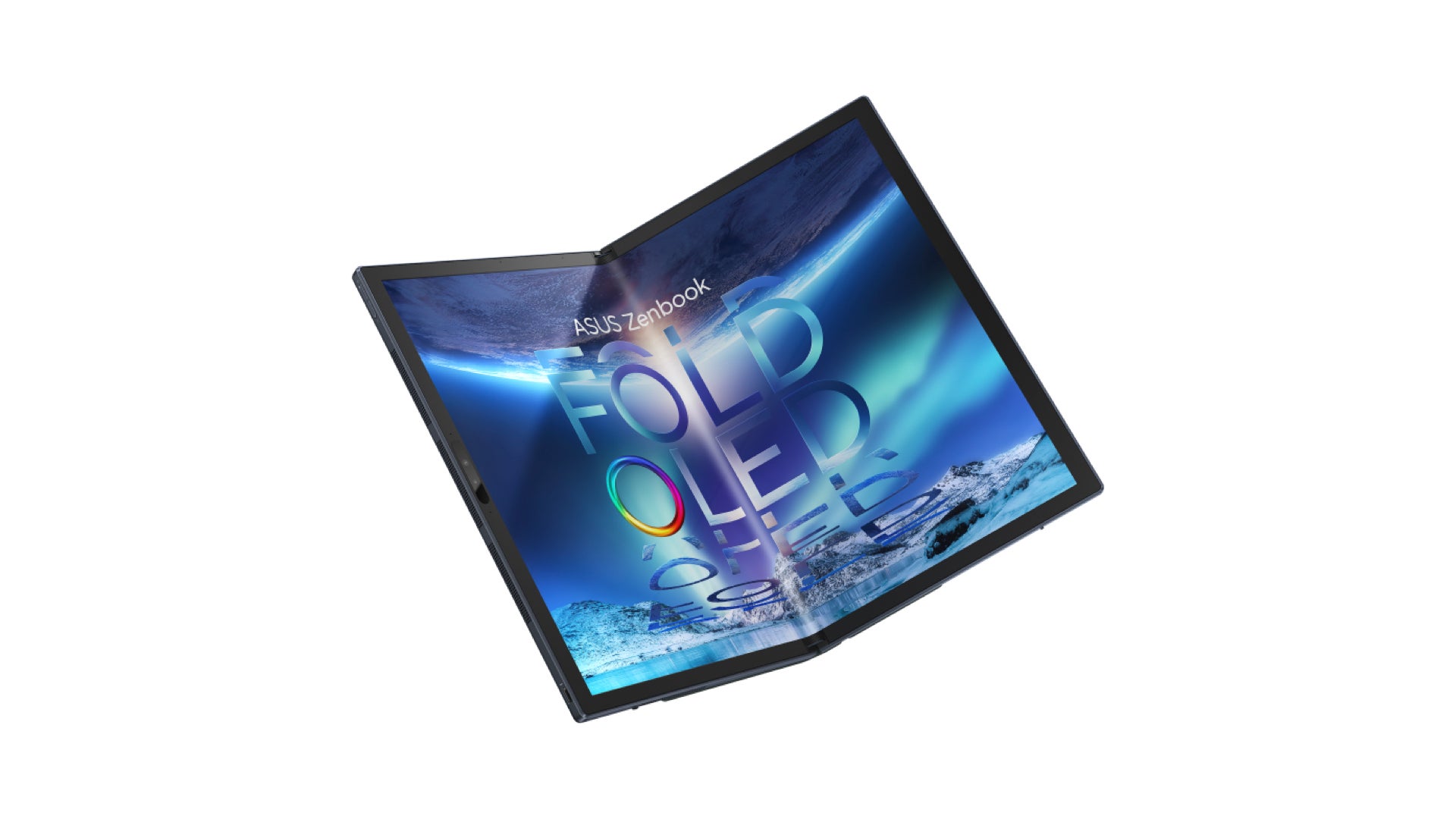 Hence, we expect a form factor similar to that of the ASUS Zenbook 17 Fold OLED, but even bigger. Beyond that, according to
Ming-Chi Kuo
, the foldable iPad could have a built-in kickstand made from carbon fiber. We are currently not entirely certain whether the device will feature a secondary display in a similar vein to most notepad-style foldable like the Galaxy Z Fold lineup. 
Foldable iPad display
As we previously mentioned, according to multiple reports, Apple will most likely be using a 20-inch 'hybrid' OLED panel for the first foldable iPad. The difference between a normal OLED panel, and a 'hybrid' one is that the latter is not susceptible to 'crumpling'.
The aforementioned phenomenon generally occurs in bigger OLED panels and causes a certain degree of distortion, especially along the edges of the screen. Тhis is a major quality concern for Apple and it was the reason why the company opted for mini-LED technology for the iPad Pro 2021 (12.9-inch) in the first place.
Nevertheless, all high-end iPads are projected to transition to 'hybrid' OLED technology by 2024. This is why we expect the foldable iPad to adopt it as well.
Foldable iPad battery
Currently, we know nothing about the battery of the Apple foldable iPad. Given the purported footprint of the device, it could theoretically feature a battery as big as the ones found on the MacBook. This is, however, purely in the realm of speculation.
Foldable iPad features and software
Unfortunately, we still have no idea what type of software the foldable iPad would run. It would be interesting to see if the latter leans more towards iPadOS or MacOS, given the device's status as a hybrid. 
When it comes to specific features, we have little beyond a couple of patents that allude to futuristic technologies such as self-healing displays and crack-resistant foldable screens. Needless to say, there is no guarantee they will even materialize. It is also possible that the foldable iPad feature Apple Pencil support, but a custom tip will likely be necessary in order to prevent scratching, given how much more fragile the foldable display will be. 
Should I wait for the Foldable iPad?
As exciting as a foldable iPad might seem, there is a good chance that such a device might not see the light of day for quite a while – or ever, for the matter. Additionally, in light of the fact that it will be a first-generation device (which are notoriously problematic) and that it will likely cost an outrageous amount of money, we simply cannot recommend waiting for a foldable iPad.