The third and last iteration of Android 13 QPR3 has been
officially announced
and is ready for your Pixel smartphone before its June public launch. The QPR3 beta program is running alongside the Android 14 Beta program and is right now competing for space on your Pixel device.
The Android 13 QPR3 beta 3 release is meant exclusively for Pixel devices, models 4a and newer, that have not yet installed the Android 14 Public Preview and that are still running the Android 13 QPR3 Beta 2 or 2.1 builds (T3B2.230316.003/T3B2.230316.005). If this is the case, and you are currently signed up for the Android Beta program, an OTA update to QPR3 Beta 3 will be pushed to you automatically.
You may confirm this update's temporary replacement of any pending Android 14 Beta 1 upgrade in the OTA message by double checking that you are receiving build number T3B3.230413.003/.A1. However, Verizon subscribers who own a Pixel 6 series device can expect to receive the T3B3.230413.003.A1 build, which includes the March 2023 security patch. This is in contrast with build T3B3.230413.003, which all other devices will receive and includes the April 2023 security patch instead.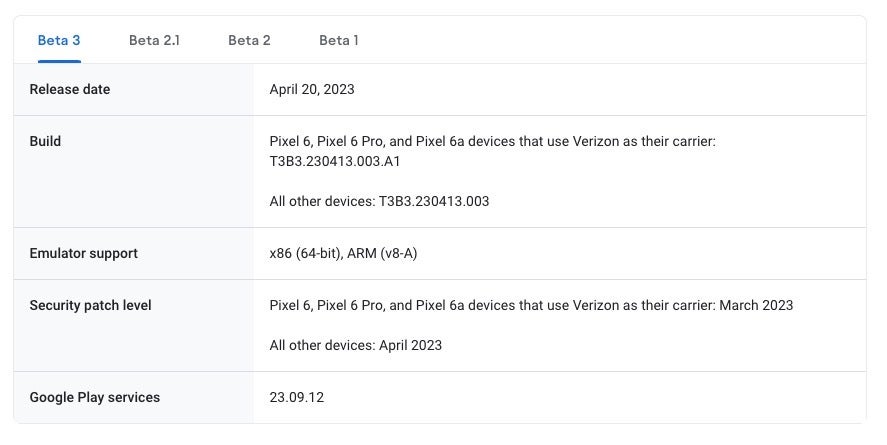 If you have already installed Android 14 Beta 1, then sadly you will not receive any QPR3 Beta updates. As per the
release notes
outlined by Google, the following issues have been resolved in Android 13 QPR3 Beta 3:
Top resolved Issues
Fixed issues that could cause Wi-Fi calling to stop working.
Fixed an issue that could sometimes cause the system to get stuck on the home screen with no app icons and either the normal background or a blank, black background.
Fixed an issue where the system UI crashed when trying to access the Wallpaper & style screen both in the system settings app or by long-pressing from the home screen.
Fixed an issue that could cause the screen on some devices to flash green when toggled if the phone was in a high temperature environment.
Fixed an issue where the camera displayed a black screen if the user tried to open the camera by pressing the power button twice.
Fixed an issue where in some cases when a work profile is switched on or off, the device rebooted instead.
Other known issues:
The list of Recent apps sometimes becomes unresponsive if the screen orientation is changed while the list is open.
For those who are interested in joining the Android Beta program, enrollment can be done by visiting the official website at
g.co/androidbeta
. However, it is important to note that devices that have been newly enrolled will be automatically enrolled to receive the Android 14 Beta releases, not the Android 13 QPR3 Beta.
The final quarterly release for the Android 13 QPR3 beta program is expected to take place in June when it will see its consumer launch. However, as with any beta release, users should be aware that there may still be bugs and other issues that need to be addressed from here until its final version.