The Smart Reply feature in Android allows users to respond to texts quickly by tapping one of the multiple replies suggested by the platform based on the full conversation. For example, let's say your good buddy, Google CEO Sundar Pichai has sent you a text that says, "Are you planning to buy the Pixel Fold?" Depending on your conversation with the executive, you might see options that say: "Absolutely, Yes," "If you give me the money," and "I'd rather have a Pixel 8 Pro." Press one to answer the text.
You can make sure that you have Smart Reply toggled on for your RCS chat by opening the Messages by Google app, tapping on the profile picture on the right side of the Search conversations bar at the top of the screen, and then clicking on Messages settings. On the bottom of the next page, tap under the Suggestions heading and make sure Smart Reply is toggled on. Smart Reply is also a feature available on Gmail. 
But today we're focusing on the Messages by Google app because Google has been working on a way to add its conversational AI chatbot Bard to Google Messages to help users create AI-generated text messages. Screenshots obtained by
9to5Google
show that the feature will be called Magic Compose. And the feature is activated by tapping a sparkled pencil icon in the text field. Tapping that pencil will allow you to use AI to enhance your initial reply using different style options such as "Formal," "Lyrical," "Chill," "Excited," and more.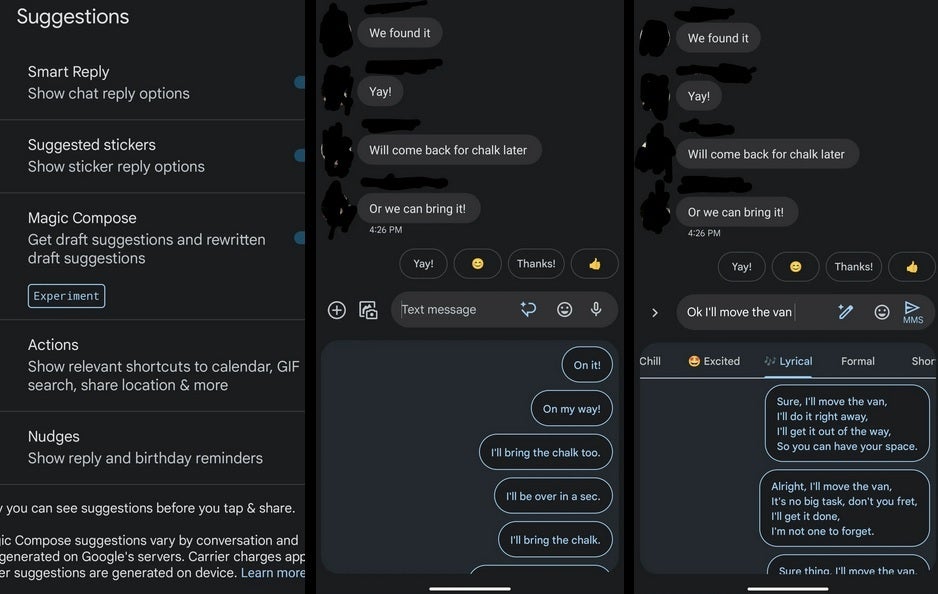 The Magic Compose is coming to Google Messages to help you send AI-composed texts. Image credit 9to5Google
If you can't come up with an initial response to a text, you can ask the feature to generate some recommendations for a reply. These replies are based on the context of your conversation and are said to be deeper and show more relevance than Smart Reply recommendations. Google does point out, that unlike Smart Reply which runs on your phone, Magic Compose requires an internet connection.
On the Settings page where Magic Compose can be toggled on, Google writes that the feature will "Get draft suggestions and rewritten draft suggestions." At the bottom of the page Google notes, "Magic Compose suggestions vary by conversation and are generated on Google's servers. Carrier charges apply. Other suggestions are generated on device."
When Magic Compose goes live is anyone's guess. But it does seem like a very useful feature that this writer is looking forward to. Keep in mind that Magic Composer will only work with the Google Messages app and not with those messaging apps offered by wireless carriers. If you don't have Google Messages on your Android phone,
tap on this link
to install the app from the Play Store.