Right now most cellular-compatible smartwatches connect to 4G networks. But the unveiling of the Snapdragon X35 5G Modem-RF chip by Qualcomm could soon bring 5G speeds to your wrist. The chip is aimed at products positioned between high-speed mobile broadband devices (like your phone) and low-bandwidth Internet of Things (IoT) devices. Qualcomm notes that because these components are not as complex, they can be smaller, less expensive, and can provide longer battery life than phones and other "traditional" 5G-compatible devices.
San Diego-based Qualcomm promotes the use of the Snapdragon X35 5G Modem-RF in devices such as smartwatches and other premium wearables, laptops, connected cameras, mixed reality (AR/VR) headsets, and AR glasses. The Snapdragon X35 5G Modem will allow smaller 5G devices to work longer and from more places around the world. The chip delivers faster upload speeds with low latency to offer fast-paced, real-time 5G connectivity.
Or, as Qualcomm puts it, "Snapdragon X35 expands the 5G ecosystem by powering new 5G use cases such as entry-level industrial IoT devices, mass tier fixed wireless access consumer premise equipment, mass tier connected PCs, as well as first generation IoT devices and premium wearables, such as XR direct-to-cloud glasses and smartwatches."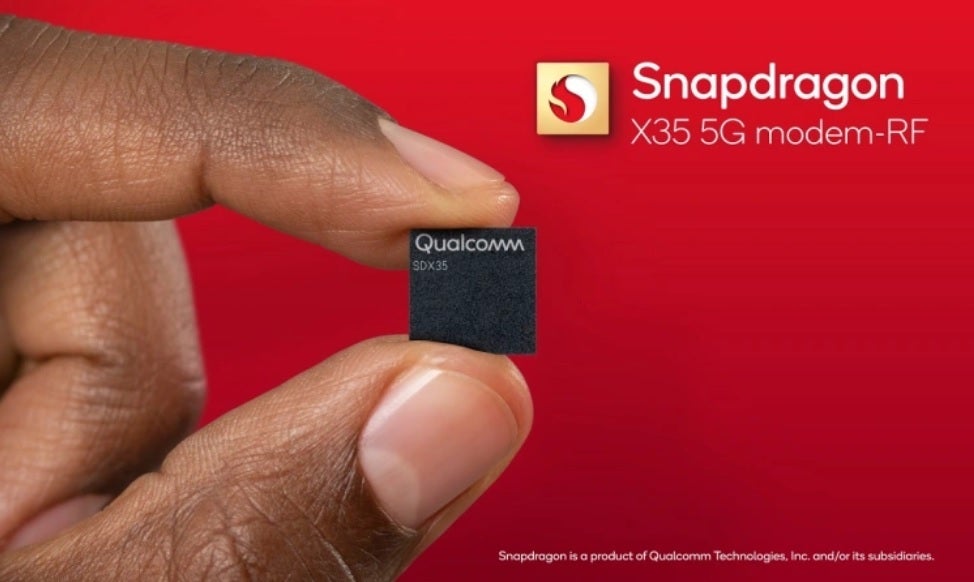 The Snapdragon X35 5G Modem can bring faster data speeds to your smartwatch
The chip also will work with 4G LTE and existing 5G networks. In other words, the X35 5G Modem delivers voice over 4G and 5G. It also allows for the precise positioning of users and supports data speeds up to 220Mbps.
Customers will start sampling the new modem chip during the first half of this year; commercial devices sporting the chip should first become available during the first half of 2024. Advanced features found in the Snapdragon X35 include:
Qualcomm QET5100 Envelope Tracking
Qualcomm Smart Transmit Technology
Qualcomm 5G Ultra-Low Latency Suite
Qualcomm 5G PowerSave Gen 4
Devices using the Snapdragon X35 5G Modem will enjoy "impressive battery efficiency, enhanced 5G coverage, and incredible location accuracy." Gautam Sheoran, vice president of product management at Qualcomm spoke with the press and said "These applications require extremely small form factors, very high-powered efficiency, and simple designs."